No New Animal Lab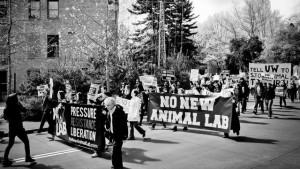 First off, Sean Swain gives his perspective on gentrification and some recommendations on how to effectively fight that blight.
You can write to Sean by addressing letters to:
Sean Swain
243-205
Warren CI
P.O. Box 120
5787 State Route 63
Lebanon, Ohio 45036
This week on the show William speaks with Amanda and Justin about the No New Animal Lab campaign, which aims to protest the building of a massive animal testing facility on the University of Washington campus at Seattle and to explore the nuances which the animal rights movement in the US is capable of. We speak about Skanska (the company responsible for building the lab), NNAL's nation wide tour (which just ended a few weeks ago) and about solidarity building with other projects, state repression and how to deal, as well as the condition of the animal rights movement today.
To learn more about this campaign, and for more information on the upcoming demo in New York on January 15-17, you can visit their website at http://nonewanimallab.com/ and click the "take action!" tab. To contact our interviewees for discussions about how you can get involved in this issue, you can shoot them an email at info@nonewanimallab.com, and if you feel in a position to donate to any legal defense you can go to their website and click the "Donate" button.
To learn more about the SHAC 7 you can visit this website
If you'd like to read the BUAV Liberator (British Union for the Abolition of Vivisection) text mentioned in the interview, you can visit here
Playlist for this show features Asheville's own Uninhabitable with a track off their brand new release, and a track from the new Yob album, which will be playing in Asheville at the Mothlight on Tuesday the 10th.