Paul Z. Simons pt 1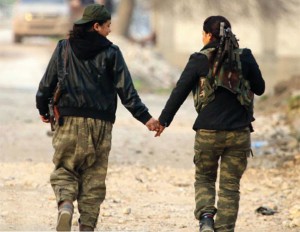 In 2012, a power vacuum formed in parts of northern Syria as a result of the civil war. These areas, part of the lands inhabited by Kurdish peoples,soon became a testing ground for an implementation of an anti-state communalism influenced in part by an American former Anarchist turned Communalist named Murray Bookchin. Bookchin's thought helped to shape the ideas of Abdullah Ocalan, ideological leader of the Kurdish Worker's Party, PKK, in neighboring Turkey. The people participating in what's been branded The Rojava Revolution are organizing administration and defense based from the neighborhood councils. Popular militias are attempting to fight external enemies like the Syrian military of Bashar Al-Asaad and ISIL/Daesh as well as the internal structures which hold in most societies such as patriarchy, class division and xenophobia. Anarchists, anti-capitalists of all stripes from around the world, feminists, ecologists… these peoples and more around the world are among those engaging with the 3-year-runnning experiment of Rojava.
This week's episode features the first of three segments of conversation with Paul Z Simons,a post-left anarchist and co-editor of Modern Slavery Magazine. Paul, writing under the name El Errante, documented his recent tripto the Rojava region in Northern Syria. This first episode will not be followed up immediately by another episode on the subject, however we are making the second and third episodes content availablealongside of this one online. If you're in a hurry to hear the complete conversation on his observations of institutions and organizing On The Ground in Rojava, follow this link for part II and this link for part III. These segments will make their way into radio versions in the near future.
Bursts and Paul talk about Democratic Confederalism, gender, ecology, international intervention, religion, ethnicity, anti-capitalism, competing tendencies, holding tensions, international fighters and much much more
To follow the links that our guest mentioned in this interview, just click these websites below!
http://kurdishquestion.com/
http://rojavaplan.com/
https://en.wikipedia.org/wiki/Tev-Dem
To see more of Paul Z. Simon's work, you can visit this website
Next week on The Final Straw, you'll hear a conversation with an anarchist in Spain about recent and continued repressions of anarchists in that country. Updates on that situation can be found at https://efectopandora.wordpress.com/category/english/ and for past episodes of The Final Straw check here.
Announcement:
At Grand Valley Institute for Women (GVI), a federal prison in Kitchener, Ontario there has been a recent crackdown against LBTQ2+ prisoners and/or prisoners in relationships amongst themselves. Intimate relationships between prisoners are being attacked by a clique of guards acting without apparent direction or oversight from the Corrections Canada administration. We need your support with a call-in campaign to end these practices.
Harassment of prisoners includes throwing them in solitary as punishment for being in a relationship, threatening them with transfers to remote parts of the country, separating partners by placing them in different parts of the prison, and laying spurious institutional charges that can lead to being locked in the maximum security unit.
Most troublingly, guards have been using physical intimidation and invasions of personal space to harass prisoners who speak up against these practices.
The prisoners have been organizing in response to these attacks, but have faced increasing repression for their efforts.
Outside support right now can make a major difference in putting a check on the repression of prisoner relationships and dissent among prisoners.
To protest this treatment, it's asked that people call Grand Valley Institute for Women at (519) 894-2011. For more guidance about how to conduct this phone call and for updates on this situation you can visit the website https://gviwatch.wordpress.com/