Inside Outside Alliance in Durham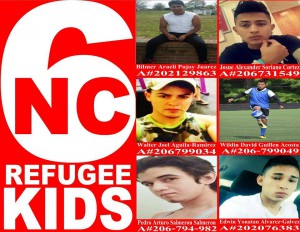 This week we feature a conversation with Steve, a member of the Inside Outside Alliance, a group in Durham working to amplify the voices of prisoners, foster better connections with their family and loved ones on the outside and raise awareness (in the words of the prisoners and their families) of problems in the Durham County Jail with an eye towards holding the Sheriff's Dept & local government accountable. More on this project at http://amplifyvoices.com.
This week we speak about the un-reported deaths in jail of Matthew McCain (January 2016), Dennis McMurray (January 2015) and briefly about the death of Raphael Marquis Bennett (August 2015). There is also a conversation on medical neglect (in Matthew's case, he claimed he was not getting proper treatment for his diabetes and epilepsy).
Also mentioned is the work going on around different parts of North Carolina to get communities aroused against the recent snatching up with intent to deport latino youth by Immigration and Customs Enforcement (ICE) during it's recent spate of raids against folks accused of entering the U.S. from Central America in the past few years. These include: A student on his way to school in Durham, named Wildin David Guillén Acosta; Edwin Alvarez-Gálvez of Raleigh & Santos Padilla-Guzman of Cary are 3 of the so-called NC 6. Here's an article students in Durham avoiding school for fear of ICE and words from teachers and admins at the schools expressing how dangerous they feel it is for the community. One organization on facebook working to keep folks informed on the raids can be found here.
Announces
No New Animal Lab
This is an update from our frieds at No New Animal Lab:
From their website http://nonewanimallab.com
On January 29th, No New Animal Lab, with representation from the Civil Liberties Defense Center, filed an anti-SLAPP Special Motion to Strike against injunctions filed on behalf of two executives of Skanska USA. Skanska and its key decision makers have been the subject of a year-long protest campaign, organized under the banner of No New Animal Lab, for their $90 million contract to build a large, underground animal research lab for the University of Washington (UW).

Skanska executives at the corporation's Portland office filed for injunctions against four activists and "No New Animal Lab" in an attempt to stifle the growing national protests. Such lawsuits are known as "SLAPPs" (Strategic Lawsuits Against Public Participation) and are often used by corporations against protest movements in an attempt to chill dissent and disrupt campaign organizing. Rather than outright criminalizing protest activity, corporations attempt to exploit the legal system, dragging grassroots activists through frivolous civil court proceedings and draining and redirecting both time and material resources. SLAPPs exist to shrewdly muzzle movements that seek to hold corporations and their executives accountable and are backdoor attempts to legislate unreasonable restrictions upon speech and assembly.

"The campaign against Skanska is about challenging power–the power to callously decide the fate of thousands; the power to construct lives of suffering, captivity, and pain; and the power to evade accountability through the impersonal structure of corporations," said a spokesperson for No New Animal Lab. "When you challenge power, you get a response. These SLAPP injunctions are just that–a response from Skanska, one of the largest corporations of its kind. The No New Animal Lab campaign interprets these lawsuits as a measure of its effectiveness."

The No New Animal Lab campaign has grown substantially in the last year, and the pressure against Skanska is at an all-time high. In mid-January, hundreds of people from all over the country converged in New York to protest the company's U.S. headquarters and CEO and President Richard Cavallaro, and Skanska's largest U.S. investor, the Vanguard Group.

One way you can help right now is to make a DONATION to the campaign. Every penny goes directly to grassroots organizing and helping with legal costs. Support means everything in moments like these. To donate to this cause, and to learn more about this campaign, you can go to the website http://nonewanimallab.com and click on the red Donate tab on their page.
To hear the interview that we conducted with members of this campaign, you can visit our site.
Music
We finish up the show with three musical tracks from CrustWithSprings.blogspot.de and R-A-B-M.blogspot.com:
First we'll hear a very new band called Baeden from Sydney Austrailia with track one off their 2015 demo entitled "iphone versus crusty slice"
Second is track one from Gudsforladt, which is a one person project from salem, mass. the track is off their 2016 self titled release.
Thirdly we'll hear Wrang which is a black metal band from the Netherlands. This track is called eulogy to impermanence and is off their 2015 demo