June 11th, Marius Mason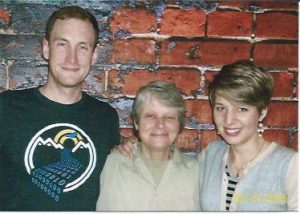 This week's show features a conversation with Arianna Staiger, daughter of long term eco-anarchist prisoner in the U.S., Marius Mason. Marius Mason is serving 22 years for destruction of a GMO (Genetically Modified Organism) research facility at the University of Michigan as well as pieces of logging equipment. Marius was a part of the so-called Green Scare, the FBI and U.S. government's hunt and repression of eco-activists. In Marius' case his ex-husband, Frank Ambrose, was coerced into snitching on Marius about their eco-defense activities in exchanged for a partially deferred sentence. Marius is also a trans man, who transitioned while incarcerated, and is being held in women's facility. Marius is frequently put into isolation for his continued organizing around issues of trans prisoners and access to vegan food.
This conversation is taking place on the weekend before the annual June 11th day of Solidarity with long term Marius Mason and other long term eco and anarchist prisoners. June 11th, formerly the day of solidarity with Jeff "Free" Leurs, has for years now been an opportunity for discussion, organizing, fundraising and active solidarity with those on the other side of the bars, in hopes of continuing their struggles towards a world without bars and without cages. More on June 11th, the prisoners involved and the like can be found at http://june11.org/
In this hour, Arianna, who was 16 at the time of Marius' arrest, talks about her relationship with him, about activism, music, incarceration, family and time. We'll hear some of Arianna's music in this hour, but if you want to hear a more complete interview, including more of Arianna's music, check out our podcast version of the show . If you'd like to check out Arianna's music, you can visit http://soundcloud.com/ariannastyger
This week in Asheville, there will be 2 June 11th events. On Friday, June 10th at French Broad River Park at 6:30pm there'll be a potluck bbq with some free and benefit materials available, plus food and conversation on prisons, longterm prisoners and solidarity. And probably tempeh.
On Saturday, June 11th at 6:30pm at Firestorm Books and Coffee there will be a showing of the Critical Resistance documentary, "Visions of Abolition: From Critical Resistance to a New Way of Life" followed by a discussion of the prison industrial complex and prison abolitionism. This event is free, bring some friends.
If you can make it to Washington D.C., this week there will be actions against the Bureau of Prisons and other targets, as well as community gatherings in parallel with June 11th against the ecological and health damages caused by prisons, in particularly focusing on actions against the construction of a prison on a Kentucky former mountain top removal site. For more info, check out our interview with folks from Fight Toxic Prisons or check out http://fighttoxicprisons.wordpress.com
Announcements
Before we get going with our Sean Swain segment and the interview, a few quick announcements:
Update on Detroit Eviction Defense
On June 2nd, we released a podcast episode with folks from Detroit Eviction Defense about the situation of Jennette Shannon, a single mom from Detroit who was facing eviction and which DED hoped to stave off through active solidarity. Sadly, on June 4th the house was overwhelmed by Sheriffs, movers & Bailiff and the ground was lost. To check out the podcast, follow this link.
More updates to come on how to support Jennette and those injured during the defense as well as plans for the future at http://detroitevictiondefense.org
Fundraising for Jennette & her son can be found here: https://www.youcaring.com/jennette-shannon-and-her-16-year-old-son-580529
. … . ..
Alexander CI in Taylorsville, NC
Several inmates being held at Alexander Correctional Institution in Taylorsville, NC have recently gone on hunger strike in protest of their conditions of confinement. They are on strike due "the denial of medical treatment, the denial of food and officers spitting in food trays, the denial of adequate materials to clean their cells, the denial of recreation, sexual and racial discrimination against African-Americans in restrictive housing (seg), and the constant denial of incoming mail."
The prisoners on strike are Stanley Corbett, Jr., Jermaine Spellers, and Andrew S.
The inmates are also protesting the recent beatings of prisoners in facility "blind spots," areas where no cameras are present. This includes the beating of Brian K McKoy on 2/3/2016, Johnathan Toolin on 3/22/2016, Karl Covington on 1/5/2016, Devin Hyman on 2/4/2016, and Robert McFadden on 4/1/2016.
This protest comes at a time of increase prisoner organizing, which includes recent riots at Holman Correctional Facility in Atmore, Alabama, mass hunger strikes in Michigan facilities, work stoppages at multiple
facilities in Texas, and the announcement of a national, coordinated prisoners' strike on the 45th anniversary of the Attica uprising on September 9th.
Media is encouraged to contact the administration at Alexander to make inquiries. Those links can be found at http://www.ncdps.gov/Adult-Corrections/Prisons/Prison-Facilities/Alexand…
Resist Fascists in Sacramento
A National Mobilization is being planned in Sacramento in several weeks and we need your help to make it possible.
In the past year, the anarchist movement has seen the rise of the far-Right and the growth of white nationalism and fascism, not only in the US but throughout the world. From Neo-Nazis marching to support the police in Olympia, mass shootings carried out by white nationalists, to people almost getting shot in Minneapolis outside of a protest encampment, to everyone from the KKK and the militia movement coming back in a real way.
On Sunday, June 26th, the Traditionalist Worker Party, headed by white power rising star Matthew Heimbach will be leading the Neo-Nazi gangs that make up the Golden State Skinheads (GSS) in an "Anti-Antifa" rally at the State Capitol. They will be joined by members of the KKK, the National Socialist Movement, and skinhead groups such as Blood and Honor. We believe that this will be the largest west coast white power mobilization in many years. As Heimbach stated on a recent podcast, "If we can do it here, we can do it anywhere."
In response, there is a call for people to shut down the rally starting at 9 AM sharp on the west steps of the state capitol in Sacramento. The permit for the fascist rally starts at 11 am and they are planning on arriving at the West steps of the capital at 12 Noon.
If you are not able to attend, we ask that we please help us by:
1.) Share this with trusted comrades and tell those that might want to be a part of such a mobilization.
2.) Helping spread the word on social media and on any media project you have, by sharing online flyers and images about the upcoming showdown and also inviting people on the facebook event, for which the guest list is private. The event will be linked in our blog post at ashevillefm.org.
[[For blog: Event is here: https://www.facebook.com/events/1727446437527487/
3.) Look out for opportunities to donate to the bail support fund and convergence space, to help those that may be arrested.
This summer is looking like it is going to be a hot one. From Native blockades against fracking, bloody battles outside of Trump and Hilary rallies, the upcoming RNC and DNC, and the ongoing local struggles happening all around us. We hope that the mobilization on the 26th is another part of a wider push towards becoming more of a force against capital, the State, white supremacy and patriarchy, and industrial destruction.
More background information with links can be found at https://itsgoingdown.org/national-mobilization-blockade-shut-white-supre…
. … . ..