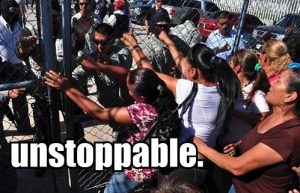 This week we spoke with Firehawk, who is an anarchist and anti prison/anti carceral state organizer based out of Colarado. In this interview we talk about her zine "Governing Bodies, Governing Souls: Female incarceration, 'rehabilitation', and promising radical strategies", which came out of her experiences conducting research into increasing rates of incarceration in women's prisons in the US. We talk about those experiences, about the zine in general, and about possible ways to be a support to incarcerated people and to anti-carceral struggles. We also talk about the various ways in which incarceration of transgender people are represented or thought about, a topic not necessarily included in the zine.
If you have any opinions about how we discussed this topic, we would love to hear them. Additionally, if you have a take on this issue that we did not touch on, or more information that we didn't consider, please don't hesitate to drop us an email at thefinalstrawradio@riseup.net, or you can email William Goodenuff at stormwater(a t)riseup.net, *or* you can email Firehawk at firehawk666(aat)riseup.net.
You can go check out and download a printable version of the zine, "Governing Bodies // Governing Souls" at http://insurgenttheatre.org/hackett.pdf.
If you are interested in interfacing with the WEBS class, visit the facebook link: https://www.facebook.com/websofsupport/?ref=aymt_homepage_panel. And for the Unstoppable Publication, again you can visit http://unstoppable.noblogs.org to order a copy and to learn more about this project.
. … . ..
Announcements
TRANZMISSION
There will be a volunteer interest meeting for the Asheville based group the Tranzmission Prison Project, Wed June 29th at 7pm sharp in the upstairs room of the west asheville Izzy's at 373 Haywood Road. The Tranzmission Prison Project is a volunteer run group which sends books and zines to LGBTQI prisoners, all free of charge. To get in touch with them, you can email them at tranzmissionprisonproject@gmail.com or search for them on facebook.
. … . ..
ANTIFENIX
This was communicated to The Final Straw from our comrades in the so called Czech Republic, who have been facing government and police oppression in the form of an initiative called "Operation Fenix", which specifically targets anarchists.
"As "Czech" Anarchist Black Cross and the AntiFenix Collective, we call for international solidarity actions against the repression of anarchists in the so-called Czech Republic. This repressive wave is labeled Operation Fenix – 8 people are accused or charged, some with possible life sentences, and with many more harassed by police, interrogated, raided, devices confiscated.
Our call for international solidarity is to support all of charged and affected, but also in particular to support Martin, an anarchist who was entrapped and accused of preparation of a terrorist attack, all planned by two state infiltrators. He has been locked away already almost 14 months in terrible conditions, and in response, he has just gone on hunger strike. Especially in places where you have Czech embassies or consulates, you can show that borders can't stop anarchist solidarity."
To learn more about this you can visit antifenix.noblogs.org
. … . ..
Eric King
The sentencing date for vegan anarchist prisoner, Eric King has been set for Tuesday, June 28th at 11:30am at the US District Court House in Kansas City, Missouri. Eric accepted a non-cooperating plea to federal arson charges. He was convicted of attempting to set fire to a congress-member's office. If you'd like to attend his sentencing, it's suggested that you arrive by 11am to Courtroom 8A at 400 East 9th St in Kansas City with a valid, state-issued ID and plan to go through a metal detetctor. There is a request for fund-raising for his expected 8-year sentence, support t-shirts, his current mailing address, details on his case and more that can be found at http://supportericking.org
. … . ..
Call in to Waupun CI in Wisconsin
The Industrial Workers of the World Incarcerated Workers Organizing Committee is requesting folks to email and call Waupun Correctional Institute in Wisconsin on today and Monday, June 20th. The hunger strike involving at least 5 prisoners is focused on an end to the practice of long term solitary confinement in the state of Wisconsin. As of Sunday, today, people have been on hunger strike in Waupun for 13 days. One of the hunger strikers, Cesar De Leon, announced 6/15/16 that he is now also refusing water because Waupun's water supply is contaminated by lead, he vomits up their water and experiences stomach pain and heart-burn when he drinks it.
Email brain.foster@wisconsin.gov
Phone 920-324-5571
If you wish to write to participating prisoners to make message of support to hunger strikers, please write to: Cesar Deleon #322800, Lamar Larry #293906, Rayshun Woods #390831, LaRon McKinley #42642, at:
Waupon Correctional Institute
P.O. Box 351
Waupon, WI 53963
Norman Green #228971 has recently been transferred to Columbia, and can be written at
Columbia Correctional Institute
P.O. Box 900
Portage, WI 53901
More details can be found on the facebook page entitled phone and email zap: support wisconsin prisoners' hunger strike day 13 & 14: https://www.facebook.com/events/1900430210184456/
Or at https://solitarytorture.blogspot.com/
. … . ..