Bend The Bars Conference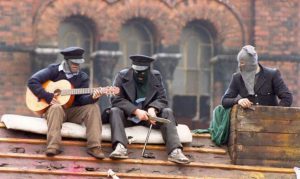 This week we spoke with Alex about Bend the Bars conference which is taking place in Columbus OH on the weekend of August 26th-29th. This is a gathering which was called for in direct support for the September 9th national prisoner work strike, and is one of the only gatherings that we know of which explicitly centers the work of people doing direct support with incarcerated folks as opposed to NGOs and non profits. In this conversation we speak about the intentions for the conference as well touching on the prison condition in the US, the National Work Strike, and many other things.
You can learn more about this event by visiting https://bendthebars.noblogs.org/, and you can RSVP to this event or correspond with the organizers by emailing bendthebars@riseup.net
And, to visit the news sources that our guest mentioned, and to learn more about the upcoming national prisoner work strike to be called on September 9th, you can visit the following websites:
http://freealabamamovement.com/
https://supportprisonerresistance.noblogs.org/
https://iwoc.noblogs.org/
Additionally there is https://www.prisonlegalnews.org/, which is a resource for folks who want more
information about the day to day litigation that affects convicts and their families.
Announcements
AntiFenix
But first here is an announcement regarding AntiFenix by our comrades in the so called Czech Republic:
"Last week the appeal court hearing took place in the High Court in Prague. Russian, vegan, straight-edge anarchist Igor Ševcov, who was appealing his sentence – a 2 year expulsion from the Czech Republic for video recording someone else graffitiing prison walls during a support demonstration (complicity to criminal damage) – was given a new sentence.

The judgement remained the same – the high court still finds him complicit in criminal damage, but the judge changed the penalty. The new sentence: Igor is banned from attending any sporting or cultural event or any event like a manifestation, demonstration, benefit, mobilization, protest or any other action within the anarchist movement.

We do not know yet what it means exactly, but it's likely that Igor will have to visit a probation office any time there is a big action, and he will be surveilled during any other event by under cover state agents and spies. If he violates his sentence he can be put behind bars for up to 3 years.

We do not know if Igor will follow this sentence, try to oppose it legally or just follow his own agenda and feelings and see what happens in the future. In any case, he has our full support.

If you want to support Igor, rather than congratulating him on his "better" sentence, ask him what kind of support he needs, for he is in a very uncomfortable situation. And mostly, keep changing your environment into a world where repression, exclusion and borders are exchanged for mutual solidarity and freedom."
To learn more about this situation, you can visit their support website at https://antifenix.noblogs.org
Jerry Jai Williams
While national coverage continues surround reactions to police killings of Alton Sterling in Baton Rouge, Philando Castile in Minneapolis, and so many other people of color, and significantly black men killed by police, protests continue here in Asheville around the police killing of Jai "Jerry" Williams on July 2nd of this year. Jai was shot 7 times and killed by Sgt. Tyler Radford at the Deaverview Apartments in West Asheville on July 2nd. Since then family, community members and activists have continued acting in public to make sure the police account of what happened July 2nd does not go unchallenged. This activity includes presenting a different version of the story, working to support family and make space for their needs, marches downtown, flyering, interceding at public meetings, vigils outside of the Asheville Police HQ and also a sit-in that ran for about 36 hours in the HQ lobby and leading to the arrest of 7 on July 22nd. The demands of the sit-in included the firing, arrest and indictment of Sgt. Radford for the murder of Jai Williams.
Support and resistance events continue. If you're in the Asheville area and want to help out and draw attention to the case and bring home the message that this touristic mountain town suffers the same plague as the rest of the U.S. in terms of police unaccountability and systemic racism, you can join folks in the streets in vigil outside of the downtown police headquarters at the daily vigils at 6pm and plug in.
Much respect to those resisting, solidarity with the family. Shut it down.