September 9th Prisoner Strikes with Portland ABC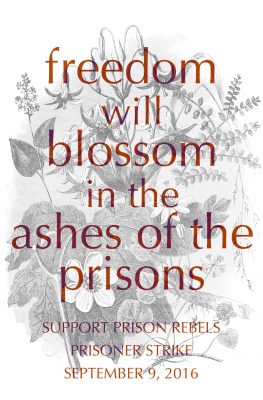 This week's episode features a  conversation with Tyler Durden of Portland Anarchist Black Cross  & the Portland Industrial Workers of the World  about the upcoming September 9th National Prisoner Work Stoppage across the United States. September 9th, the 45th anniversary of the Attica Prison Uprsing in 1971 and is an effort by prisoners in local, state, federal and immigration facilities around the country to address issues around the nature of their confinement, racial and class disparities in incarceration, under-and-un-payed (in some states, forced) labor often described as legalized slavery. Over the hour, we talk about organizing efforts and how to clue in to the strikes as they start this week.
A few quick announcements for this episode…
Call for Anti-DAPL Solidarity Actions
There is a call-out for acts of solidarity with the folks resisting the Dakota Access Pipeline. As we spoke about a couple of episodes ago in Gil's interview with LaDonna Brave Bull Allard who owns the land where the Sacred Stone Camp is held, resistance to the pipeline designed to carry crude oil from source through 3 states to Illinois and cross the Missouri River a number of times continues to grow. Indigenous peoples and their supporters are gathering for nonviolent, direct action protests to block the pipeline's construction and the threat it poses to the soil, animals, plants and that longest river in North America, the Missouri. From https://nodaplsolidarity.org comes the calll for #NoDAPL Global Weeks of Solidarity Action from September 3-17th. That site offers suggestions of places to target for protest. nodaplsolidarity.org also offers suggestions of banks and businesses maybe in your area that are funding the pipeline and that could be a nice place to visit to express one's distaste for the pipeline.
Plug into Sept 9 actions nationwide
If you're in the U.S. and looking to plug into a supporting prisoner struggle in your area, check out IGD for a partial and growing list of events nationwide. If you're planning a public event not up there, email it into info(at) itsgoingdown(dot)org for other to see.
Asheville Sept 9 action
Here in Asheville, folks will meet at Aston Park, at the corner of South French Broad and Hilliard in Downtown, at 5:30 to discuss a solidarity march. Bring banners, noisemakers, signs and so forth.
Solidarity with Coyote Acabo
From It's Going Down
Coyote Acabo , an anti-racist activist from Olympia, WA has a rough road ahead of him and could really use some support. He is currently serving 13 days on an anti-police graffiti case, and has another 22 days to serve in the very near future on a case where he was convicted of throwing a rock at a truck belonging to a neo-nazi. That's a neo-nazi that showed up with many others to counter an anti-police brutality protest that Coyote was a part of.
Last year, Olympia saw a lot of spirited marches and demonstrations in protest of an Olympia police officer shooting two young black men, Andre Thompson and Bryson Chaplin. In response to the very understandable anti-police brutality demonstrations that were going on at that time, neo -nazis were showing up to disrupt the protesting which at times even meant neo-nazis attacking the protesters.
Well, Coyote has a third case that he is currently dealing with, and for that case his trial starts on September 19th where he is being charged with felony assault. In this case he is being accused of pepper spraying a counter protester who grabbed someone who was a part of an anti- police brutality protest that Coyote was a part of.
Coyote is now in the city jail in Olympia, WA and money is being raised that will go towards phone calls , commissary, and to help his family out while he is locked up.
Visit the crowd funding site, here: https://rally.org/supportcoyoteacabo to learn more about how you can donate to the support fund. Also, please pass it around as well. Solidarity from near and far is so important in times like these.
Call for International Solidarity Oct 8-9, 2016, with the ZAD at NDdL in France
From Squat.net:
"the entire zone is due for evictions to start the construction of this absurd airport. Prime minister Valls has promised a "Rendez-Vous" this October to evict everyone who is living, working, building and farming on the zone.
On October 8th, tens of thousands of people will gather on the zad to demonstrate that the determination of the movement is as strong as ever. Honouring farmers struggles from the past, we will come with wooden walking batons and leave them on the zone, as a sign of the commitment to come back and pick them up again if necessary. We will also raise a barn, built by dozens of carpenters during the summer, which will be used as a base, should evictions happen.
We are calling on all international groups and movements to either come to the zone on October 8th or show their solidarity with the zad through actions directed at the French government or multinational Vinci in their own towns and cities on that day.
The airport will never be built. Life on the zad will keep on flourishing!"
Future updates can be found at http://zad.nadir.org