Anarchist Black Cross of Mexico City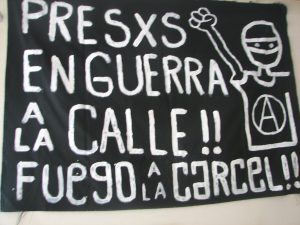 This week, we present a conversation with a member of CNA-DF, or Anarchist Black Cross of Mexico City. During the hour she speaks about the work of CNA-DF, prison in Mexican society, anti-prison organizing versus prison abolitionism, transformative justice, counter-repression and prisoners the CNA is working to support.
Specific prisoners CNA-DF supports include: Alvaro Sebastian (Oaxacan teacher); Fernando Bárcenas (accused of burning the Mexico City Xmas Tree in 2013 during anti-fare increase demonstration in Mexico City. Publishes Cimarron newspaper, involved in punk rock, alternative health care, horizontal education and organizing in prison.); Luis Fernando Sotelo (accused of burning a bus during day of global action in solidarity with the Ayatzinopa 43, Normalista students disappeared by the Mexican State. Sotelo has received a 33 year sentence for damage to the bus. Recently on hunger strike, in prison 2 years now); Abraham Cortés (13 years for attempted murder of a cop, arrested during October 2nd memorial demonstration in Mexico City of the 1968 massacre of hundreds of demonstrating students. Recently on hunger strike w Fernando Bárcenas against: 1. Prisons, calling to revolt against the state; 2. in solidarity with the #PrisonStrike starting Sept 9 in the U.S.; 3. And against the Bárcenas & Cortés); & Miguel Ángel Peralta Betanzos (from Oaxaca, accused of attempted murder of politicians in opposition with communal indigenous council of his community).
Announcements
Raids at Standing Rock
After a series of violent raids which saw over 100 people arrested, the most recent on October 27th at Standing Rock and other camps resisting the Dakota Access Pipeline, there has been a call for renewed and amped up solidarity for this resistance. This could include coming to North Dakota and fighting the pipeline and joining the struggle, organizing where you live and taking action against banks, the Army Corp. of Engineers, and politicians backing the project, and sending money and supplies to the encampment. Already solidarity actions are taking places, such as the occupation of buildings, solidarity demonstrations, and more.
To get more ideas of what solidarity could mean, and where to send supplies and funds if you are able, you can visit https://nodaplsolidarity.org and click the tab "Support the Camps".
Kinetic Justice of FAM transferred
Kinetic Justice of the Free Alabama Movement has been transferred out of Holman Prison in Alabama to Kilby Correctional Facility and from there to Limestone Corrections, known among Alabama prisoners to be a "bully unit," where prisoners deemed disruptive are brutalized. This occurred one day before he was reportedly scheduled to meet with an advocate from the Southern Poverty Law Center (SLPC). This is in clear retaliation on the part of the prison system, and is an attempt to silence a dissenting voice which has been very important both in FAM and in the Prison Strike. In response, Kinetic is ending the first week of a hunger strike, to protest his treatment and bacaause he doesn't trust Limestone to not tamper with the food they give him.
Keep your eyes on the free alabama movement's webpage at http://freealabamamovement.com/ for updates on Kinetic's situation and how to help. You can also follow them on twitter @freealamovement, you can also follow Freedom for Kinetic @for_kinetic
Anti-Nazi march in Harrisburg, PA
Lastly tho not leastly, DON'T FORGET that Saturday the 5th of Novemeber will see resistance to a National Socialist Movement rally (or more plainly, neo nazi) in Harrisburg PA. The NSM is teaming up with the Traditionalist Worker Party for this charade in the so called "heart of democracy", the TWP being the same boneheads who were responsible for drawing knives in Sacramento this past summer. Central PA Antifa and related anti racists are calling for as much support as possible at this event, to help run the nazis out of town.
You can get up with this situaiton by connecting with Central PA Antifa on facebook by searching their name, you can also donate to them by visiting:
https://www.gofundme.com/centralpaantifa
you can also get super up to date information by following them on twitter @centralpaantifa
Asheville Prison Books Cover Band Show
If you're going to be around Asheville tonight, Sunday October 30th, and want to get your ghoul on for a good cause, consider visiting the Prison Books Cover Band benefit. For over a decade now, punks have been showing up and rocking out to raise funds for Asheville Prison Books, a 501c3 non-profit that sends literature to prisoners. Cover bands include SubHumans, Green Day and many, many more. The show starts at Toy Boat on 101 Fairview Rd, just off Sweeten Creek Road.