Daniel McGowan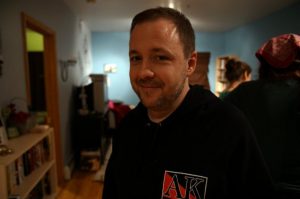 This week (last week, actually) we spoke with Daniel McGowan. Daniel is from New York City (Queens, actually) and talks about his start in activism with Earth First!, his current views on his activities with the Earth Liberation Front, Communication Management Units in the prison systems, prison gang structures, prisoner support, the Certain Days calendar designed by political prisoners and more. You can find more about Certain Days at http://certaindays.org and more about prisoner support work in New York City at http://nycabc.wordpress.com.
If you're in New York City, check out the 2017 Calendar release party this Saturday, November 12th the Interference Archive at 131 8th St, Brooklyn at 7pm
https://www.facebook.com/events/631708823654677/
To check out Marius Mason, Earth Liberation prisoner, education fund:
https://www.generosity.com/education-fundraising/marius-mason-s-education–2
Zolo Azania, Black political prisoner, release fund:
https://www.gofundme.com/helpzolorebuild
Barbara Curzi, formerly incarcerated United Freedom Front member, medical fund:
https://www.gofundme.com/barbaras-loving-circle-2w49vnqs
Bo Brown, formerly incarcerated George Jackson Brigade member, Medical fund:
https://www.youcaring.com/bo-brown-655777
Update on Kinetic Justice
As we reported last week, Kinetic Justice has been on hunger strike since October 21st to protest his transfer to Limestone Correctional Facility, which is a notoriously dangerous supermax facility located in Harvest, Alabama. Prison officials are currently denying him water, and his support network is fearing for his safety.
CALL WITH DEMANDS TODAY: Call the Alabama Department of Corrections and Alabama Governor Robert Bentley's office demanding 1) that Kinetik Justice be transferred from Limestone Correctional Facility; and 2) that Pastor Kenneth Glasgow of The Ordinary People's Society be allowed to visit him and assess his condition immediately.
Alabama Department of Corrections
Montgomery, Alabama
(334) 353-3883
webmaster@doc.alabama.gov
Governor Robert Bentley
600 Dexter Avenue
Montgomery, AL 36130
(334) 242-7100
For more information, you can visit: The Free Alabama Movement and The Ordinary People's Society