Red Warrior Society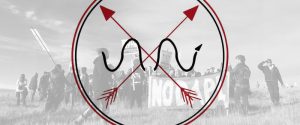 This week on the show we spoke with Ikmu, an indigenous activist who was involved in the Red Warrior Camp at Standing Rock against the Dakota Access Pipeline. Ikmu is now affiliated with the Red Warrior Society and is traveling with comrades around the country on a tour to talk about their work, decolonization and the struggle against ecocidal projects like #DAPL.
For the hour, Ikmu and Bursts talk about the Camps at #StandingRock, indigeneity, decolonization, the cases against Water Protectors Krow, Red Fawn Fallis and others, prayer, direct action and more. We had this conversation just after the eviction of the Oceti Oyati Camp by pol-igs of various stripes. To find out about the upcoming West Coast branch of the Red Warrior Society Ride For Resistance Tour, check out https://facebook.com/redwarriorcamp
Red Warrior Society's legal fund
Red Warrior Society's Funds Account
Contacts and support for some of the folks who are still being held in custody in connection with water protection at Standing Rock are:
Katie "Krow/Twig" Kloth
Katie Kloth
Morton County Correctional Center
205 1st Ave. NW
Mandan, ND 58554
Red Fawn Fallis
205 6th Street SE Suite 201,
Jamestown ND 58401
Charles "Scorch" Jordan
Charles Jordan
Burleigh County Jail
PO BOX 1416
Bismarck, ND 58502
and Michael "Rattler" Markus
Michael Markus
PO Box 1108
Washburn, ND 58577
Please write to and support these folks! For more information and further ways to support these brave folks, you can get up with the Water Protector Legal Collective at https://waterprotectorlegal.org/ and the Water Protector Anti Repression Crew on fedbook. Fundraising sites for these folks can be found at It's Going Down
To check out our 2013 conversation with Krow on defending the Penokee Hills in northern Wisconsin, it starts 35 minutes, 47 seconds into the episode.
Announcements
Updates from Sabal Trail Resistance
Following our interview last week with Karrie and Niko of Sabal Trail Resistance against the Sabal Trail Pipeline in the South Eastern U.S., the the two locked down inside a section of the pipeline in Marion County, Florida to hamper the construction of the high pressure gas pipeline and demanding the release of a revised Environmental Impact Statement.. You can donate to the legal fund for these and other Water Protectors in the South East by visiting https://sabaltrailresistance.wordpress.com/donate/
Building The Commune in Durham
#BUILDINGTHECOMMUNE is a convergence organized to spread the tools and knowledge for self-defense and autonomy throughout our community in Durham, NC. We are dedicated to building a culture and space for autonomous resistance against Trump and his regime, the State, and capitalism. This convergence is happening across three different venues in Durham: Pinhook, Arcana, and the Atomic Fern.
The Welcoming Committee will be setup at Pinhook (at 117 W. Main St, Durham, NC 27701) with materials/programming distributed there. Childcare will be provided with drop-off/pick-up at the Atomic Fern (at 108 E Parrish St, Durham, NC 27701). A free lunch will be provided at Pinhook by Durham FoodNotBombs.
To close out the day, an Autonomous Assembly will be held at Pinhook from 4:00PM – 5:00PM. The assembly will collectively create the agenda to be discussed, but we'd like to suggest that folks come prepared to discuss: announcements and projects to collaborate on; skills, resources, and spaces we can share with one another; direct issues/crises facing the community or concerns we're feeling; and mutual aid networks (cop-watches, community medical programs, rapid-response call networks, etc.) we can begin building in Durham now. We will provide materials to help folks learn how they form affinity groups, so that they may begin autonomously building these networks themselves.
You can see an entire list of workshops and events at the website http://www.buildingthecommune.com/
ACAB2017
If you are in Asheville or the surrounding area, consider participating in the first ever Asheville Anarchist Bookfair! The dates for this event are May 5-7th, and will include workshops, shows and dance parties, nature events, and a whole day of tabling revolutionary and anarchist art and literature.
Keep your eyes on http://acab2017.noblogs.org for the latest in news about the fair, and also use this webiste to submit ideas for workshops, speakers, or tabling. See you there!