Support Jessica Reznicek and Navigating Conflict in Movement
This week on the show, we're airing two portions.
Support Jessica Reznicek
[00:02:06 – 00:36:33]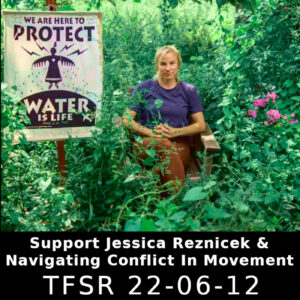 First up, Charlotte speaks about their friend, political prisoner and water defender Jessica Reznicek who just had an appeal denied of an 8 year sentence and terrorism enhancement for sabotaging the Dakota Access Pipeline with another Catholic Worker prior to DAPL. carrying oil. It's estimated that the two cost $6 million in lost profits to Energy Transfer Partners and stopped the flow of 30 million barrels of oil. For the hour we talk about #NoDAPL, the movements that Jessica was involved in, including Occupy and the Catholic Workers, the increased criminalization of dissent as the climate heats up and how to support Jessica and spread the good work. You can learn more about Jess and her case at SupportJessicaReznicek.com and you can purchase benefit t-shirts here: https://www.eaglescreenprint.com/shop/p/free-jessica-reznicek-tee
Navigating Conflict In Movement
[00:37:52 – end]
Then, we do something a little experimental. We present a conversation with a member of an anti-authoritarian movement in Europe. We don't say what movement. We talk about conflict internal to their movement, but we don't name the parties involved. The conversation was conducted from an anti-authoritarian perspective, in the interest of creating heterogeneous communities of struggle. The purpose of this recording is to promote a mental exercise on the part of the listener to plug in their own experiences in movements with many different trajectories inside of it. The anonymous nature of the conversation was in part to not contribute to internal conflict to the movement, conflict is better addressed between parties involved than with an outside party (our radio show) who's interest may not be the same as the movement. I hope that this conversation is helpful, for all of it's purposeful vagueness. This originally aired in 2017.
. … . ..
Featured Tracks:
. … . ..
Find our socials, contacts and streaming at TFSR.WTF
Support the project and our transcription at TFSR.WTF/Support
Find our growing library of zines and transcripts for reading, distro and translation at TFSR.WTF/Zines
Learn about our radio broadcasts and how to get us on your local station at TFSR.WTF/Radio
. … . ..
Jess Reznicek Transcription
TFSR: Could you please introduce yourself with any name, preferred pronouns, affiliations, or anything that you want to share?
Charlotte: Sure, I'm Charlotte, I use she/they pronouns and I am a member of the Free Jess team.
TFSR: We're gonna be talking about Jessica Reznicek Catholic Worker, and land and water defender facing eight years in prison for sabotaging the Dakota Access Pipeline without causing a drop of spillage and succeeding in losing Energy Transfer Partners a good amount of money, which is pretty awesome. In the first step, I wanted to ask if you'd mind sharing how you became a supporter of Jessica, if you come from the prisoner support world or eco-defense support, how you came to this?
C: I met Jess in Iowa, I had spent time at Standing Rock, and then things were getting so militarized and crazy, and I heard that they needed extra hands, there's a small scrappy group in Iowa, so I went down there. That's where I met her. We were part of the same direct-action caravan called Mississippi Stand. Jess had really started the resistance movement to the Dakota Access Pipeline DAPL. In Iowa, most people think of DAPL with Standing Rock, but the pipeline also went through North Dakota, South Dakota, Iowa, and then there is the end in Illinois. She really galvanized the Iowa base to care about this pipeline and its pollution into the waters there. Personally, I've been doing climate justice work pretty much since Standing Rock. That was a big moment for me personally, I do direct action, do prison support of different kinds. I'm an abolitionist. So for me with Jess, there's a lot of things that intersect and at the end of the day, just being her friend and not wanting her to be locked up and wanting to support her and share the pieces of this fight and legal situation that we're all really terrified about.
TFSR: Can you tell us a bit about Jessica's story, who she is, and how she approaches political engagement? Just a quick aside. Before we talked, one of the things that I just very basically did was to look at the Wikipedia about Jessica, and there's just so much stuff in there. She has been so active, I'm sure she keeps it up even from behind bars. Could you tell us a bit about your friend?
C: Jess grew up in Iowa, and has a really deep connection to the waters there. And I think her actions were definitely motivated from that place of just holding those waters really sacred to her. The very formative political moment for her was being involved in Occupy about 10 years ago, she was really involved with that, she's really involved with the anti-nuclear movement and doing a lot of actions against the proliferation of nuclear missiles. She is an active member of the Catholic Workers Movement, which is a really big part of who she is. And within that, the Plowshares Movement, and that flavor of direct action. She is also really place-based. I was really struck by her connection of place to Iowa and connection to the rivers and really forming these relationships with everyday farmers and residents and people on the street. This was very much not an echo-chamber vibe. I think different political movements like Occupy, a lot of people there were already radicalized, or we're talking within circles, but what I saw was always her reaching across and finding ways to bring people in and educate them on these really oppressive systems.
TFSR: So we featured the voice of folks involved in Catholic Worker struggles in the past on the show a few times, actually had Martha Hennessy of the Kings Bay Plowshares 7, comrade [4:36] had passed us audio of an interview with Martha before Martha went inside. But I must admit the movement is marginal, a lot of people have not heard of them. I grew up Roman Catholic and had Catholic parents, but I only learned about the Catholic Worker Movement because of things the SF Bay Area Book Fair having its pre-Book Fair Cafe funded either at a Catholic Worker space in San Francisco in the late 90s, or early 2000s, or from stories from Utah Phillips, the musician, the storyteller of his teacher, Ammon Hennacy. Now I know the Plowshares Movement has had a long direct action history connected to the Catholic Workers. Would it be possible for you to give a little intro to the milieu that Jessica came out of and would you say some words about the Catholic Worker Movement?
C: Sure. The Catholic Worker Movement was created in the 1930s. Dorothy Day and Peter Martin are the two – I don't know if officially – founders but those are really big figures in the early days. And a lot of their tactics and approaches to injustice are focused on non-violence service, and redistributing wealth and resources. This was started with people feeling really disenfranchised from the industrialization of Europe, and especially a lot of young workers seeing those inequalities rise really drastically during that time and serving those on the margins of society. They're also very anti-war. A lot of their actions are focused around service, I don't know if they use the words mutual aid, but it's very mutual aid in orientation, about just supplying basic needs to people and making sure those resources get to folks. So in a lot of the different regional houses, they have kitchens, which was definitely a part of Jesse's life for years in Iowa, in Des Moines in the Catholic Workers house there, they feed a lot of houseless folks and whoever just wants some free food. A lot of distribution of wealth, a lot of service, sacrifice, and worship are also pretty big parts of that.
I guess that sort of strain connects to the Plowshare Movement, and that's a little bit more specific. That's part of the Christian pacifist movement. They're very anti-nukes, and they really came about in the 80s. There was, as you mentioned, the Plowshare 7, there's the Berrigan Brothers and some other folks that they got their name, they beat swords into plowshares, and trespass, allegedly, into this place where missiles were made, and they poured blood on the documents and offered prayers for peace – those kinds of actions of sacrificing themselves to highlight this injustice in this issue is very much what they're known for. A lot of times, it's also oriented around prayer. That is also something that Jessica really related to, and she joined the Dakota Access Pipeline struggle and Standing Rock, I think, the overlap was prayer. She was really standing in solidarity with a lot of indigenous communities where their resistance was rooted in prayer and this deep connection to the earth and integrity and a sense of what's right and being on the right side of history. So I think, for Jess, the indigenous sovereignty and Catholic Worker Movement had that overlap. And then obviously, the direct action piece is a really big part of the Plowshare and Catholic Workers Movement as well.
TFSR: As a reminder for folks, especially younger folks, the struggle against the Dakota Access Pipeline was huge. It was a moment of bringing together indigenous sovereignty, climate justice, direct action, and land and water defense, as well as an anti-capitalist activity against a lot of the banks investing in this mega project. And it was eventually completed. And oil is flowing through it. But I'm wondering if you, as someone who was involved in that struggle, could give listeners a sense of what was going on at that time and your experience of it a bit.
C: That Dakota Access Pipeline is about a 1200 mile-pipeline from North Dakota that ends in Illinois. It has the name Standing Rock because it was next to the Standing Rock Sioux Reservation but it also went through a lot of other lands. It just became an enormous movement and big flashpoint, as you mentioned, for climate justice, anti-fossil fuel work, indigenous rights, sovereignty, decolonization, the land back movement – a lot of seeds were really planted for that there. It's hard to predict when these moments will happen. But a lot of people really resonated with the injustices that were happening. And one of the main things was that the pipeline was originally supposed to go through a more populous white town, and it was rerouted in the permitting process because they realized it was so dangerous to go through the reservation, and then it ended up going through very sacred burial grounds. And that very clear environmental racism really struck a chord with a lot of people. And then a few people showed up, and it grew to about 15,000 people. Lots of direct action, there was a ton of skill-sharing, there were a lot of different camps there and, of course, politics and different vibes with different camps, but there's definitely a strain of self-sufficiency and autonomy and skill-sharing in a lot of ways that I don't think a lot of people had experienced before, that was really empowering. It was this incredible moment for movement building and relationship building. And really having a firm indigenous-led decolonize really rare resistance movement. Then you add the climate change piece on top of that. And it really became this lightning-in-a-bottle moment for land defense and people banding together and doing these really enormous direct actions of hundreds of people occupying sites, where different construction equipment was doing at different stages of constructing a pipeline, welding equipment together, boring under rivers, stringing pipe along, digging underground – people were interrupting that process.
There was a range of how that was happening and sometimes people were occupying it and planting native seeds, and there was song and prayer. Other times, people were locking down to equipment to physically stop the construction from happening. From that, it led to enormous costs for Energy Transfer Partners, the pipeline company that owns the Dakota Access Pipeline. They had to increase their private security costs. We saw this huge increase in surveillance of resistance. I would encourage folks to read the Intercept's articles on Tiger Swan, their whole oil and water series covers this super in-depth. So it was this brilliant moment of coming together and movement building. And then it also led to this whole private security surveillance apparatus being exposed. And the increase in the expenses for Energy Transfer Partners led to a lot of banks divesting. So it also sparked the divestment movement. And investors realized that these are actually really risky financial operations or investments at this point. We also saw, in terms of suppression of protests, these critical infrastructure bills that came out of Standing Rock, so the oil and gas industry was really scared. And that's evidenced by the fact that they lobbied and put together a whole series of critical infrastructure bills after this that is now active in 15 states. That was a direct response to Standing Rock. It really elevates a lot of the charges associated with tampering with fossil fuel infrastructure. And so simple trespassing, which would otherwise be a misdemeanor, is now a felony in a lot of states and really upped the ante on those charges. A lot of things came out of that movement – a lot of power and a lot of suppression as well. And I think what we're seeing with Jessica is a result of that fear from the oil and gas industry and this real desire to deter people from trying to stop them.
TFSR: I think another set of laws that came out of the state's reaction to Standing Rock, were these ones that decriminalized driving into crowds of people because there were such large marches or blockades of streets, that they basically wanted to make sure that pipeline workers weren't going to get any charges for just forcing their way violently through a crowd of people in this huge metal object. Really scary.
C: Yeah, totally. You think of the Charlottesville attack of Heather Heyer, and it's not out of the question to think of someone plowing through a crowd with a car and killing someone. It happens, and exactly what you're saying, bills like that that decriminalize that activity are directly connected to this apparatus to deter people from any resistance and fighting these systems of power.
TFSR: Could you say a bit about what Jessica pled to, how she ended up getting caught, what she was convicted of, and just nuts and bolts of the case that the US government brought against her, and how she came to be labeled as a terrorist?
C: Jessica acted in 2016 with another woman to disable pipeline equipment. Nobody was harmed. In 2017, they publicly admitted to this. Three months later, Jess's home was raided by the FBI. There was this waiting period of two years before she was indicted by a federal grand jury on multiple charges and placed on house arrest. So there's this spooky two-year period, that was really stressful, of course. This led to her sentencing hearing in June of 2021. And that's when she received the domestic terrorism enhancement. She pled guilty to one count of conspiracy to damage an energy facility. That was the only charge without a mandatory minimum. She also has to pay 3.2 million to Energy Transfer Partners in restitution. She will also be on supervised probation for three years.
TFSR: You talked about the increased penalties for things that would be considered necessary infrastructure or attacks on that, which, when I hear that at first, that makes me think of foreign powers or a terrorist organization that might try to take down the electrical grid that could harm a lot of people. But how did terrorism charges come into this? I guess it wouldn't be a byproduct of those enhancements that you were talking about after the last question because that was a state decision to talk about the infrastructure. But it seems to be directly in the lineage of stuff that happened during the Green Scare from the mid-90s up through the early 2000s, where terrorism enhancements for Marius Mason were applied to nonviolent sabotage actions, for instance, the Animal Enterprise Terrorism Act put in an enhancement at a federal level, if anyone were to interfere or call for a boycott even of animal-related industries, this feels it's in that vein, is that a fair way to look at it? Can you go into a little detail about that?
C: Yeah, definitely. We know exactly where the label of domestic terrorists for something like this started in 2017, 80 Republicans and four Democratic members of Congress pressed the Justice Department, then-Attorney General Jeff Sessions to treat all people who tampered with fossil fuel infrastructure to label them as domestic terrorists. And they wrote this letter. That's exactly where this started. This is a direct answer to that call. And that was in 2017. That was in response to the Dakota Access Pipeline and the fear that the fossil fuel industry was failing. And those Congress members together received a total combined 36 million in campaign contributions from the oil and gas industry. So this is being led by the oil and gas industry as a way to protect their assets. That's one of the reasons why we're really scared about this we're seeing this collapse of the government and an oil and gas company. And then specifically the domestic terrorist label is really a sentencing guideline and so it has to do with harming an individual, harming human life, like people like Timothy McVeigh, who killed 168 people. He's charged as a domestic terrorist. And then the specific clause that Jesse's label rests on is whether or not she influenced the government. And it was the prosecutor back in her sentencing hearing that suggested that she was labeled as a terrorist. Her guideline for the charge that she admitted to, originally the sentencing guidelines range from 37 to 46 months, and then when Judge Rebecca Goodgame Ebinger responded to the prosecutor and applied this domestic terrorism label to Jess, that automatically increased her sentencing guidelines from the range of 37 to 46 months to 210 to 240 months. That five-fold increase obviously has led to Jess being in jail now for eight years. Judge Ebinger claimed that the lengthy sentence that she gave to Jessica was necessary to deter others. That is all on the record.
TFSR: Well, that leads me to this question. So Jessica just lost a recent challenge in the Eighth Circuit Court of Appeals to the terrorism enhancement. Can you talk about this and what the next legal steps are for her?
C: We were arguing in the appeal that the terrorism enhancement should be dropped. That would lead to a re-sentencing of her. That definition of being a domestic terrorist, that legal language hinges on whether the actions must be "calculated to influence or affect the conduct of a government by intimidation, or coercion, or to retaliate against government conduct." So we were arguing that her actions targeted a private company, not the government, and therefore this label was misapplied. In the appeal decision that came out a few days ago on Monday, they basically didn't go into the merits of whether the domestic terrorism label was accurate or not. They said it's irrelevant and any error was harmless. This harmless error is something that's used in courts a lot. They're basically saying that being labeled a domestic terrorist is irrelevant, she would have received the same sentencing either way, which isn't true, her sentencing guidelines went from 37 to 46 months to 210 to 240, when she received that label. We're really worried about this for a lot of reasons. Number one is that those who critique the government in a regulatory process can be labeled domestic terrorists for critiquing the regulatory process. That is the prosecutor's justification, that Jess read her statement in front of the Iowa Utilities Board. And in critiquing the regulatory process – which later was found by a federal judge to be illegal – it's an illegally operated pipeline at this point. So Jess was right. Number one, the fact that people who critique the regulatory process can be found as domestic terrorists is terrifying.
Number two is that judges can label a land defender a domestic terrorist and then go back and say it was a harmless error, that it was irrelevant to apply that label. So it's a pretty terrifying precedent that's being set. We're being supported and talking a lot to different civil liberties groups who are really worried that this is not random. This is part of a much broader, politically orchestrated set of decisions and bills – the critical infrastructure bills, the letter to Jeff Sessions, the funding of these Congress members, and then even the judges or Trump appointees. They have a lot of ties to different big industries, pharmaceuticals, and Big Ag. We're just really worried about this precedent this sets for a lot of activists, and this is part of a much broader movement to suppress protests, not just in the US, but internationally as well.
TFSR: To the question of what the next legal steps are, you said that Jess's support has been talking to various civil liberties groups. But is there a next legal step? Maybe I missed that in the answer?
C: No, you didn't. The next legal step would be asking for a rehearing by the entire Eighth Circuit Court of Appeals, appealing to the US Supreme Court, and/or seeking presidential clemency. So we're figuring out what is next.
TFSR: How can listeners help Jessica out at this point? And do you have any suggestions on how they can support the movements and activities that she put herself on the line for in moving forward? How can people continue to support indigenous sovereignty land back, stopping the destruction of the earth, and water defense?
C: Great question. In the big picture, I would urge people to examine their privilege, and how high the stakes are. In part, why just did such a bold action like this was her connection to the waters, but it was also trying to highlight how high do the stakes have to be where we act outside of the sanctioned forms of protests or resistance to the state, to capitalism, to the fossil fuel industry. The appeal came out the same day that NOAA, the National Oceanic and Atmospheric Administration, announced that carbon dioxide levels are now 50% higher than during the pre-industrial era, and carbon dioxide has not been this high in 4 million years, and it's not dropping fast enough to avert catastrophe. We all see wildfires, sea-level rise, and all kinds of stuff from climate change. We know, at this point, it's real. This state wants us to submit our comments to an environmental impact statement and then go back to our lives. And that's our only avenue, or maybe stand with the sign outside. Now we can't even trespass, according to their rules. I would encourage people to act outside of what the state allows us to do. And the stakes are really high right now. The climate is burning. I would encourage people to take bold action, whatever that means for you, to get engaged, to examine your privilege, to get to know where you are and what native land you're on, and get involved in different solidarity with Native communities where you are. Also, learn skills and don't be afraid to ask questions, if you want to do something more than holding a protest sign. Connect with groups, there's lots of direct action trainings all the time, and people can find ways to plug in and skillshare. There's no stupid question, show up as a student.
More specifically, to plug into the campaign, people can follow us on social media. Our website is SupportJessicaReznicek.Com. It's a pretty simple website run by a few volunteers but it has all the details there. There's all the legal details, there's tabs to get involved, and there is also information to contact Jess and write her a letter. You can also sign the petition. There's over 100 organizations that have signed on the organization petition and there's also individuals, over 15,000 people have signed on. Especially now after the appeal was denied, we're definitely in a new stage of the campaign, we're going to be leveling up. So we definitely need the support of folks. You can sign up for our email lists. You can also follow us on the socials, we're on Twitter, Instagram, Facebook @FreeJessRez. We definitely don't want anyone to do an action outside of the facility that she's in, but I'd really encourage people to take whatever actions they feel inspired to, if that's a banner drop, or a kitchen or getting together to write letters to her, that is great. We're going to be doing an international day of action at some point coming up. We also had a webinar about a month ago, and we had some really bad-ass speakers – Cherri Foytlin, and Cindy Spoon from the L'eau Est La Vie resistance camp from the Bayou Bridge pipeline. We had folks from the Water Protectors Legal Collective, who were awesome folks from the Climate Defense Project. That was a really comprehensive look at Jesse's case with some friends who are on the support team just speaking more personally about Jess's personality. There's a lot of material with Jess's words that we have on this site. So I would encourage people to watch them and become more familiar with the case because what happens to Jess could happen to all of us. Protecting the water should never be terrorism.
TFSR: I was just looking at the really neat T-shirts by Kat Eng that are on the website for sale, which is pretty cool.
C: Yeah! Buy a T-shirt. Kat has been awesome. They're really cool T-shirts, it's Eagle and the Condor myth. Buy a t-shirt and support Jess, the money will go to her and her education in prison.
TFSR: Are people invited to send books or write letters to Jessica? If so, what are some things that Jess likes receiving or talking about?
C: I love that question. On our website, you can click on the Contact tab, which has the details to write to Jessica. Prisons are horrible. You can't have any stickers, there's just a lot of details about what is allowed and what's not. So those details are there. Definitely make sure to follow those details. Talk about whatever you want. But I think her feeling solidarity, not feeling this was for nothing, hearing about dogs, she's taking care of a puppy in there. Any puppy training techniques or tips. Just hearing about people's connection to place and maybe how they inspired her, or she inspired them. I think all of that would be super welcome. Just telling her she's not alone and people are really thinking about her and keeping her in their hearts.
TFSR: Cool. That's super helpful. Charlotte, was there anything that I didn't ask about that you wanted to touch on?
C: I think I would just encourage people to get involved in some way. There's so many ways to get involved. If direct action feels too much for you, show up to a support camp and help in the kitchen doing dishes, provide research or legal support to folks, or organize a letter-writing party. I'm a firm believer in a diversity of tactics. We need it all, we need everyone, I think the worst thing people can do is just sit back as the world burns. So I would just encourage folks to push their comfort zone and find a new group, find a new friend if they're not in the circles already. And just find some ways to plug in in a way that feels exciting and nourishing for you, too, because we need to sustain ourselves, sustain others, and stand together in this fight against the fossil fuel industry and the state.
TFSR: That's really awesomely put, thank you for that. Thanks a lot for having this chat and for supporting Jess. Share our love with Jess.
C: Thanks for having me, I am really glad that you all are interested in her case.
. … . ..
Conflict In Movement Transcript
TFSR: And now an uncomplicated conversation about conflict in movement.
So I was hoping that you could speak a bit about experiences that you have inside the movement that you're involved in, or in a political space, difficulties coming up or stoppages in communication between yourself and others or in processes, whether it be individuals or groups that you think make working together difficult.
Anonymous: One thing that pops in my mind is the question of time. Here, I see a big difference between people in terms of efficiency and the time we take to make a decision or make a project. Often people use the excuse of emergency to go quick, to take a decision only by a few people. And then other people that were not involved in the decision-making process are asked to be part of the project, but after everything has been decided. And I feel people always reproduce the same thing because of an emergency.
TFSR: So is that like making a decision before people get together sometimes, and just go into the meeting with a conclusion, rather than a proposal?
Anon: They see the big assembly not as a place where you discuss, but a place where some groups arrive with a decision or project they discuss only among them. And you as an individual don't have the time to think about it, about other ideas. So at the end of the meeting, they ask if there is any idea at this moment to make something different, but you didn't have the time to think about it or to feel confident enough to expose your own idea. So in the end it's the project of the people that talked about it before in their groups that gets implemented.
TFSR: Is that the dynamic that could be changed if someone wanted to come up with a general agenda beforehand, give space and time, a few days before and say, "Hey, we're going to formulate things to talk about proposals, the meeting, we're gonna give 15 minutes to talk about this, bring your proposals, 15 minutes to talk about this problem or this project, bring your proposals." Does that sort of thing happen in the assembly? Or is it less organized than that?
Anon: It's less organized than this. You know that there's gonna be an assembly every two weeks or every month, but the subject of the assembly is sometimes set in advance, sometimes not. If you know the subject in advance, maybe you can organize to think about what you want to do. But it's not that easy to put people together and find what you want to do.
TFSR: Do you think that when you experience that that's because people are trying to push something through the process, or because they literally just thought about it beforehand, so it's a weakness in their communication strategy? Maybe a mix?
Anon: Sure, it's a mix. But I often see people who want to push something. They have an idea or a common view of what should be the trigger here and what is strategic or not, what is good or not for this trigger. On a bigger scale, it often responds to the way of imagining what is strategic and what is good.
TFSR: Do you imagine that the people that push through things don't trust the thinking of the other people in the assembly or just view themselves as having a different political perspective and so in competition, and that's why they push it through, or is it simply may be for, in terms of efficiency, we have a really good idea, no one's going to disagree with this, so we just need to make a quick decision?
Anon:I feel it's a bit paternalistic. Here, it's really difficult to have a common decision because of so many different ways of thinking. So at some point, if we want to do things here, we assume that some people need to take the power, it's too complicated here to do with everyone involved. We agree on the same strategy as a group and we push for our decisions. If you want to do the same, you can do it. Actually, it's not really the case. If you want to do it as they do and if you are anti-authoritarian, you can't compete, because you don't want to make a closed group that nobody knows about, a closed group with many people with lots of privileges, like class privilege, people that went to a prestigious school, people that have no problem was money, no problem was alcohol. So actually, if you want to do the same in a more horizontal, anti-authoritarian way, it's not possible.
TFSR: Can you talk about other dynamics that make it easier for people to take advantage of a stage or a platform during discussion/debate? Like education and access to money or things. Coming from a different society, but also a patriarchal society, I understand, that gender often has to do- Being male-assigned, being cis-gendered, you identifying as you were assigned at birth. Is that something that you experience like a level of comfort with taking space because of that?
Anon: Yeah, in the group I'm thinking of, the majority of people are male-assigned people, able-bodied people, people with the capacity to go to many meetings, write texts. Sometimes it's one person writing text and then saying this is collective, while it's not. It is not the same when this person is quite confident, and we are used to listening to them, because of their gender and their role in the community. Their voice is much more heard or taken into account than someone who is not in this category. If you want to be here the same way, as a woman, you have to speak loudly, and people think you're aggressive or stuff like this. It's much more difficult to give your voice the same importance.
TFSR: Does ethnicity or nation of origin have any play in the dynamics too? Or language access? Ease of speaking a language?
Anon: For sure. The question of ethnicity plays a role here. The majority of people are white European people. And I think it's not that easy for people seen as not white. But in the groups that are having much power in their hands, no, I don't know. It's complicated. And the question of language is really important. The words you can use. Sometimes texts are written by this group of people. The vocabulary is a really high-level language. And if you don't understand, you don't feel that this text is for you, it makes a barrier between people who are concerned by this text or proposal and who are not part of this.
TFSR: Have these criticisms been brought up to the group of people you're talking about? Have they been willing to hear feminist critiques, for instance, or class critiques of how they take space, or how they engage with the rest?
Anon: About feminism, there has been criticism and an important moment where this group of people wrote a text about women saying that women just have to take the power as well. And they just have to be as strong as men. There was a big event and after this, people realized how authoritarian this group can be. I think they're able to hear the criticism and change before it's too big. But often, if you criticize this organization, they would say that you are against everything, this is only in your imagination. And you want to just be critical for the sake of it. As radicals and anarchists in the real world, we have to fight and be strong, and we don't have the choice. Sometimes we have to be strategic and go quick. So at the moment, there has been a lot of criticism. Some people try to make visible this organization and the power they have in their hands. There is more and more discussion about it. And maybe there will be a change. But until now, they would deny, the people are taking power and domination, people try not to see it or don't see it really.
TFSR: Do you think that group is being strategic? Is approaching these critiques methodically, looking at them and saying, "Okay, somebody has proposed this critique, how do I step around it?" I know that, for instance, for me to hear feminist critiques has taken time because society teaches me to think in a certain way. And so I need to have conversations to be like, "Oh, I see. I didn't realize I was doing that." That takes a lot of patience from people. But do you think that this is a part of a strategy?
Anon: In this group, I see that people are quite different. It's not a heterogeneous group. Some people really think they want to do things here and this is the way, but they don't see how this means that many people are out of the way, it's not so easy for other people to join this group. If they are not able-bodied, if they're not middle class, if they don't have to do something in this in this group, if they slow the process, things like this. And other people – not the majority – really think in terms of strategy, of party style of politics, and sometimes I see that they come and just listen to our critiques. If you talk with some people for one or two hours, they will not change their way of thinking at all. But they will listen to have all the information they need to see what the opposition to their way of doing is.
TFSR: Do you see any options moving forward to address this dynamic and change it or block them from doing this sort of thing?
Anon: I think to make it visible, visible that this group exists, what it means in terms of poor concentration, and to talk with people that are close to this group or inside this group, person to person, as you said before about feminists, talk about anti-authoritarianism and think together. This is possible, too. I don't want to talk with some people, I don't feel confident enough. I don't know what else to do. But I think if more and more people are aware, we can change something in the structure of the community so that few people may not have so much power in their hands about communication, relation with media, and money. So it's something we need to discuss with many people, but the first step is to make it visible and talk with people about this.
TFSR: Are there other points that I didn't ask about that you'd to get out or that have been on your mind?
Anon: Something special here is that we all live in the same place, maybe 200-300 people, and there is a big focus on the relationship between people. This is what makes us really strong. Because we do many things together, even if I don't agree with you during the meeting, the day after, we will make some agriculture together. But the other thing is that the conflict is something we are afraid of, we are afraid that we're not gonna get along if we talk about conflict. And it's like social peace when you need to keep a good relationship. We are afraid to go too far into the conflict and prefer to look aside and go on like this. I don't know if it's special here, but I see it as a barrier to talking about conflict.
TFSR: Someone else that I talked to had brought up that same point, that it's difficult. It's difficult conflicting with people who you share space and struggle with. Because you don't want it to become war, because then it's easy to escalate. And then not only because of the toll that it has on the individuals involved, but also because if factions go to war with each other within a movement, the movement collapses. And then people are damaged for the rest of their life. Do you see that there's a non-lethal way of engaging, just the one-on-one conversations about "When you do this, it makes me feel this way. And here's what I think about how you're doing this"? Would that be the solution?
Anon: People here are really egocentric, not thinking collectively and not being self-conscious about their privilege and what place they take in the violence they cause for other people. We need a lot of capacity to listen to people and take as much time as they need. The conflict can be something really interesting, and we see it as something terrible. This is imagination around conflict, that it is terrible and this is war. Well, people don't agree, and this is political and interesting.
TFSR: That seems really important, too. If things are going to move forward because the project, the struggle that you're in right now isn't in a state of war immediately, like it has been in the past. It's not that the idea of peace at all costs internally is a good idea. People are going to disagree, like you said, because it's heterogeneous and people need space for that, for conversations, and for disagreement. But if the state comes in and tries to evict again or if something big happens since elections are coming up, for instance, and people that are conflicted internally, it seems it's easier for everyone to be broken.
Anon: Yeah.
TFSR: Thank you very much.