Community Self Defense Post-Charlottesville-2017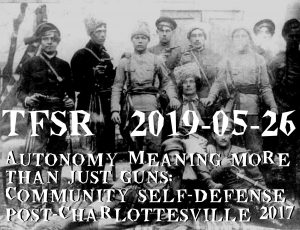 This week we share an interview I conducted a few months back with two folks, Inman and Bleep, about community armed self defense. They talk about their experiences of handling firearms, lessons learned from their visibly armed presence at the Charlottesville Unite The Right protest in 2017, wider ideas of community self-defense beyond open carrying firearms (like engaging in like unarmed self-defense, infrastructure for food and health autonomy). The guests also talk about skills expanded and muscles flexed in Appalachian and southern participation in autonomous disaster relief in the last few years, some resources and ideas to keep in mind or steal if your group is thinking about training in firearms or medic'ing and more.
There's a lot cut from the radio version, so if you're listening live, we suggest you check out the online edition up at thefinalstrawradio.noblogs.org where you can stream any of our shows or subscribe to our podcast.
Announcement
Blue Ridge ABC events upcoming
If you're in Asheville on Sunday, June 2nd, you can join Blue Ridge ABC for their monthly political prisoner letter writing night from 5-7pm at Firestorm Books. No experience is requred. And on Friday, June 7th from 6:30 to 8:30 instead of Trouble, BRABC will be showing the documentary "The Bail Trap" and having a discussion about it afterwards.
. … . ..