Prisoners in Ohio and Alabama Speak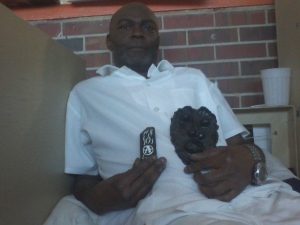 This week, we hear the voices of three prisoners: anarchist prisoner Michael Kimble and jailhouse lawyer Arthur "Akbar" Griggs at Holman CI in Atmore, Alabama, and Mark "Mustafa" Hinkston at Toledo CI in Ohio.
Michael Kimble
In the first portion of this episode William and Bursts spoke with black, gay, anarchist prisoner, Michael Kimble, being held at Holman Prison in Alabama serving a life sentence for the murder of a white, homophobic, racist bigot. This audio is from a longer conversation we had in the context of an upcoming episode about Fire Ant zine featuring the voices of prisoners and outside folks involved in its production. Keep an ear out for that. Meanwhile, Michael talks about the gang breakdown of the prison he's at, the queer & mostly white prisoners he's around now, pushes to reform the prison system in Alabama. Here are a few links referencing what we talked about: William's 2015 interview with Michael Kimble; Swift Justice on Kinetic Justice and AL prison expansion; Thurgood Marshall was an FBI informant on Robert F Williams during the Civil Rights struggle. Michael can be contacted by writing:
Michael Kimble
#138017
3700 Holman Unit
Atmore, AL 36503
Arthur "Akbar" Griggs
Michael then passed the phone to Arthur Griggs, known by folks inside as Akbar. Akbar is a jailhouse lawyer who talks a bit about his work, pushing back against administration, his involvement in the Free Alabama Movement and a request of listeners outside of the prison walls. Akbar can be written at:
Arthur Griggs
#129969
3700 Holman Unit
Atmore, AL 36503
Mark "Mustafa" Hinkston
Finally, we hear from Mark "Mustafa" Hinkston. Mark is a member of Central Ohio IWOC (fedbook & twitter) who was just transferred to Toledo CI in Toledo, OH. He had just come off of a hunger strike to challenge his mistreatment by guards and administration of mentally ill prisoners at Youngstown (SOCF) in long term isolation. He himself came out of almost 3 years of isolation at Youngstown, despite having no violent incidents in almost 3 years. In the latter half of the show, Mustafa talks about his experience in the hole and the advocacy he does for other prisoners and his ideas about prison abolition. Mustafa can be reached via his JPay at by looking him up by his name and number (#A707808) at jpay.com to those people who have JPay accounts. He can also be written letters at:
Mark Hinkston
#A707808
Toledo Correctional Institution
2001 East Central Avenue
Toledo, OH 43608
Announcements
Sean Swain Transferred (again!)
Guess who just got transferred again!!! You can write to Sean Swain at his latest address as of mid-May 2019 at:
Sean Swain #2015638
Buckingham Correctional
1349 Correctional Center Road
Dillwyn, VA 23936
Anniversary episode
Keep an ear out for an upcoming podcast episode of TFSR with the co-hosts, William and I, talk about the project, about our politicization and get personal. This'll be dropping quite soon.
NAASN 2019
If you are in the southeast of the so-called-U.S. for the weekend of May 31-June 2nd, consider dropping by the North American Anarchist Studies Network Conference at 1083 Austin Ave NE, Atlanta, GA in the Little Five Points neighborhood. The theme for this year is Emergent Horizons and more info, including abstracts of presenters and the schedule is updated at https://wiki.naasn.org/NAASN_2019_(en) Stop by and visit the Final Straw table if you are around!
… . ..