Anarchy and Indigenous Resistance to AMLO in Mexico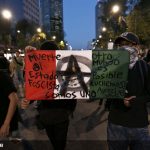 This week on The Final Straw, an anarchist living in Mexico talks about the reign of the MORENA gimpparty of Andres Manuel Lopez Obrador (aka AMLO), the new face of capitalism it presents, it's relation to social movements and indigenous sovereignty and the anarchist and indigenous resistance to the regime. We cover mega-projects being pushed through around the country, the repression of activists and more in this whopper of an episode.
Here's a great English-language blog based mostly out of Oaxaca that covers struggle in Mexico and across the northern border: https://elenemigocomun.net/
To learn more about the Anarchist Days that our guest spoke on, you can email janarquistas2020@protonmail.com!
Channel Zero Fundraiser
The gofundme can be found at https://gofundme.com/Channel-zero-network-2020-fundraiser/ .To check out the video to match the audio you just heard so you can enjoy and spread it around, check out our show notes or at https://sub.media !
Final Straw Notes from the guest:
If you want to understand the politics of Mexico, listen to the voices of Indigenous peoples and communities, women in struggle, campesinos
Indigenous populations and megaprojects:
Airport Lake Texcoco
New International Airport of Mexico City proposed in 2001 by Vicente Fox, but cancelled shortly after due to organized resistance
AMLO cancelled project after carrying out a "popular consultation"
Cancel one mega-project to impose three more
Expansion of Santa Lucia and Toluca airports
Naucalpan- Toluca highway
Interurban train
– Tren Maya (Mayan Train)
950-mile train connecting principal tourist destinations in the states of Chiapas, Campeche, Tabasco, Yucatan and Quintana Roo
17 stations including Playa del carmen, Tulum, Palenque, Merida, Cancun
Infrastructure projects to be built around train stations
For tourists and cargo
– "Corredor Transistmico" Interoceanic corridor
Industrial corridor connecting the ports of Salina Cruz, Oaxaca, on the pacific coast, and Coatzacoalcos, Veracruz, in the gulf of Mexico.
The project is meant to compete with the Panama Canal, as a route of land transportation connecting the Pacific with the gulf of Mexico.
United States has been trying to get this project going since the 19th century
Train routes and a super highway, modernization of ports, and various older train routes
– Proyeto integral de morelos (PIM) (Integral Project of Morelos)
Project that began in 2012 and has faced stiff resistance from the Frente de pueblos en defensa de tierra y agua Morelos-puebla-tlaxcala (People's Front in Defense of Land and Water Morelos-Puebla-Tlaxcala)
The PIM roject includes:
Thermoelectric plant in Huexca, Morelos
A natural gas pipeline to supply gas to the plant which passes through 60 Indigenous and campesino communities in Tlaxcala, Puebla and Morelos
An aqueduct that seeks to move 50 million liters of water daily to the thermoelectric plant from the Rio Cuautla
Italian and Spanish transnationals
CODEDI assasinations:
On February 12, 2018- Ignacio Ventura, Luis Angel Martínez and Alejandro Diaz Cruz.
On July 17, 2018- Abraham Hernandez Gonzales
On October 25, 2018- Noel Castillo Aguilar
COPIG-EZ assasinations:
Concejo Indígena y Popular de Guerrero – Emiliano Zapata CIPOG-EZ (Indigenous and popular council of Guerrero-Emiliano Zapata)
May 2019- José Lucio Bartolo Faustino, Modesto Verales Sebastián, Bartolo Hilario Morales, and Isaías Xanteco Ahuejote of the Nahua people organized as the Indigenous and Popular Council of Guerrero – Emiliano Zapata (CIPOG – EZ).
Other assasinations
Samir Flores Soberanes of the Nahua people of Amilcingo, Morelos.
Julián Cortés Flores, of the Mephaa people of the Casa de Justicia in San Luis Acatlán, Guerrero.
Ignacio Pérez Girón, of the Tzotzil people of the municipality of Aldama, Chiapas.
Juan Monroy and José Luis Rosales, of the Nahua people Ayotitlán, Jalisco.
Feliciano Corona Cirino, of the Nahua people of Santa María Ostula, Michoacán.
Josué Bernardo Marcial Campo, also known as TíoBad, of the Populuca people of Veracruz.
Political prisoners
Building international networks of solidarity, both anarchist and otherwise, with Mexico
Anarchist Days- July 13-19, 2020 in DF Email: janarquistas2020@protonmail.com
Las jornadas en defensa del territorio y la madre tierra "Samir Somos Todas y Todos" February 20-22, 2020
. … . ..
Music for this episode by: