Voices from the Gitdimten Access Point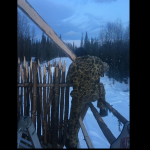 This is a podcast special featuring the voices of three warriors who were on the barricade on the road to Unist'ot'en Camp at the Gitdimten Access Point. Eve Saint (Wet'suwet'en land defender), Anne Spice (Tlinket land defender) & Shilo Hill (from Onandaga nation, Haudenosaunee, Six Nations) were there to defend unceded Wet'suwet'en land from the Canadian state's violent imposition of the Coastal Gas Link pipeline. They talk about what brought them to the Gitdumden Access near so-called Houston, BC, the buildup to the impending raid by RCMP troops, indigenous sovereignty, land and water defense, the long road to decolonization and the importance of outside support and solidarity from indigenous and First Nations peoples and their allies and accomplices.
This morning (Feb 6, 2020) at about 5am Pacific, the RCMP began their raids and arrests in an attempt to impose the injunction and clear the land and water defenders from the Wet'suwet'en lands. Media have been detained and released and at the time of this publication, 6 land defenders have been arrested and refuse to sign and conditions imposed by the Canadian state and so are still in state detention.
Members of the Wet'suwet'en First Nation are asking for people to take solidarity action in support of their autonomy. Solidarity actions have looked a lot of different ways in the last few months across Turtle Island, so-called USA & Canada. Take a moment and listen to your heart, find your friends and do what you think needs to be done to get the ball rolling.
You can keep up with news at the Unistoten Camp website (Unistoten.Camp) or on fedbook, YouTube and twitter, Wetsuweten Access Point at Gitdimten fedbook and Instagram or at the sites Yintahaccess.com and Likhtsamisyu.com, all of which will be present in our show notes. You can also keep up on solidarity actions posted on the Montreal Counter-Info site (MTLCounterInfo.org), North Shore Counter-Info site (North-Shore.Info) and ItsGoingDown.org
To hear a few audios we've released, including with Delee Nikal and Chief Smogelgem of the Likhts'amisyu clan in the last year or so, or other words on land defense in so-called Canada, visit our website, TheFinalStrawRadio.noblogs.org.