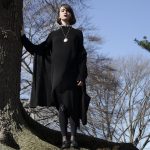 This week I had the pleasure to sit down with Sarah Lyons, who is an author, activist, and a practicing witch about her new book Revolutionary Witchcraft: A Guide to Magical Activism which came out in 2019 from Running Press.
This was a great interview to have for me, because this is a topic we haven't yet presented on this show and we cover a wide range of topics; our guest's personal history with witchcraft, what is meant by magic, witchcraft, and animism, how anti-racists and anti-imperialists could approach having a magical practice that doesn't fall into appropriation, and many many more topics! We also discuss her new book at length, what led her to write this book, and what she hopes readers might get from it.
. … . ..
You can go to sarahlyons.org to see more information by and about our guest, plus upcoming projects. You can also follow her on Instagram @citymystic and on Twitter @_sarah_lyons_.
You can read further articles by our guest at her website or at her Medium page!
Support the Maroon Movement and the Baltimore Free Store!
@MaroonMovement and a coalition of anticapitalist organizers are looking for individuals and organizations that want to assist with a regular Baltimore Free Store that will offer no cost food, gently used clothing, toiletries, books, housing items, & services such as sewing, haircuts, classes, etc.
The are actively fundraising to purchase food, toiletries, rental space, transportation, serving items, storage and other fees needed to launch and make Baltimore Free Store happen. They would appreciate the solidarity. Any amount – $1, $5, $10 etc. – helps to alleviate the real life effects of anti working class budget cuts and poverty that impacts our community! Together the village will win. All Power To The People!
PayPal: https://paypal.me/simarbg
Cashapp: https://cash.app/$Simaleerbg
Venmo: @Simaleerbg
simalee.bandcamp.com
To donate items, volunteer, or for more info email thebaltimorefreestore@gmail.com
To hear our interview with Sima Lee, one of the founders of the Maroon Movement, you can follow this link!
. … . ..
Music for this episode by:
Feminazgul – The Rot in the Field is Holy off of their as yet unreleased album No Dawn for Men, scheduled for release in June 2020. More from Feminazgul, and related projects, at their bandcamp!
TIMESTAMPS (for podcast version):
00:00:17 Introduction to the show's main content, Sarah Lyons on Magic, activism, and her new book Revolutionary Witchcraft
00:01:11 Announcement to support the Baltimore Free Store!
00:02:31 Words from anarchist prisoner Sean Swain, Sean speaks about his experiences with the Parole Board
00:10:05 "speak about your book and what led you to write it?"
00:15:38 "what would you say to skeptical listeners to hold their attention?"
00:19:59 "describe what you mean by magic and witchcraft"
00:23:21 "could you go into animism a little more?"
00:31:22 "we are taught that the witch trials = six crazy days in Salem that one time. Could you go into the actual scope and some of the context?"
00:40:06 – 00:45:31 Musical Break with Feminazgul's The Rot in the Field is Holy off of their as yet unreleased album "No Dawn for Men"
00:45:31 "talk about the tension between inspiration and appropriation in a magical practice?"
00:58:40 "how is capitalism trying to incorporate witchcraft and how can people push back against it?"
01:03:50 "is there a spell or practice that you would suggest to listeners, especially those who are interested in incorporating magic into their activism?"
01:07:34 "how can people learn more about you and get in touch?"
01:09:23 closing sentiments.