Tracking Technology and Food Distro in Pandemic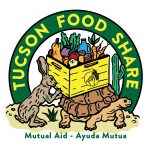 This week, we feature two conversations. Cora Borradaile and Michele Gretes, folks involved in the Digital Security Project of the Civil Liberties Defense Center, speak about contact tracing apps and surveillance. Then, Se speaks about Tucson Food Share's grocery distribution program.
Contact Tracing Apps
First up, we hear Michele Gretes and Cora Borradaile. Michele is the Digital Security Coordinator of the Civil Liberties Defense Center and also does digital security for an environmental non-profit. Cora is a co-founder of the CLDC Digital Security Program and is an Associate Professor of Computer Science at Oregon State University with a focus on the security state and the adoption of more-secure apps. They talk about surveillance and the use of apps for tracing folks contact with people infected with covid-19 to slow the pandemic spread. This is a segment of a larger conversation we'll be releasing in the middle of this week as a podcast in which Cora and Michele talk about and compare tools for online organizing that engage encryption and offer alternatives to the google and other "free" products that often surveil their users. We speak about Jitsi, Wire, Zoom, RiseUp, Signal, vpns, The Onion Router, TAILS, KeyBase, Riot.IM, pgp and other mentionables. More at CLDC.org/Security/
Apple & Google announced this approach toward contact tracing we didn't really cover in detail / by name in this  conversation. Here's an article from Wired about it.
The White Paper referenced by Cora references from the EU with cryptographers is here.

GDPR (General Data Protection Re

gulation

) laws

, European restrictions on the collection and longtime storage of data on private individuals has been in place since 2016.

An article from VOX speaking about ICE using private phone data to seek out and arrest undocumented people in the US. Another talking about current tracking by phone companies of our movements.
Tucson Food Share
After that, we'll hear from Se of Tucson Food Share, based in Arizona. We talk about their project, how it scaled up from Tucson Food Not Bombs to deliver groceries and hand out burritos publicly, multi-lingual engagement, resisting burnout and finding joy in feeding people. More at TucsonFoodShare.Org . You should get in touch if you're thinking of setting up a food distribution project and have any questions.
Announcements
New Station: KODX Seattle
We'd like to mention that we're now airing on Monday mornings at 2am on KODX in Seattle. You can check out that station's schedule up at kodxseattle.org or hear them in north eastern Seattle on 96.9 on the FM dial.
Recent Release: Bomani Shakur and Lorenzo Kom'boa Ervin
Just a headsup, if you're looking for more content for your ears, we released a small segment of Lorenzo Kom'boa Ervin talking about prisoner organizing in the 1970's and today. This was paired with a longer chat with Lucasville Uprising survivor and death row prisoner Bomani Shakur aka Keith Lamar. For a little over an hour, Bomani talks about his youth, the uprising in 1993, his case and being railroaded. He has an execution date set by the state of Ohio for November 16, 2023.
. … . ..
Naughty By Nature – Hip Hop Hooray (instrumental) – Hip Hop Hooray
Leslie Fish – Bella Ciao – Smoked Fish and Friends