Digital Security Tools for Organizing with the CLDC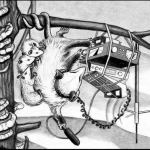 We're happy to share the rest of our conversation with Michele Gretes, director of the Digital Security project at the Civil Liberties Defense Center, and Cora Borradaile, who is on the board of the CLDC. For this podcast special, you'll hear the two discuss different tools for more secure, encrypted communication that is available on various platforms to folks organizing. They publish guides on CLDC.org/Security. We discuss the end-to-end encrypted alternative to Slack (Keybase) **, pgp email encryption (particularly the enigmail tool), Signal Messenger, problems with Whatsapp, Cryptpad, Jitsi, Wire, VPNs and The Onion Router,the TorBrowser, OnionShare, Zoom, Protonmail and some of the challenges of running longstanding movement infrastructure such as the RiseUp collective does (plus their file sharing and pad services). Check our show notes for links to some of these projects.
** Keybase was just purchased by Zoom. See the CLDC article.
(image lifted from the amazing Beehive Collective)
. … . ..
featured tracks:
Bojkez – Snap Your Fingers – Instrumental EP vol. 1
Glutton For Insurrection – V!RU$ 5TR!K3