The Right To Rebel Against Slavery: The Case of Ruchell Cinque Magee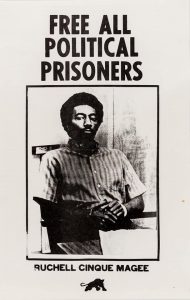 This week, you'll hear Ruchell Magee speak about his struggle over 57 years to be heard in the California court system and appeals to US Federal courts. Ruchell is the lone, surviving prisoner-participant of the August 7th, 1970 Marin County Courthouse Rebellion, lead by Jonathan Jackson and including prisoner rebels William Christmas and James McClain. Ruchell took the name of Cinque (aka Sengbe Pieh), the Mende man who justified for his right to resist unjust enslavement aboard the slave ship Amistad in 1839. Over the years Ruchell has become an accomplished jailhouse lawyer, helping many other prisoners and yet still languishing in prison.
For the hour, Ruchell talks about his case and strategy, the George Floyd Uprisings, corruption of the racist US legal system. We'll also hear from Claude Marks, former political prisoner from the Puerto Rican independence movement and co-founder / director of the Freedom Archives in San Francisco, which in August 2020 memorialized the 50th anniversary of the Marin County Courthouse Rebellion.
Ruchell's name appears on the California Courts Vexatious Litigants LIst, which bars filing in the CA system without permission from a presiding judge.
Court Documents:
Here is Ruchell's August 6, 2020 Pauperis petition to the US Supreme Court concerning the requirement of $500 to file his Habeas Petition;
Here is Ruchell's August 10th, 2020 Habeas Corpus Petition to the US Supreme Court, including case law and documents such as former jurors statements on Ruchell's behalf.