Chronicling Prisoner Uprisings During Pandemic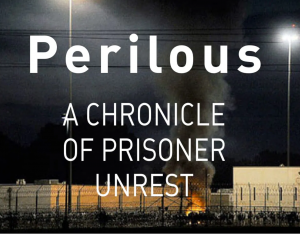 The last year has been a trying time for everyone. Among the hardest hit have been prisoners who have seen increasing infections of the covid-19 virus brought in by guards who live off site or other prisoners transferred in from other institutions, prisoners who don't have the luxury of free movement during the incessant lockdowns their wardens employed as a band-aid measure to limit transmission, prisoners who don't have effective healthcare in non-pandemic times and who across the board have had limited to no access to personal protective equipment. In many cases, incarcerated people have had their lives put on hold, the hard-fought programs they rely on to earn earlier releases paused during this emergency situation, access to the outdoor for exercise and socializing with others in their institutions unavailable because of under-staffing or concerns of spread. This sort of situation, hearing about the spread and deaths on the outside and being unable to defend yourself or loved ones, undoubtedly has a lasting impact on our psyches.
For this hour, Bursts spoke with a member of the Perilous Chronicle about their report "First 90 Days of Prisoner Resistance to COVID-19" concerning the spike in measured prisoner resistance in the forms of work and hunger strikes, fights with guards, riots and escapes from facilities ranging from county jails, state prisons, ICE detention facilities and federal prisons across the so-called US and so-called Canada. The report begins coverage of events on March 17, 2020, when protests occurred at facilities on either coast naming concerns of the approaching pandemic as impetus. Our guest speaks about the data they've been able to gather, their approach and specific incidents. The report, published November 12, 2020, will soon be followed with more information concerning the trend as it spread, including overlaps with the Rebellion for Black Lives of the summer of 2020.
You can find the report and more writings as well as how to support them or get involved at PerilousChronicle.Com. Their podcast is available there and wherever you get podcasts, they're active on twitter via @PerilousPrisons, can be emailed at info@perilouschronicle.com and they can be written at:
Perilous
P.O. Box 381
Tuscon, AZ
85702
Soon after this conversation was recorded, on February 6th 2021, prisoners at the St. Louis so-called Justice Center, aka The Workhouse, engaged in an uprising, taking over the fourth floor of the facility, flooding toilets, setting items on fire, busting out windows of the facility and waving banners. This was the 4th and 5th protest at The Workhouse since December and had escalated after mismanagement, lack of proper PPE, covid-19 screenings, warm clothing, access to recreation, price gouging, people awaiting trial in the postponed court hearings for months because they lacked money to pay the bail, filling meals and the lack of medical care of prisoners known to currently have the novel corona virus among other reasons that echo a lot of what our guest today talked about. You can find a good summary, including prisoner statements, in an article entitled "This Is Genocide": St. Louis Inmate Issues Statement on Horrific Conditions Behind Revolt on It'sGoingDown.org
Prison Escape video, Yakima County Jail
Announcements
A-Radio Broadcast
In case you missed it, the A-Radio Network broadcast it's 6th Transnational Live Broadcast of Anti-Authoritarian and Anarchist Radios and Podcasts, this year from studios around the world cooperating via the internet (thanks to the magic of audio comrades in Thessaloniki and others). You can now hear members of the A-Radio Network (producers of the BAD News: Angry Voices from Around The World) discussing various topics with international perspectives from Slovenia, Greece, Germany, Russia, Belarus, the UK, Turtle Island (specifically us at The Final Straw), and occupied Walmapu (aka Chile) speaking on various topics around the pandemic and repression, mutual aid organizing, prison and resistance and a Spanish-language section specifically with updates from Abya Yala, in so-called Chile, broken down into topics of 1-2 hours of audio for ease of listening. More at the A-Radio Website.
Funrdaiser for E
E is a Black trans comrade who went through a critical medical emergency. A fundraiser for resources after their release from hospital is ongoing. You can support them at Venmo (@SolidarityMachine) or CashApp ($SolidarityMachine) with a note saying "Comrade E".
Support
If you like the work that we do here at TFSR and want to support us, you can find ways to donate or purchase our merch by visiting TFSR.WTF/Support. Funds from our patreon go to support our transcription efforts to get conversations like this one you just heard more easily into the hands of prisoners and folks with hearing difficulties as well as making the chats more translatable and legible to search engines. You can find printable pamphlets and more of those chats we've transcribed by clicking our zine tab or visiting TFSR.WTF/zines. Supporting us can also look like telling folks about us on social media and rating us on streaming platforms like iTunes, Audable or Googlepodcasts. You can find links to us on those platforms and more by visiting TFSR.WTF/Social. Another great, free way to support us is to contact a local, community or college radio station in your area and tell them you want to hear us broadcasting on their airwaves. More info at TFSR.WTF/Radio . Thanks so much to folks who have been contacting us with ideas and supporting us in these and a myriad other ways. It really helps us out and we really appreciate it!
Fire Ant T-Shirts
Finally, we are selling Fire Ant T-shirts designed by anarchist prisoner Michael Kimble as a benefit for him. They are $20 a pop plus postage.
. … . ..
Featured tracks:
Watch My Moves (instrumental) by Koushik from The Hip Hop Remixes
Say by Finna Taylor
All We Got Iz Us (instrumental) by Onyx from Last Dayz
. … . ..
Transcription
TFSR: Would you please introduce yourself to the listening audience with any name, you want to share preferred pronouns, and any affiliations that makes sense for the purpose of this conversation?
Perilous: I'm a researcher at Perilous Chronicle, and through Perilous I've been studying, kind of researching and reporting on prisoner resistance riots, protests and other forms of unrest for the past few years.
TFSR: Cool. And is that the main gist of what perilous does? And why do you think that sort of work is important?
P: The project was formed out of conversations that wanted to try to document and basically build a timeline of prisoner protest movements since 2010. Maybe we hesitate to call it like a singular movement, but like, basically all these different acts that are just basically too diverse almost to think about it as a single movement that have been occurring inside the US and the Canadian prison system since 2010. We limit that just for our own capacity, we can't study the whole world at this point, at least. But we basically are interested in looking at prisoners who have organized hunger strikes or even have you know, organized prison breaks, different riots, hostage taking…everything from huge rebellions in which guards fire live rounds and there's tactical riot teams that come in, to prisoners attacking guards and setting a trashcan on fire. We're interested in all of these different sort of acts that are happening inside the prison system.
Yeah, so it started from there. And then we quickly realized: while that is still kind of at the core of the foundation of the project, we've really honed in more recently on two aspects that we think are…there's a relationship with the sort of the audience, like, what are we positioned to do well, and what do people want from us? And what do people like that we put out? We're really focusing now on sort of more investigative journalism, a little bit of breaking-news kind of reporting, but often kind of more in depth reporting.
For instance, one of the Perilous journalists wrote this really amazing piece on the Lauren Reed case, down in the southwest, the self identified email anarchist, who is picked up by the feds. There's already reporting on that, but sort of like in–depth reports on different stuff related to the prison system, and also kind of like data–driven research. And what that means — I know, data is sometimes a scary word to people — but this means doing really clear fact–based research. Specifically this came out and once COVID hit the prison systems in the US and Canada, we wanted to really carefully document like, how many events? How many of these in each facility? How many facility types? I think that's kind of, in part, what we're going to be focusing on today in this interview.l I've done the journalist stuff, too, but now I've been mostly focused on the sort of data report data tracking side of things.
TFSR: Any media project has an audience — and as you say, you're trying to figure out what your audience likes to engage with, and would look to you all for what you do well — but there's also a purpose, whether spoken or unspoken, to why a project focuses on a specific issue. And I think that there are other projects like the Marshall project, for instance, or The Intercept, that will talk about prisons, but specifically, putting the focus on the agency of people behind bars to engage in numbers more–than–just–one is an interesting choice. I wonder if you have anything to say about why your project is explicitly focusing on collaborative actions against the prison system against, you know, not even just fights between prisoners?
P: Well I think that's very perceptive. I think, in part, it was just looking at the landscape of research projects focused on prisons. That's very general, but that would include stuff like The Intercept, to the Marshall project. Where I live, one of the big driving forces trying to shrink the prison system is the libertarian right, because of budget balancing things. So they'll put out really important and interesting reports on shit.
But looking at this entire landscape, there isn't a project like ours. And that's not to say we're the best thing out there. I don't think that's true, either. But to just actually be honest, as far as we know, this is why the project started. There's been efforts in the past, different efforts to document, especially around the 2016 prisoner strike. And I'm also not an elder, I'm sure stuff like this has been done in the past. But the short answer to the question is all these projects just don't do what we do. And we think it's, at the bare minimum, we think it's an important part or should be an important part of the discourse. And in a broader sense we see our project as basically a big intervention in this discourse, and really centering what prisoners say, and more importantly, what prisoners do.
Oftentimes, we don't know what they say about what they do. And we try to reach out somehow, and maybe it works, maybe it doesn't. And we're not corrective in the sense that we just only focus on what prisoners say and do and like, they're the truth tellers of all. I mean, also part of our reporting often includes reaching out department corrections for press releases, reaching out to family members, guard unions, etc. We want to tell the full story of these events, because we think these events are significant. But they're significant because prisoners did them. So that's at the core of the project.
And I think, in a way, your question…like we don't have to come out and be like "we think prisoners are important" you know? I mean, yes, yes, we do, we think that. We think the prison systems are in crisis in a general way. And we think that the waves of resistance and protests over the past decade are significant to what happens next. But like, we don't want to say that every article, you know? We just try to tell the story and highlight the actions that the prisons are taking.
Which for me, this is why I do any of this at all. Basically being moved by prisoners back in 2016, who have really put themselves — in the September 9th of that year, and the National prisoners strike, the 40th anniversary of the Attica Rebellion — you know, you have to be really brave and courageous to do what these prisoners did. And at the very least, for me personally, I mean, this isn't my mission statement of the project, but that's important. One of the things we can do on the outside is help tell those stories, and tell the stories in a way that humanizes them too and isn't just like "freedom fighters bravely set this trashcan on fire" or something. We want to tell the story with the good and the bad parts. Because we think that's what the prisoners deserve, to have their story told, to have their voices out there.
So that's an even deeper core of the project in a way. We use these other ones you're referencing, like we use The Intercept, we have a relationship with an Intercept journalist, for instance, not Glenn Greenwald-
TFSR: formerly of Intercept.
P: Yeah, right *laughs*. And we have stuff like the Prison Policy Initiative, and…these groups are much different. Probably they probably they get paid, for instance. They do. But I mean, these groups are all super important, we use them too. But we have something that they don't have. So I would like to get to the point where it's like, Perilous is almost like part of that ecosystem, not because we have the same politics necessarily, but because all our research complements each other.
TFSR: So in November, y'all released a much lauded study on the first 90 days of the COVID 19 pandemic and prisoner resistance in the so called US and Canada. How was the report received? And can you talk about the methodology that y'all followed?
P: Yeah, this was an exciting moment, I think, for me, and for the project. We were trying to figure stuff out for a while. I mean, the project's been around for, I don't know, four years? Almost? I think we're coming up on the two year anniversary of our public launch, but I think we were probably meeting for a year and a half before that. And this sort of data tracking — which is not what we call that — we been trying to do for a while. To be able not only to research past events, but research events as they're happening. And the collective really rose to the challenge earlier this year, in part because of similar dynamics I just was referencing. Like, man, shit was so bad. And what people were doing inside seemed so important. I mean, because it seemed like this death sentence and in fact was a death sentence for too many, and continues to be so.
So I think, in part, being inspired by the actions people were taking inside, and in part because we had a little bit of preparation; the way the virus spread geographically, we started seeing these news reports of other places. I remember specifically Italy, rebellions and prisons happening in Italy as COVID hit there. I know right before [you and I started recording this interview] you referenced the mass release of prisoners in Iran, I think you said 50,000? That sounds right. I remember reading about that too. And the collective of Perilous, we were like, it's quite likely this will happen here. And we were kind of positioned in a way to be the ones that focused and do the initial reporting on that.
And I'll temper that extremely, because I really can't emphasize: I feel like so much this work relies on the work of so many other researchers and journalists. Part of the report we were able to put out was only possible because of all these journalists from all sorts of media organizations focusing — in March, April, May, June — on prisoners. And that's great, because otherwise we couldn't have done what we do. I mean we're really at the end of the day, a small, humble organization. That also applies to sort of prisoner support organizations and other media organizations of all sorts of stripes. So family members, too. You see what I'm saying? We're not doing all the reporting ourselves. We're often relying on other people's reporting, but basically putting it all together and seeing if it talks to each other through the medium of data.
It took us a long time to get the report actually out, it was mostly done — I don't know, if people didn't burn down the third precinct in Minneapolis — it probably would have came out in June. But that changed a lot of our priorities for a little bit. Interestingly the report we released goes through the middle of June, so you do get to see the sort of overlap of the George Floyd rebellion, mostly in the streets, some prisoners would reference it still talking about COVID though. Basically, everything that happens inside people are talking about COVID, which makes sense.
So, it came out in November, it came out through this relationship with this journalist, Ella Fassler, who was great. Ella reached out to the Perilous and it was like "your project's cool, can we work together?" We're like "yeah, we have this report we've been sitting on will like send you a draft right now if you want to start writing and pitching it to places." So basically, we released the report the day that Ella's article in Truthout came out. It's a great article, called Report Finds Over 100 Rebellions in Jails and Prisons Over COVID Conditions. I mean, truly big shout out to Ella. It could have been likely that the report came out on our website and no one saw it, but because it came out Truthout. I mean, also, because there was, in fact, over 100 rebellions in jails and prisons in the US, we counted 119 in the first 90 days in the US and Canada, maybe one or two of those are non events, but there's probably numerous, countless other events that we just don't know about.
So anyway, it came out in November, and got reposted on Slate, and got picked up a lot of places. Which was honestly just really exciting for us. Because like, prisoners had been taking action, and then we'd been reporting on it, and it seemed like we weren't doing it in the best way to communicate it to the larger public. Which is kind of what the project is about. And this feels like we succeeded in this goal, and that feels really good. Democracy Now, for instance, picked up this Truthout article and put it in their headline section. Noname, you know, this communist rapper, posted on Instagram. All these little things, they matter to us because it's also a confirmation of people wanting this research and reporting done that's focused on prisoners and what actions they're taking.
We talk about conditions, we talk about budgets, we talk about COVID spread in that reporting, but…I don't want to take any of the sales out of this excellent show, but I also don't want to get too bogged down in the details of the methodology. The base of it all is: prisoners act, and then we try to report on it. The collective talks about the methodology on this long episode of our podcast on our website, o if you are interested in that…I just don't want to get too bogged down in the nerdy shit.
Basically, we count a single event as when two or more prisoners take action. And, not that it doesn't happen, we just exclude events that are just groups of prisoners fighting each other. That's not to minimize the significance and violence of that in the dynamic in prisons, but we just have to limit ourselves. So we're focusing on stuff that's not that, even though it's often the same conditions that lead to both. Prisons are just these violent, terrible places and that violence is gonna find outlets in many different directions.
We started on March 17 and ended on June 15th. March 17 is not arbitrary — 90 days at the end of the day is an arbitrary length — but we kind of wanted to end in the transition to the George Floyd rebellion period. It seems like there was a change that happened in the way the rebellions were playing out. But March 17 is chosen because this is, as far as we know, the first actions occurred in the US in which the prisoners articulated COVID as the reason they were protesting. There was an action in New Jersey, and also one in California.
TFSR: And those are two different kinds of facilities, right? One was an ICE facility and one was a county jail?
P: Yep. And following the one in New Jersey, there was a string of similar actions. Basically this ICE detainee hunger strike, about COVID, and then outside supporters were doing car caravans. Which I don't know if people could remember back in March, feeling like we had no idea what this meant, what the pandemic meant, what the virus meant. I think that's a general truth for everyone. Some people immediately dismissed it, but we all around were like, paralyzed in a way, of what was happening. And these car caravans, I remember seeing that and being like "oh, okay, but we can still do stuff that's not just in your house or on your computer". And again, the first thing is the prisoners act, these ICE detainees went on hunger strike, and then Never Again Action, a network of Jewish activist, starting this car caravans. And then a few months later we were like "oh, we can actually do other actions besides cargo vans." I want emphasize…I know personally, for me, it was so beautiful to see that because it was in this moment of fear and paranoia and uncertainty, it was like "oh, people can still protest or something that seems important."
The methodology is: we count an event, like I just said, and we have a pretty basic system — which we're improving on now — of data extraction, kind of data entry thing, oftentimes from other reporting, sometimes original reporting, and that's the relationship between the Perilous journalist side of things and the data side of things. And so we look at the different event types, a hunger strike is different than a food strike, protest is different than an uprising, maybe they would be both, an event can absolutely have like multiple event types based on our schema. But same with facilities, there's many ways of doing it. Oftentimes a county jail will have a contract with ICE, and so it's like both of these things, even though the populations will be segregated, we just mark it as both. Then we mark state prisons are different than federal prisons are different than ICE detention centers. We track of which prisons are private, if there are private prisons, and what company runs it. We also track if the guards attacked the protests, what weapons did they use. We track a number of different things that just comes from looking at other articles, looking at independent research that the Perilous Chronicle has done, and then trying to put it all together and just pulling some numbers out of it.
And there's a second step to all this data stuff, though, we don't really want to do in a way. Like we kind of want to put this report out and be like "these are some initial thoughts on it, there was almost 10 escapes in the first month of this stuff." And it's like, what do people make of that? Like, why did that happen? Well, COVID, you know…this is a second level of interpretation that we almost want people to use in lots of different ways. We want journalists and other researchers and academics to use it. Unfortunately, I'm sure like some law enforcement someplace, download our data set. I mean, they'll be reading it through a totally different lens. But, you know, we put it out, and we want it to circulate. Because for us, the most important thing is to emphasize how widespread the actions were: the diversity of the actions, the diversity of the facilities, the geographic spread of it, across the US and Canada, the number of participants which we count as best we can. And that's really, at the end of the day, what the report does, like here are the numbers, and some other details, do what you will with it. Which is scary, but that's that's how it works, I think.
TFSR: Often on the show, we have guests who call in from behind bars, or we'll put together a segment based on an interview through letters. We try to amplify the voices of prisoners as much as possible. And while they can generalize their circumstance to some degree, they're limited, obviously, from being in prison to the scope at which they can talk about experiences. Like a few weeks ago, I got to talk to Bennu Hannibal Ra Sun of Free Alabama Movement, and he's been participating in these wider discussions among incarcerated folks around the country. So that is a bit different of an example, but one thing that I like about the work that y'all put out, and this report, is the opportunity to look at like, okay, numerous facilities in these geographic areas are having this sort of reaction, and how does that relate to the spread of Coronavirus or the prior history of those facilities, or the amount of connection or activity on the outside? So I think that your report — even if you don't want to do that second level of conclusions, or whatever, that are based on your own experience — this does allow for people to get these takeaways related to policies and repression and resistance. Are there any takeaways from the report in terms of resistance during the pandemic that you've observed that you feel comfortable waxing philosophical on?
P: Yeah. The first part of that, which I think is what you're getting at, we're able to put all the events together so they talk to each other in a way. That's something that I would like to think we would offer to prisoners who see themselves as part of the movements, currently incarcerated people — not to reinforce the prison walls, in a way to say that people outside aren't — but I have access to more research stuff. I know this from talking to people, like my friends on the inside. So a lot of criticisms of the project, though, it's like we haven't really…we can't do everything. We've tried some ways of sharing our project with people on the inside, and we haven't really come up with the best way of doing that, besides maybe describing it over the phone. Or I think people have actually sent in printouts of the article. But that's not really facilitated on the website.
I mean, it is a digital project, so we can't do everything. But I guess if people — whether that's you or other listeners even — had thoughts on how to do that, in a way that isn't a whole separate project, that would be interesting to hear about. As far as the conclusions based on the research, there's a lot of interesting stuff in here, that may be totally waxing philosophical, but for me one of the most interesting things, not maybe the biggest part of the wave of rebellion — which it does feel fair to call this first 90 days of resistance to COVID, it's like something like a wave — it's like something similar about much of it. Even if there wasn't some sort of formal coordination, in the same time period responding to similar if not almost exactly the same conditions, a lot of the prison systems dealt with COVID in similarly inadequate ways.
I think the biggest thing is the size of the number of events. But within that, one of the things I was drawn to the most was the emergence of this demand for immediate release. And, I'm willing to be corrected on this, but in the short amount of time I've been paying attention to prisons and prisoners stuff, and being in support organizations and doing media work, I just don't think that's a demand that people normally say. Like, you're in prison, and you have a list of demands, and one of them is "let me out of prison", right? I mean, that happens over and over again, during this period, because prisoners early and accurately described COVID as a death sentence for people who are locked up. It's truly tragic. It's hard to dwell on it in a way. No one, in Michigan where I live, was sentenced to death. And they're just in there, getting sick, and dying, or having permanent symptoms.
So early on, people were like, like even the big national prisoners strikes, the demands were better wages and stuff. These are all like, good things, they were ways to kind of publicize. And I know that those demands made sense in that moment, in lots of ways; I think we could have some other debate about that. But putting that aside, the demand for immediate release, or not even an immediate release of yourself but the immediate release of elderly prisoners-
TFSR: …or people who are reaching the end of their time already, like a few months away.
P: Yeah. Exactly. So there's policies, there's like legislative talk off and on in different states about how to strengthen prison population, but this was a new thing. And I think it's a really amazing thing because there's something common sense and simple, in the best way, about this demand. It's the single best thing that the systems can do to make prisoners a little bit safer, rather than masks and hand sanitizers and testing guards temperature and stuff. And everyone kind of knows that: the different state governments, the different federal, you know, ICE and stuff, everyone kind of knew this. And then in a way, it's still tragic, but the way that they didn't act, it's just like an obvious thing. I feel like prisoners were like "you need to shrink the prison population today or we're gonna die." And they were right. And it sucks they were right.
In a study we actually marked that, when prisoners were either released a list of demands, or they talked to the media in some way, we looked at what they said. And every single time they said something about COVID, anytime we have a prisoner quote, they mentioned COVID. Which is about half the events were like that. And then a good number of those, I don't have the number right in front of me, but a good number of those, they had something to do with immediate release. So that's, that's one of the things I was most struck with.
And the second one related to that — in its own kind of direct–action–oriented way — is the high number of escapes. Okay, there were nine clusters within this 27 day period. So that's from March 23 to April 19. And we have an attempt to escape in May. But just to focus on these nine, one of them — it was an attempt, they were on their way out and got got — we marked it because it was a big effort, a significant effort. And so just to look at the other eight for one second, some prisoners went on a hunger strike and wrote this letter to the media that was demanding to be released, which is amazing. Because in this moment, it's like, "oh my God, this is impossible to imagine" and now prisoners are doing this. A few people got released, and I don't want to minimize that either. But it was obviously, absolutely, in general, totally inadequate.
There's these nine escapes in this early period, right in that psychological time when we were all unsure and nervous and uncertain. And these people, they just literally jumped the fence, or walked off. And because there's only nine of them, we got to look at the sort of time between escape and recapture. Which is just like, what do you draw from this? I mean, I'm not really sure. But it just seems significant that this demand comes out of immediate release, and people are immediately releasing themselves also.
I think that focusing on prisoners actions are important because they're one of the players that will decide how this plays out. I mean, they're like, if shit is terrible, like it is right now they're going to…my friend Nino says this phrase "the riots will continue until prisons are gone". So it's like how will the actions of prisoners affect how that plays out. And I think with that in mind, the emergence of this demand for immediate release, along with the actual, immediate release — only temporarily, of lots of prisoners all across the country — I think is significant to that larger narrative.
TFSR: I think some people are probably, like maybe not regular listeners, or whatever, but are going to hear that demand for release, and think that it's like using your first three wishes to wish for more wishes. But like it is so fundamentally…it's the only option. In a situation where, on the quote unquote "best of days", without a pandemic, when full fundings in effect, when the system is functioning at full capacity, it still cannot provide adequate health care, adequate programming, adequate rec time, you know, religious facilities, visitation. It can't provide these things that it claims as a correctional system to be there, and organized for the purpose of. So they, better than anyone else, have known from the beginning.
I've continued getting letters from prisoners in various parts of the country saying "hey, I need you to talk about this. We've been promised here in Texas, here in California, here in North Carolina, here in Illinois, like we've been promised PPE and we've not gotten it. I can write down the documentation of when the state announced that they were going to be releasing a nonalcohol–based sanitizing fluid that they were going to be giving to prisoners. We haven't gotten that. We've just been on 23 hour lockdown. So even those of us who like could potentially work towards getting a shortened release are being put on hold because we can't get those hours. We can't get those programs. The staff are just basically rats carrying the plague in and we're a confined population that has to live with this."
The jail system here in Buncombe County — where Asheville is — decided when the pandemic started happening, that they worked with the police department to decrease the amount of arrestable incidences, so they were just, in a lot of ways, ticketing and releasing people. They released 300 people from the jail and have been keeping the population way lower. For the most part, unless there's like extenuating circumstances that I'm sure they can argue, but like decreasing people being incarcerated for simple property crimes, or possession of drug crimes, for instance. They are on contract with the federal government and they have 200 beds that are being held for federal prisoners, that hasn't changed.
But I think that it begs the question, like "Oh, cool. So if the county can decide which of these instances they will put someone behind bars for and charge them a bail, and all these different circumstances that rests most heavily on poor and other marginalized parts of the community, if they can listen to people's demands of like, 'Oh, well, I'm going to be released in three months, or this guy is going to be released in three months anyway, can you just let him out now?' or 'this elder has chronic health concerns, and a stint in prison could be deadly'". Rightfully, I think administrators look at that as a threat because they see the erosion of the position that they are the blue line between chaos and safety in our society, that their jobs are necessary and that prisons work. And that everyone who's in there needs to be in there.
P: Yep, you're touching on a lot of significant dynamics happening kind of in response to the pandemic, and I think George Floyd and subsequent political crises have all played into it. We're talking about prisons here, but even in some sense the essential worker framework — which is a messed up, to force some people to work — frames the economy in this totally new light. Like, what do we actually need? Like, that's the question that framework poses to me anyway. And similar to what you're saying, on the optimistic side is oh, if you're able to do this, these things that we want, don't put people in a cage for property crimes and drug stuff — I mean, at the minimum, right? We want more than that — but like, you can do that right now. Let's just keep doing that. As the return to normality plays out, depending on how the vaccine goes and stuff, I think people — whether that's prisoners or people in the outside world — will fight to hold on to some of these gains they got during this period. Everything from tenants fighting for different protections, to unemployment access being made more widely accessible — mildly available to people who have been out of work because of the crisis — to prisoners.
I think of myself as an optimist. And I feel like you just had the optimistic take on this stuff locally, which is great to hear, seriously. But in Michigan? I don't know if they got anything to hold on to. I mean, maybe they got some righteous sense of anger, but I mean, they're getting killed, and they're getting a free five minute phone call once a day. Because visitation is canceled. Maybe they fight to hold on to that. I mean, that would be I guess good, as long as they get visitation back. But the first thing you said was that the release is like the wish to get three more wishes. That's really funny. I hadn't thought of that framework. Of course, that's the case, but it's also that some people are always gonna think that prisons are working.
I know, you said this thing about the administrators feeling nervous about their power being eroded during this time, and I think that is very legit. I think the director of the Department of Corrections is stressed about that. And I'm thinking mostly anecdotally about Michigan here because these dynamics play out differently everywhere. This is getting a little bit away from Perilous, but I don't think anyone actually in the prison system thinks they're working. No, that's too strong, I'm retracting that. Even guards, they know that there's innocent people in there. That's easy to get, there's literally innocent people who get out, get released and get paid a bunch of money because they were tortured for 30 years for something they didn't do.
I get the sense that a lot of people know it's a fraud. It's a hollow core to the whole idea that prisons do anything positive in a structural way. The way it's played out in Michigan, for instance, is like I said, the libertarians want to cut the budget, the left wants to shrink the prison population, the prisoners are fighting, the guards are also fighting. Yeah, they're the ones literally carrying the virus in and out, but also the guard union right now is fighting so hard for the resignation of the director of the Department of Corrections, Heidi Washington. There's some of these car caravans around prisons and the guards are so stoked about it, too. It's sort of like everyone against the government kind of, even though the guards are government workers, I'm not trying to absolve them, my sympathies are clearly with the prisoners. But you had this optimistic "maybe people can hold on to these gains" it seemed like you were almost saying and I like that a lot. But maybe the biggest gain here and other places is that there's been almost the this ideological sort of shift, and a lot of people knew was kind of a fraud but now it's like oh the policies that the Department of Corrections is handing out and that the state government is making possible, there's no more illusions about what things are now in Michigan. Because it's just been a huge death toll, some of the worst hotspots in the country.
So anyway, I just wanted to add to that and like the context for why maybe I see the immediate release stuff is so much than some sort of clever workaround. I think it's like a common sense solution to what people now have to acknowledge. Even townspeople that live in prison towns they're at risk too, for the decisions made in Lansing, and at the Capitol.
Anyway, just to respond to your rant with a rant man. It's like I yeah, oftentimes, the immediate release stuff comes with other demands, too, like for personal protective equipment, and all sorts of stuff. That's often there. But then they know that in a way that things are falling apart. There's a sense that things are falling apart, things are in crisis, things are in this terminal decline. I probably would have said that before this year, but now I'm more certain of it, because I feel like lots of other people that would not have said it a year ago. And I do in fact think that some of that veneer has been scrubbed away, because of all this shit in the past 12 months.
TFSR: Yeah, I can't imagine that. Guards — no matter what state they're in, and if they do have a union, like in Michigan or a few other states — I can't imagine many people besides truly evil souls wanting to go in and really enjoying their job being prison guards. I'm sure that most people are just, you know, paying for college, kids college and whatever, sloughing through and they know they're hated, and they know they're doing a despicable thing. And I'm sure that now…what's the phrase you used? What the government's been calling people that work in grocery stores…
P: essential workers.
TFSR: Yeah, essentially, sacrificial workers, it puts the lie to like, I'm sure that they already realized that before. But they can't be happy that, at a certain point, how much money is it worth it for your position to be perpetually understaffed, you being in danger of getting shivved by someone, everybody hates you where you are, and your boss is literally going to send you in there to be a carrier for plague for all these people like.
P: Yeah, sacrificial is a great framework. That's great. You have to sacrifice the prisoners and the guards, and the people living around the prison. Because if you don't sacrifice them then the system falls apart, or something. That's great, I like that framework of sacrifice, I think it's really useful. I don't know, that hits.
TFSR: I mean, the alternative would be fundamentally changing the way that the system works. And the people that are at the helm definitely don't want that to happen. I kind of wonder, so you mentioned before, in these conversations and reports that y'all were working with, there was constantly that discussion of COVID coming up, which makes a lot of sense. But also, because of the overlap with the George Floyd rebellion, that started seeping into at least some of the dialogue, or some of the like reasons, or some of the statements that you were hearing from or about prisoners in uprising. Are there any other insights, any sort of things that you were able to glean out of that that stand out, that show up in the report or not?
P: Yeah, it's a super good question. It's a question that we're interested in. And instead of really diving into the extent of that, we just decided to put the report out, but luckily, tune in soon, to perilouschronicle.com for report number two. Because this one went so well we're gonna do a follow up one. I'm pretty sure it's going to be basically 2020 in review, so try to take the full 12 months. And part of that one will be focusing specifically on the interaction between actions inside and the George Ford rebellion. I do know that period, basically, from May 28 to the end of the report — the middle of June — there's a handful of these actions in which basically, people reference the rebellions in the streets. And that's really cool and important.
I just don't know, at this point, how much more I could say about the interaction. I mean my hypothesis is that the way things played out around the country, after, you know, people responded in Minneapolis to the murder of George Floyd and people know the narrative at this point. I'm sure it changed so much. I would guess it changed the ways prisoners were acting, thinking about their actions and articulating their actions to the media. But at this point, I don't know a lot more than that. It would be interesting to see if new tactics emerged, or if old tactics changed. These are all questions we want to answer with the next report, basically.
That's a long way of saying: I don't really have a lot to say about it *laughs*. But we're really interested in that. Part of this is, when I talk about the collaboration of the central this project, if incarcerated sinners, or anyone, has thoughts on this stuff, we're not professionals or anything, we're just a couple people that just like to do this because we think it's important. Because we're nerds. So if people have thoughts on these sort of questions please reach out. Or if they have events that they think should be covered that aren't on our site currently. I mean, all these things. Do you have thoughts on that?
TFSR: I asked Bennu Hannibal Ra Sun about this and he expressed, "we were hearing about this on the outside, we were hearing lots of things, things that just didn't really make sense and couldn't tell who was saying what, what was actually happening."
I remember seeing Jeremy Hammond using a video call to record a bunch of the other people that were incarcerated with him, making their statements, in various languages, about the Georgia Florida uprising and in solidarity with the people on the inside.
P: Right, right, right. I remember that. Yeah.
TFSR: He was probably still in a federal holding facility. God, I forgot that was in like, April or May. No, that had to have been in May or June. Now I'm just like, the year was such a long year! But I remember where I was when I was having that conversation. After seeing that video I got to interview Jeremy for the June 11 episode. I don't know, I remember seeing stuff passed around, for the most part getting out. But I know that also, when talking to Sean Swain or whoever else that I talked to, and having them talk about what they're experiencing from the mainstream news. But they're, they're getting so many things that are just so filtered. Unless they have loved ones that are like in constant communication with them and keeping them up to date on stuff.
It seems like it was inspiring to a lot of people that run the inside. And this is me speculating, but I would imagine that where they were getting a sense of conversations around the abolitionist demands that were being put forth on the outside around police, that there was some resonance around that, but actually I don't know. Besides those few instances of anecdotally me talking to people, or seeing that video, I can't really speak to the experiences of folks on the inside, you know?
P: That's actually helpful. And also did it play out the other way? I mean, it's hard because so much of how I think the mainstream understanding of stuff is like: what do people say about what they do, like, what are the demands of the George Floyd protestors. Or, you know, in some sense it's a totally silly question. To some extent it's important, also. But I say that to say, I don't know, if people on the outside, it resonated with what people were doing on the inside. So the reverse. Like the George Floyd rebellion, actually, as a product of this prior wave of rebellion, or rather, maybe just similar conditions. Anyway, all these sorts of dynamics, they're there. It's complicated. It's hard to say conclusively, it's impossible to do so. Unless you're an arrogant sociologist at a university.

TFSR: *laughs*
P: But if you're more of a participant just trying to know a little bit more, so it can help you make decisions about what's important. I guess we'll try to do that in the report, to see what is the other resonances between inside and outside the George Floyd rebellion and the prisoners responding to COVID? Hopefully answer some of these questions you and I are just saying right now.
TFSR: The next question that I had written down, it's kind of already gotten touched on, between these discussions and my rant and your rant. But I wonder if you have — maybe stepping outside of your role as someone speaking on behalf of the collective Perilous — any things that you've gleaned out of looking at not only inside action, but also the outside actions that people have taken, or the dialogue around prisoners during this year of Unprecedented Death Sentences by Disease?
P: Yeah. I referenced this earlier, but it's important to not reproduce in our own heads the prison walls, to imagine them as these insurmountable barriers. Not only because we literally saw videos of people jumping over them this year. Or last, sorry, last year. I mean, did 2020 ever really end though? Are we just in 2020 until-
TFSR: It's the long 2020.
P: *laughs* Yeah. But like we were saying, also in negative ways the virus goes in and out there, the prison walls are in fact porous. So in some sense, the distinction between inside and outside…*smiling* I'm not coming at you, obviously, it's something that I do too. It's something to grapple with, on the ways that that limits us. That being said, there are these concrete differences between the two, easy access to the internet and stuff. The short answer is: I'm inspired by all of these different things, people acting from where they're at. Like the car caravan and stuff early on…I already said it had this effect on me that was really positive. And it's like feeling hopeless in a way and then seeing these people like "okay, we have cars, we're safe in our cars, we won't spread the virus. We're safe, you know, safer. And we can show our support for the hunger strikers." That was really important. And in the same sense the big, huge rebellions are always inspiring to me, because now I get some sense of the difficulty of organizing in prisons, the social dynamics and the risk involved. But also the prison breaks. You know, there's sort of some Hollywood–esque moments, like this little video, where is that? In Washington? You referenced it earlier–
TFSR: *laughs* Not yet, but I was going to in what was going to be the final question. But the Yakima Community Detention Center.
P: Oh yeah, right. Well it's this video of this guy just chillin in his car. I don't think it was planned at all. And he just pulls up, he's listened to music, it's like salsa music or something, I don't remember. And these people are literally jumping over the fence. And then also one of these escapes, a handful of prisoners escaped from Arkansas Community Corrections on April 12.
TFSR: There's McCormick in South Carolina too not that long ago. That was like at the end of 2020.
P: Oh yeah. Totally. The one I was thinking of actually, he was captured in Arkansas. But a handful of people just I ran out of Jackie Brannon Correctional Center in Oklahoma and one of them lasted for three months. But they finally found him in, and it was like a car chase, he ditched his car and then tried to swim across the Arkansas River, and there was like police chasing him on boats. And they did finally get him.
Anyway at the same time car caravans have almost become normalized in a good way. At least here where I live. And just the sense that, you know, we're getting away from the project, but like, I'm just personally always inspired by people taking action from where they're at, figuring out what makes sense, and doing stuff, and experimenting. And the best parts of the past 12 months have been the result of that.
TFSR: Well, thanks a lot for talking. Where can people follow and get in touch with Perilous and how can they support the project?
P: Yeah, so we're on twitter.com, I think it's @perilousprisons. And then perilouschronicle.com is our website. That's where new research articles come out, the new data report will go up, different sorts of things like that. Lots of resources on there at this point, and we're constantly figuring out ways to make it more easy for users to access those resources as well. Also let me pull it up real quick, if you want to write us we would love, we receive some prisoner correspondence. And especially if you have details on events we either haven't covered or we've covered but we've missed a detail about it, you can write us at: PO Box 38 Tucson, Arizona. 85702. And we also use email, that's info@parallels chronicle.com
TFSR: Since we've started trying to fund a rolling like transcription of episodes, hopefully this will get transcribed in the next couple of weeks and made into a zine and that can be easily sent into prisoners. So that's part of the goal.
P: That's awesome. Seriously, that's super cool. I'll probably bug you off the recording, just bounce ideas around on how we might do something similar.
TFSR: Hell yeah. Lovely to chat and keep up the great work.