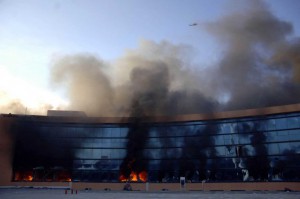 This week we spoke with Dawn Marie Paley. Dawn came onto the show last year to discuss her essay, Drug War Capitalism. Dawn is now about the publish a book by that same title with AK Press.
On September 26, teaching students from the leftist Normalista College in Ayotzinapa, Guerrero, Mexico, protested in the city of Iguala against public policies and in remembrance of the 1968 Tlatelolco massacre in the run-up to the Olympics. In response to the protest, their buses were fired upon by about a dozen police vehicles later that day. Following that, 57 of the normalista students were detained, with 14 later returned. That leaves 43 unnaccounted for, rabble-rousing students in southern Mexico who've been disappeared. Soon the story that Narco's had taken the students from the police emerged but was withdrawn. The police chief and the Mayor are on the run. The search for the students brought news of 11 recent mass graves discovered in Iguala which an Argentine group is investigating, despite interference by the government. Protests have spread across Mexico, from the burning of the State Congress building in Guerrero to the blocking of freeways in Michoacan to demonstrations in Mexico City and abroad.
Dawn tells us about the overlaps between Narcos and the Mexican State in such state crimes as this and the involvement of U.S. policy/training/weapons & money in the formation of the Mérida Initiative (Plan Mexico) and creation of Drug War Capitalism seen in so many countries in Latin America. Also, this new moment that appears to be flowering in Mexico where people, despite the fear of the impunity of their attackers and the spinning of their webs, are talking and acting against government as a solution and seeking answers in their own hands.
More of Dawn Marie Paley's writings can be found here: http://dawnpaley.ca/
The action plan of the Ayotzinapa Rural School in the National Assembly: http://www.mediacoop.ca/newsrelease/31942
Pretty impressive videos found on this page: http://revolution-news.com/mexico-government-palace-guerrero-burned-normalistas/