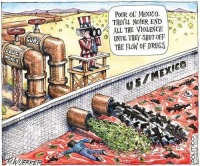 Dawn Paley is an independent journalist based in Vancouver, BC, Canada. Much of her work deals with the displacement of peoples, particularly of First Nation peoples, in Latin America as a result of the militarized and U.S. fueled War on Drugs. The story that Ms. Paley tells illuminates the creation of Free Trade agreements, the Multinational corporations that profit from the displacement of marginalized peoples from resource rich lands and links between state security forces and paramilitary narco-groupings into a complex web of profits and losses. As in most cases under Capital and State, there are a few winners and many who suffer the penalties.
Dawn's journalism can be found at dawnpaley.ca
The playlist for this show can be found here.