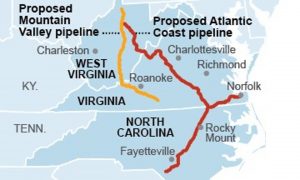 This week, we spoke with Whitney about the Atlantic Coast Pipeline and the Mountain Valley Pipeline, two pipelines flowing through mid-Appalachian and the mid-Atlantic region on Turtle Island and both connect Transco pipeline in Pennsylvania County, VA. The pipelines are 48 inches in diameter and are made for transporting dangerous compressed and pressurized natural gas through many watersheds, towns and farmlands. In addition to fears of contamination of waterways and soil, through possible leaks and explosions, many people are concerned the pipeline will be carry gas for export , not even for domestic consumption.
Whitney is also involved in an upcoming podcast series to inform folks in Virginia about the history and aspects of the pipelines to be released in the run-up to the decisions by the Federal Energy Regulatory Commission on whether or not these projects can move forward.
As of now, there is no website address for our guest's podcast, but their podcast's mission statement is as follows:
"'End of the Line' is a pre-recorded podcast created by local Richmonders, following the developing story of two proposed pipelines in Virginia – the Atlantic Coast Pipeline and the Mountain Valley Pipeline. Over the past year, the subject of fossil fuel "pipelines" has reached a high point of saturation in the national consciousness. While the nation watched major milestones unfold around the rejection of Keystone XL by President Obama and Standing Rock's struggle to protect water against the Dakota Access Pipeline in North Dakota, resistance to pipelines in Virginia has been building as well. Residents and landowners in mostly rural parts of the state have taken on an uphill battle to try and stop two high pressure natural gas pipelines from going through their land as well as some of Virginia's most treasured places.
Featuring the voices of those directly affected by the proposed infrastructure, this ongoing series will examine every aspect of the local pipeline struggle, episode by episode, starting at the very beginning and working our way to the present. Through voices of those on the frontlines, we will touch on issues such as eminent domain, energy policy, industry influence on local politics, environmental impacts, and the mental health aspect of how residents are coping with this tremendous burden. Our goals are to provide listeners with the stories of Virginians who have been and are currently resisting both proposed natural gas pipelines and build a wider audience of people throughout our region who may not be familiar with all that has occurred since the summer of 2014 when the pipelines were first introduced. The built-in question we will be posing to listeners is the same many landowners are facing, "Are these pipelines a 'done deal'?" To that end, as our episodes begin to meet up in real time with the decision-making process at state and federal levels, "End of the Line" will continue to report on developments as the pipeline saga unfolds".
We will announce a website for this project as soon as we know!
———————–
Other, regional upcoming events related to the ACP & MVP pipelines may consider attending include the following: Beyond Extreme Energy will be putting on a convergence in Washington DC from April 26-28th. BXE was a co-sponsor of the walk across NC areas that may be affected by the proposed Mountain Valley Pipeline. More info on the conference and other stuff by BXE can be found at http://beyondextremeenergy.org Delaware River Keepers have compiled "People's Dossiers" on shortcomings of studies in the economic and environmental harms of the ACP & MVP by the Federal Energy Regulatory Commission or FERC. http://www.delawareriverkeeper.org/ongoing-issues/peoples-dossier-ferc-abuses-economic-harms
Another site of interest worth check out is http://www.apppl.org for the Alliance of People to Protect the Places we Live.
If you're in the South East (or wherever), you are cordially invited to attend the 1st Another Carolina Anarchist Bookfaire, also known as ACAB2017 from May 5-May 7th in Asheville, North Carolina. The weekend of events kicks off with an a welcome table at firestorm books at 610 Haywood Rd from 3pm until 6pm with a schedule of events and ways to plug in. There are multiple musical events Friday and Saturday night. Featured speakers include Shon Meckfessel, Jude Ortiz of Tilted Scales Collective, members of the crimethInc collective as well as from the Water Protectors Anti-Repression Crew and a special appearance by author and activist Ward Churchill. Vendors over the weekend will include PM Press, AK Press, Little Black Cart, Strangers in a Tangled Wilderness, Combustion Books and many more. Consider the daytime events to be all ages. Check out https://acab2017.noblogs.org/ for updates and info.