Welcome to the 8th anniversary podcast mini-sode special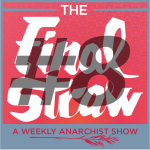 Heya listeners. The Final Straw has an irregular tradition of using our anniversary to air conversations with other projects that produce anarchist media. In past episodes, linked in the notes for this special, you can find chats from past anniversaries. This time around, we are featuring two interviews.
First, you'll hear audio from the regular host of the ItsGoingDown podcast. The IGDcast is a weekly podcast produced by It's Going Down which features interviews with participants in social movements, struggles, rebellions, projects, thinkers, and organizers, mostly focused on anti-capitalist, anarchist, antifascist, autonomous and anti-colonial activities in North American. For the interview, we talk about the past of the IGDcast, what it covers, the state of radical media and mainstream interventions and some of their plans for the future.
Then we bring you a chat with Linda Rose, the main host of Subversion1312. Subversion1312, inheritor of The Anarchy Show, airs in Brisbane, Australia on 4zzz radio. Linda Rose and I speak about the history of the show, which has run in various forms for over two decades, anarchist approaches in Australia to anti-colonial struggle, spaces and scenes in Australia, feminism interventions against so-called "Men's Rights Activists", with a special appearance by Mark, the international pop sensation and occasional co-host.
Enjoy!