The Lines Are Open…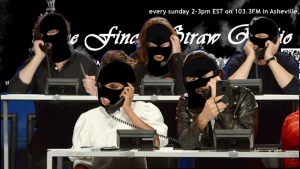 Hey listeners!
May of 2020 marks the 10th anniversary of the weekly anarchist podcast and show, The Final Straw Radio. Over that time, we've produced approaching 500 hours of audio, spent countless hours researching and editing and thinking about the project. And anyone with us for this ride will have seen it change and shift as the producers have, and as the culture around anarchy has as well.
In many past years, our early May TFSR birthday episode has featured introspection on the format of anarchist audio and video production by projects we appreciate. Last year, you heard the two main people behind the show, William and Bursts, talk about the project and what we hoped might come of it, what we enjoy and what stresses us out. It was fun for us to step out of the normal role of inquisitor and become the subject of the chat.
As our 10th birthday approaches we thought we might try something else novel. We'd like to invite listeners to record voice memo's about what The Final Straw has meant to them, what they'd like to see from it, any moments that stand out and the like. We won't promise to air everything, but we'll happily share a lot of what we get from y'all.
You can leave us or a signal voice-memo or a voicemail at +18285710161, or email a link to mp3 audio via wetransfer.com or another service, or you can share it with the googledrive for thefinalstrawradio@riseup.net !
We'll be taking submissions between March 11st and May 1st. Thanks!