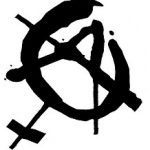 This week's episode of the final straw picks up where last week's left off. The features speakers are Ana and Pablo, two anarchists living in Barcelona, and they'll be discussing the rise and struggle of Anarcha-Feminism in Spain since the social revolution of the 1930's through to current times. We'll also be discussing intersections of anarchist struggle and healthcare in the age of austerity and visions of autonomous and anarchist forms of health care. This show also features a scene report of Anarchists in Spain today by Pablo and Ana presents some closing thoughts on struggles to engage in.
Following the discussion, you'll be hearing some new metal tracks from Brighton's own Light Bearer. Light Bearer is a 4 album project themed around the fall of Lucifer. Light Bearer shares members with the band, Fall of Efrafa, an epic crust band themed around the novel Watership Down. The 2nd album in the series, Silver Tongue, has just been released by the band to a mediafire file.
We'll also hear a metal track posthumously released from the Austin Texas anti-civ anarchist sludge project, Ecocide. For archives of this and other episodes of the Final Straw, check out radio4all.net and search the show title.
The playlist can be found here