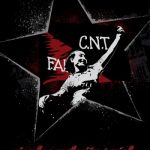 For many Anarchists, the history of Anti-authoritarian and Anti-capitalist resistance in Spanish serves as a laboratory in which to discuss the successes and failures of that political trajectory in application. The communes, the vibrant difference and debates that existed, and the resistance to the rise of fascism, bourgeious social democracy and statist communism: these are elements that find echoes in struggles prior (such as the Russian Revolution) and since (the struggles in the sixties through to today).
This weeks speakers, Ana & Pablo, present a slightly different narrative. By covering a critical (if brief) history of the Anarchism existant from the beginning of the Social Revolution ongoing when Franco's military coup of 1936 was engaged, through the era of dictatorship, through the spectacular democratization of Spain in the 1970's and into today, the speakers propose that the strongest that Anarchist movements have been was during periods of critical heterodoxy and debate within, as well as mutual aid and support in the face of restistance.
This show, due to it's length, is split into two episodes. The first aired 2013-02-03. Following interviews, there's about 20 minutes of metal tracks from Usnea and others! The playlist can be found here.