Being Better To One Another: Comrade Malik from USP Pollock / Peter Gelderloos from Spain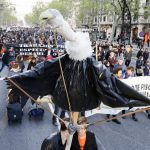 On this podcast special, we're sharing two segments.
First, Comrade Malik (s/n Keith Washington) of the IWW and Incarcerated Workers Organizing Committee speaks about his experience at the Federal prison USP Pollock in Grant Parish, Louisiana, changes in policies in relation to the pandemic and the dangers posed by guards going in and out of the facility. Comrade Malik was paroled from the Texas prison system some months ago and is now serving the remains of a nine month Federal sentence before release to CA where he plans to work on the SF Bay View National Black Newspaper. More of Malik's wriitngs can be found at ComradeMalik.Com.
He also requests listeners to press the Bureau of Prisons release Malik to the address in San Francisco that he has now on file with the BOP. Comrade Malik is in his 51 years old and has a history of medical issues, thanks to maltreatment in the Texas prison system. You can contact the USP Pollock via email at POL/ExecAssistant@bop.gov or by phone at +13185615300. You can also call the head office of the BOP at +12023073198 to register a similar request.
[00:05:40-00:10:23]
Then, we hear from author and anarchist, Peter Gelderloos about responses by the Spanish government and in civil society to the pandemic, challenges to internationalize rent refusal and to treat people better in our communities. More of his writings can be found at TheAnarchistLibrary.Org.
[00:14:30-01:08:34]
Stay tuned for Sunday's release with housing organizers in Asheville from UHOH about the work they're doing here and suggestions about organizing as well as a chat with a volunteer doing harm reduction on the actions of local police and politicians against houseless folks and drug users and the shut down of life saving programs during the pandemic.
. … . ..
Just a quick announcement of some phone zaps beginning today about prisoners and the covid-19 virus, Find the numbers and demands compiled from prisoners in our show notes.:
Prison Phone Zaps
Two deaths of prisoners at Lee State Prison in Georgia
There is a phone zap starting April 9th for Lee State Prison in GA where two deaths have occurred from covid-19. Atlanta IWOC suggests dialing *67 to block your number before making calls and a few other ways to keep yourself safer while dialing into prisons.
North Carolina Prison Outbreaks of Corona
Federal Correctional Complex at Butner, operated by the BOP, was reported to have 59 cases of covid-19 a few days ago. Outbreaks have been reported at Caledonia CI, Greene CI and Johnston CI, operated by North Carolina Department of Public Safety. There is an ongoing phone zap up at BRABC.Blackblogs.Org
North Lake Immigrant Detention Hunger Strike
About ten inmates at the North Lake Correctional Facility, a federal immigrant prison in Baldwin, MI, are moving into day five of a hunger strike, demanding adequate nutrition and basic healthcare services currently being denied, as well as religious freedom for followers of the Hebrew Israelite faith. A call script and the numbers are up at itsgoingdown.org
Frederick, MD Activists Demand Release of ICE Detainees and Prisoners
Spire City Medics is blasting a zap to press Sheriff Chuck Jenkins in Frederick County, MD to release prisoners and ICE detainees in light of the pandemic and lack of preparation for the safety of those housed in the jail there. More info at SpireCityMedics.Org
. … . ..
image by Robert Ramos
Featured tracks:
Jeru The Damaja – "Me Or The Papes (instrumental)" –
Time – "I Wrote This To Start A Fire" – These Songs Kill Fascists