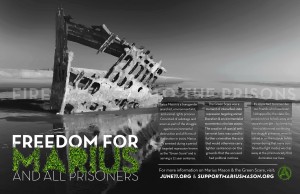 This episode of The Final Straw is served in three portions, all concerning prisons and prisoners.
Before the segments begin, a couple of announcements concerning upcoming events in Asheville, North Carolina for the days surrounding June 11th and the International Day of Solidarity with Long Term Anarchist and Eco Prisoners. These events include a Books to Prisoners open house at Downtown Books & News on Thursday the 11th at 3:30, a showing of a documentary about Mumia Abu-Jamal at 7:30pm at Firestorm that night and a dance party and pie auction on the night of the 13th at the Odditorium. Facebook pages exist for these events, with details listed.
Also in there is mention of the call-out for Monday the 8th & every Friday to protest the Durham County Jail's refusal to allow prisoners there the chance to get out of their cells for more than 2 hours a week. For more info on this struggle against the so-called Lockback, check out http://amplifyvoices.com
First among the segments, following commentary by Sean Swain, we'll hear an up date on his situation from his friend and supporter, Ben Turk. Sean's outgoing communication has been blocked, so his segment has had to go underground. This is in repsonse to Sean speaking up for another prisoner and using his outside support network to press the prisons after a racist attack by guards on a fellow prisoner at Lucasville. More at http://seanswain.org
Following that, we hear from Jenny of Sacramento Prisoner Support about the call-out for the upcoming June 11th International Day of Solidarity with Eric McDavid, Marius Mason & Long Term Anarchist and Eco Prisoners. Jenny tells us about the history of June 11th, talks about differences in the circumstance of June 11th for this year, and other aspects of prisoner support. More info on June 11th can be found at http://june11.org
Finally, we talk to Brianna Peril & Tommy Powell from the Incarcerated Workers Organizing Committee & the Missouri Innocence Project (respectively) about prisons in Missouri and what appears to be the psychiatrization and forced drugging of inmates at the SouthEast Correctional Center (SECC) outside of Charleston, Missouri, and this week's call-in-campaign to pressure the jailers to stop the process and bring more transparency to the situation. More about the call-in can be found on the fakebook page for the event here: https://www.facebook.com/events/405416019661232/
Linked from there is the fakebook page for IWOC.
The page for Midwest Innocence Project, affiliated with the MO Innocence Project can be found here: http://themip.org/
The episode is capped by a sludge metal track by General Grievous. More info in the playlist.