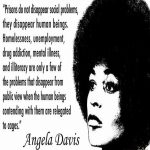 This week we got the chance to sit down and catch up with Ben Turk, who is an anarchist and prison abolitionist living in Milwaukee WI, about some recent efforts that he has been involved in and some ways that listeners can plug in and do solidarity work from afar. We speak about the lockdowns that have been occuring in Columbia CI, continued efforts to raise awareness about solitary confinement and bringing mental healthcare services to people undergoing incarceration, efforts to change legislation regarding old law prisoners, efforts to free Chrystul Kizer, and how the face of anarchist abolitionist organizing is shifting.
If you're interested in getting networked with Ben and the work of Forum for Understanding Prisons, to help with compiling information from the WI DOC shift logs, to help support people being tortured via solitary confinement, to donate to efforts to free Chrystul Kizer, and many more you can email him at insurgent.ben@gmail.com or follow the websites prisonforum.org, freechrystul.wordpress.com, and fireinside.noblogs.org if you'd like to read more about prison abolition.
Link to the Washington Post article about the case of Chrystul Kizer
Detailed notes from our guest concerning the topics we covered in the show:

Resisting lockdowns at Columbia CI and elsewhere.

We leaped to action against the prolonged and excruciating lock-down at Columbia Correctional Institution, which started on November 8, and wasn't completely lifted until December 22. Midway through the lockdown Muhammad (Larry) Bracey was killed by guards through medical neglect. We posted 13 reports, letters or updates about the lockdown on our website. We also staged a New Year's Eeve noise demo outside Columbia and two rallies at the Wisconsin DOC building.

We mirrored the demands of incarcerated people, including hunger strikers, who called for Warden Susan Novak to be fired. Our efforts got us a meeting with Secretary Carr and other top DOC officials, who haven't yet met our demands, but have fired some racist and sadistic guards, including multiple involved in Muhammad Bracey's death. Unfortunately, conditions remain unsafe at CCI following the lockdown, two more mendied preventable deaths on the week of January 13.

We are still getting responses to our open records requests, and will put out more reports shining a continuous light on the horrors that creep in the corners of this institution. We will continue to fight for our demands until they are satisfied, including the firing of Susan Novak.

How you can help this campaign:

Show up. We plan to be wherever Secretary Carr is and to repeat our demands there. He will be appearing at a Supporters of Incarcerated People (SIP) meeting at Grace Episcopal Church on February 12. Join us there.
Shine a light. Much of this work involves research, going through released records and correspondence with incarcerated people to generate reports and expose the hardships. Contact insurgent.ben@gmail.com if you would like to help with that work.
Remain vigilant. Shortly after the CCI lockdown, there was a 10 day lockdown at WaupunCorrectional. People held there say it was the worst they'dexperienced. We need to be ready to mobilize and maintain pressure to keep the DOC from dragging out more of these unlawful lockdowns and humanitarian violations.

Abolishing solitary confinement and advocating for mental health treatment.

Ending the torture of long term solitary confinement has been the driving goal of FFUP's work for more than 15 years. We are continuously dismayed to see this practice and attending tortures expanding in Wisconsin, despite inspiring reform efforts happening elsewhere.

In February, we will release a comprehensive report by FFUP founder Peg Swan, describing the history of solitary in Wisconsin and its many impacts, large and small. Joining testimonies from survivors, historical events and legal analysis, the report advocates for strong and decisive action toward restricting and eliminating Wisconsin's use solitary confinement and replacing it with mental health treatment.

Governor Evers and Secretary Carr have talked about reforming solitary confinement, but cautioned us that the changes will be gradual. David Crowley and other law-makers have introduced a bill calling for psychological reviews of people in solitary confinement. The trouble is, DOC doctors are already routinely altering mental health diagnoses to enable the use of restraint chairs and other forms of torture that aren't officially sanctioned for use on people diagnosed with serious mental illnesses. We expect that if the proposed law or similar restrictions come to pass, DOC staff will dodge their effect by continuing their practice of altering diagnoses to put whoever they want into solitary.

Instead, Wisconsin needs the follow the success story in Colorado. When Rick Raemisch took over the DOC there, he made a dramatic commitment to replace solitary confinement with mindfulness practice and treatment. Within his first year, changes were happening, and now Colorado restricts solitary confinement to a maximum of 15 days.

How you can help this campaign:

Reduce the harm of isolation. Peg Swan has begun an email newsletter and penpal program to provide people held in long term solitary confinement with what they need most: human connection. If you would like to receive the newsletter or can write to someone in solitary, you may help save lives. Contact Peg at pgswan3@aol.com.
Contact Governor Evers. Tell him you support the abolition of long term solitary confinement. Half measures and gradual steps are not enough when lives hang in the balance. Call (608) 266-1212, email GovPress@wisconsin.gov, file public comment here.

Fighting for old law prisoners.

Volunteers with FFUP have been attending recent parole board meetings to track progress toward reforms and increased releases by the new administration. There are about 3000 people held in Wisconsin prisons under the old law, most of them would be released by the standard expectations of their sentencing judges by now if not for very regressive policies of the DOC and parole commission. Peg and other FFUP contacts maintain regular correspondence with many old law prisoners. Releasing these people will not only reunite them with their families, it will have a significant impact on the overcrowding that makes everyone's life harder in prison- both captives and staff.

Last spring Governor Evers appointed John Tate II to be the Chair of the Parole Commission, promising increased releases and long overdue justice for people sentenced before Dec 31, 1999. Unfortunately, from what we've observed in meetings transition to that agenda has been very difficult. On January 8, we witnessed an alarming level of obstruction, disrespect and apparent sabotage of reform efforts by parole commissioners. This behavior, combined with obstructive practices by DOC staff in classification, programming and community corrections are drastically curtailing the possibility for release of people incarcerated under the old law.

We have decided that a stronger public voice in support of reform and releases is necessary, so we're encouraging people to attend parole commission meetings and will follow the next meeting (Feb 5) with a rally. We also released Ben's notes from January publicly and sent them to hundreds of people incarcerated under the old law. Last summer we delivered a rules change petition to Governor Evers and Chairman Tate. At the monthly meetings we will be delivering the petitions again, showing increasing public support for the release of old law prisoners.

How you can help this campaign:

Support Tate's confirmation. State Senate Majority Leader Scott Fitzgerald has delayed Tate's confirmation for seven months. Contact him to demand that he allow a confirmation vote for Chairman Tate. (608) 266-5660 or Sen.Fitzgerald@legis.wisconsin.gov
Voice support. Sign the petition calling for parole reform and expanded releases.
Bear witness. Attend or invite people to the February 5 meeting at 9:30 and / or the rally at noon. Both at the DOC building 3099 E Washington.

Defending sex trafficking survivor Chrystul Kizer.

On June 20, 2018 a 17 year old Black girl named Chrystul Kizer from Milwaukee defended herself against a 34 year old child pornographer and sex trafficker named Randal Volar, ending his life. Volar had been investigated by Kenosha police since at least February when he was arrested, but released despite possession of child pornography and other clear evidence. Kenosha DA Michael Graveley failed to charge Volar, but is now pursuing first degree murder charges against Chrystul.

FFUP volunteers are working closely with Chrystul and her family to raise awareness of her case and to demand that charges be dropped. We've helped pack the court for each of her preliminary hearings and taken control of the narrative around her case. We are also helping organize a rally at 5:30 pm on February 5 at UW Parkside, where Graveley teaches Criminal Law. On Thursday February 6, 8:45 am Chrystul has another hearing at Kenosha County Courthouse. She is requesting a bond reduction to one we can fundraise enough for, so she can come home while awaiting trial.

How you can help this campaign:
1. Follow #FreeChrystul on social media and share the campaigns stories and updates.

2. Donate to Chrystul's family, sign the petition, write to Chrystul and ask organizations you're involved in to contact DA Graveley.

—

Phone: (614) 704-4699
Forum For Understanding Prisons- prisonforum.org
Further interviews with Ben on The Final Straw:
August 19th Solidarity with Prisoners: Ben Turk of IWOC (originally aired 06/25/2017)
The Campaign to Fight Toxic Prisons (or FTP) and Ben Turk on the recent prisoner strikes (originally aired 05/17/2016)
Ben Turk on the silencing of Sean Swain, anarchist prisoner in Ohio (originally aired 04/21/2013)
Ben Turk on Insurgent Theatre + Prison Abolition (October 27, 2013) (originally aired 11/04/2013)
Waupun CI prisoners on Hunger Strikes (originally aired 07/19/2016)
Announcements
Appalachian Climate Action Camp
From a call to participate in an Appalachian Climate Action Camp:
People all over the world are mobilizing to combat the climate crisis. It's time to build skills and take action!

Join us for 10 days of learning, training, and taking direct action to disrupt the systems that are destroying our climate. We will come together to build on Appalachia's rich history of direct action against extractive industries, which has included tree sits, blockades, and walk-ons to resist mountaintop removal, fracking, and fossil fuel pipelines. After fighting the Mountain Valley Pipeline for over two years, we aim to grow the resistance to fossil fuel exploitation and take power out of the hands of corporations and politicians that are threatening our collective future.

We are inviting community members, activists, students, and families to learn the skills needed to execute a variety of actions that disrupt the power structures wrecking the environment we depend upon and contributing to climate change.  We will be hosting people in the southwestern Virginia/ southern West Virginia along the path of the Mountain Valley Pipeline, providing food and trainings to participants for 10 days. We will have more information in the coming weeks.

If you are interested in coming to camp and joining the resistance please email appclimateactioncamp@protonmail.com.
Location and more event details to follow upon registration!
Floods in Eastern Kentucky and South West Virginia
There's a request for funds for relief from recent floods in Appalachia in coal-country. Mutual Aid Disaster Relief, in partnership with local activists who helped support Black Jewel Miners Blockade are requesting funds and goods to Harlan County and surrounding areas. You can learn more on instagram at @weloveminersblockades, you can donate on venmo at mutualaidky, cashapp at $ekyswvafloods, paypal via floodreliefkyswva@gmail.com and you can email them there as well.
Anti-ICE protestors harassed in Florida
A group of activists known as the GEO9 who were arrested while protesting on December 3rd, 2019, outside the Boca Raton office of GEO Group, which contracts immigration prison services for ICE, have experienced ramped up harassment. They received misdemeanor charges for trespassing and the use of a megaphone and were released on their own recognizance after their initial arrests. But now apparently are facing felonies and one activist of the 9, Alexis Butler, was even rearrested under fishy circumstances at her house by Broward County Sheriff on February 7th. More info is available in the write-up at itsgoingdown.org linked in the show notes and a fundraiser for the activists legal defense via EverRibbon.com can be found in our notes as well.
Chuck Africa is Free
We are happy to announce that Chuck Sims Africa, the remaining member of the MOVE 9 left behind bars was released from prison after 42 years on February 7th, 2019. There is a fundraiser for his post-release situation up at https://www.gofundme.com/f/help-chuck-africa-rebuild to help Chuck get rolling on the outside. Free Them All!
Michael Kimble Legal Defense

His support crew needs funds to challenge his initial conviction. Here's the text from that site:
Michael Kimble is a passionate freedom fighter who has been held captive by the Alabama Department of Corrections for nearly 33 years. After defending himself during a homophobic attack by a known white supremacist in 1987, Michael was arrested, charged with murder, convicted, and sentenced to life in prison. His trial was typical of what could be expected from a racist criminal justice system in Jefferson County, Alabama.

Since his conviction, Michael has been fervently involved in efforts to free himself and others, assisting in legal defense for fellow inmates, organizing reading groups and Black History events, speaking up for queer folks behind bars, and helping to organize and agitate alongside the Free Alabama Movement for the historic national prison strike of September 2016.

The Alabama prison system has recently come under fire from the federal government for its abhorrent conditions, and Holman Prison, where Michael is incarcerated, is being decommissioned and largely shut down. In this context, many Alabama prisoners have been successfully challenging the length of their original sentences. A group of Michael's supporters on the outside have recently joined forces to hire a new legal team to help him push for a sentence reduction. Given the amount of time already served, we are hoping this could result in his release.

All the money raised will go directly towards filing motions for sentence reduction, and anything left over will be used to support Michael's day to day life inside with things like stamps, books, and commissary funds. Fingers crossed, we'll also be raising money to support Michael once he joins on the outside.

For more information, check out this awesome interview with Michael from a few years back, as well as his blog.

Until Every Cage is Empty,
–Michael Kimble Support Crew
The fundraiser is up at gofundme.com/f/free-michael-kimble. To hear our past interviews with Michael Kimble, check out our website.
Channel Zero Network news
Mid week, we'll be releasing an episode of Coffee With Comrades, where Pearson talks to Amy & Liz from Rebel Steps and Mitch from Red Strings & Maroons, all fellow members of CZN. The conversation engages the participants podcasts, CZN and radical media. This conversation happened in the context of CZN's continued fundraiser, which we'll have linked in our show notes. Also, if you do the reddit thing, check out the brand new Channel Zero Network subreddit!
. … . ..
Intro music by: