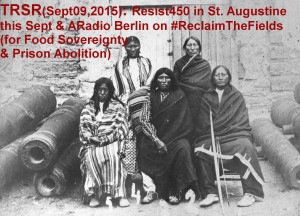 This week we spoke with Bobby C. Billie and Shannon Larsen of the Resist 450 Coalition. This coalition is set up to protest the so called "450th Commemoration" Celebration to be held in St Augustine FL at the beginning of September, which will mark the 450th anniversary of the settling of that city by Juan Ponce de Leon and Pedro Menendez, colonizers from Spain. In this interview we talk about indigenous struggle in St Augustine, the Doctrine of Discovery, the Action Camp which will occur on September 5th thru 8th, and more! To get involved with the Action Camp, or to donate to this cause, you can see all the information you'll need at http://resist450.org
Additionally this week also we have audio from our comrades at ARadio Berlin! Anarchist Radio Berlin, which can be found at http://aradio.blogsport.de, did this interview with a UK-based organizer from the Reclaim the fields initiative, and they talk about the planned international camp in North-Wales, the relationship of food sovereignty and the prison system, and the topic of prison abolition as such.
You can send these folks feedback and comments at: aradio-berlin(at)riseup(dot)net Thanks to these comrades for sharing this audio! Stay tuned for more from ARadio Berlin next week.
In a bit of news, the trial of the Tarnac 10 is set to begin soon, minus the charges of "Terrorist Association." The Tarnac case stems back to 2009 in Tarnac, France, the site of a farm commune on which 9 folks were arrested and accused of attempting sabotage on a high speed rail line. The case allegedly also linked the arrested, including Julian Coupat and Yildune Lévy, to the publishing group, The Invisible Commitee. The Invisible Commitee, which recently published "To Our Friends" is in the lineage of Tiqqun magazine, of which Coupat was a founder. http://www.anarchistnews.org/content/tarnac-eight-sent-trial-without-designation-terrorist-organization
A Virginian Anarchist by the name of Stephen Loughman was arrested a week after attending the anti-KKK rally in Columbia, SC, on July 18th. Stephen's cellphone was dropped and he was arrested when he attempted to pick it up from the department of Sheriff Leon Lott. Stephen Loughman's being accused attempting to incite hatred against the KKK, yelling profanity at the white supremacists and being in traffic. He's being smeared in local media and by the Sheriff of being a career troublemaker who was attempting to incite the crowd to riot. He sounds like a pretty stand-up guy to us. You can find out more and support Stephen by visiting http://gofundme.com/e6b3tukuc . More at https://itsgoingdown.org/virginia-anarchist-arrested-week-sc-anti-klan-rally-support-needed/
Sean Swain speaks his piece on the recent drug delivery via drone, which occurred on July 29 at the Mansfield Correctional Institution some 65 miles southwest of Cleveland, OH. It contained almost a quarter of an ounce of heroin, over 2 ounces of marijuana and more than 5 ounces of tobacco. Sean speculates as to what other uses drones might have, and leaves us with words to ponder.