Paul Z. Simons on Rojava, pt 2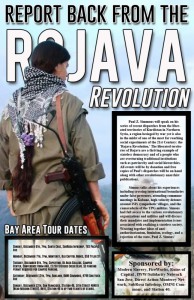 This episode features part two of Bursts conversation Paul Z. Simons on his recent trip to the northern, autonomous regions of Syria known as Rojava. In this conversation Paul shares his experiences of gender, feminism, power distribution and infrastructure in Rojava and his thoughts as a post-left anarchist of experiencing what he'd consider a social revolution. Paul is an editor of the Modern Slavery Magazine, where his writings can be found here and William's interview with him last year can be found HERE. You can find weblinks and more context on the page for our prior conversations on Rojava with Paul.
The audio from part one of the conversation can be found here. To hear part three before it airs, check it out here.
Announcements
Sean Swain
Sean Swain is having a very hard time right now and could really use to be reminded that he is not alone. If you haven't written to Sean in a while or haven't heard back from him due to the ODRC messing with his mail or cutting off his other methods of communication, now would be a great time to flood him with letters, cards, photos, drawings, books, zines, anything.
In particular, now would be a good moment to remind Sean that he matters to you, that you are glad he is alive, and that you see him as contributing to the world in a way that matters to you. Every once in a while we all need a loving kick to the head to get us back on track and feeling ready to continue fighting. Now is that moment for Sean. So send him a kick; he deserves it.
Write to Sean at:
Sean Swain #243-205
Warren Correctional Inst.
P.O. Box 120
Lebanon, Ohio 45036