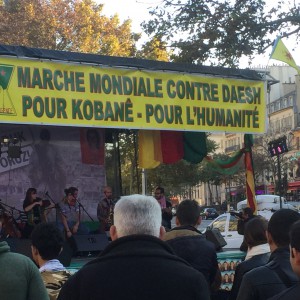 This week we start off with a dispatch from Sean Swain, read by William. Sean is an anarchist prisoner we've featured commentary from over the past 2 years. Sean Swain has been under media block for the past few months, so his commentary here has been sparse. In this segment he addresses his media silencing and his bid for presidency of the U.S. in 2016. More of Sean's writings at seanswain.org
Paul Z. Simons on Rojava, pt3
For the meat of the episode, we feature part three of Bursts conversation with Paul Z. Simons about his experience of the Rojava Revolution going on in northern Syria. The Rojava Revolution began in 2012, as an outgrowth from the insurgency of the PKK and other Kurdish groups in Turkey that's been locked in an off-and-on civil war for 30 years. Paul, a post-left anarchist from the U.S. talks about his experiences in Rojava in October of this year of their multi-cultural, multi-ethnic, feminism revolution.
The Rojava Revolution has been described as anti-state, anti-capitalist, feminist and ecological, however in the conversations Bursts has had on what's gone on in Rojava with students of it, little has come out in terms of how the Rojava experiment has been ecological or anti-capitalist. So, in this conversation Paul and Bursts spoke about Paul's understanding of economic models, property rights, modes of exchange in Rojava as well as discussions of it's war-time and long-view approaches towards ecology in Rojava.
The first two parts of this interview can be found here.
Playlist can be found here