6th Birthday of The Final Straw!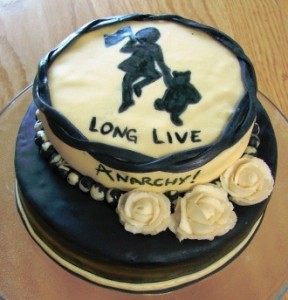 This week's show we're airing two recent interviews that The Final Straw conducted with other anarchist radio folks for our 6th anniversary, on May 8th 2016. The first you'll hear is with a member of Anarchistisches Radio Berlin, the second conversation is with 2 members of Dissident Island Radio, based out of London. For longer editions of these conversations, check out this link.
But first a few updates
Prisoner Uprisings in Alabama
From Support Prisoner Resistance.noblogs.org
Prisoners at Holman Correctional Institution have ended their ten-day shutdown of the State of Alabama's auto license plate plant. Their work stoppage, initiated on May Day, spread to Elmore, St Clair, Donaldson and Staton facilities over the following week shutting down Alabama Department of Correction's (ADOC) canning plant, fleet services, and chemical industry as well as the license plate plant. "That was our leverage, that was our power to negotiate with" said Kinetic, a member of both the Industrial Workers of the World (IWW) union and the Free Alabama Movement (FAM). In an interview with media representatives of the IWW-Incarcerated Workers Organizing Committee he explained how the strike achieved one objective but was broken by the unexpected employment of work-release prisoners as strike-breakers.

The strike achieved its first objective after only two days when the Alabama State Legislature killed the $800 million "Prison Transformation Initiative" that would have greatly expanded Alabama's prison system, which is plagued with overcrowding, violence, deteriorating buildings and budget shortfalls. The defeated law tried to allocate ADOC $800 million to build four 3500 bed super-max facilities. Prisoners initiated their strike to draw national attention to ADOC's problems and propose other solutions. On May 1st the prisoners stopped reporting to their work stations, and activists organized rallies and solidarity protests according to journalists who interviewed the prisoner's spokespersons via clandestine cell-phones. On May 3rd, the ADOC's new prison bill died on the state senate floor. Prisoners contend that their strike tipped the scales against the bill.

The solidarity efforts on the outside were spearheaded by the Mothers and Families of FAM with the support of the Incarcerated Workers Organizing Committee (IWOC) of the Industrial Workers of the World (IWW). Pastor Kenneth Glasgow of the Ordinary People's Society also represented the prison strike before politicians in Montgomery.

This morning (Thurs. 12 May 2016) the prisoner's labor action ended. After eleven days enduring harassment and being fed starvation rations, a practice the prisoners call "bird feeding" the strike was ended by ADOC sending in work release prisoners as strike-breakers to take over the industry jobs. Work release prisoners are typically sent out of the prisons to work for either private companies or state institutions at reduced wages. The program is supposed to help prisoners transition back into society. Instead ADOC sent these minimum security prisoners into the prison factories to replace the striking inmates. Work release prisoners were first sent to Elmore's canning and recycling plants last Thursday, then to Holman Monday afternoon. Without the economic leverage of shutting down the prison industries, the striking prisoners worried that ADOC could starve them out indefinitely and they slowly trickled back to their job assignments.

"If someone is performing the job," Kinetic explained, "then the DOC is getting what they want, even though we locked down and going through all other hardships, our objectives ain't being met." By Thursday morning the strike had officially ended.
. … . ..
Prison Strikes
In the state of Texas, multiple prisons had participation in work stoppages last month. Starting on April 4th and then spreading, incarcerated workers in seven units, including Lynaugh in Fort Stockton, Mountain View in Gatesville, Polunksy in Livingston, Roach in Childress, Robertson in Abilene, Torres in Hondo, and Wynne in Hunstville refused to be called out for work. Much of this organizing involved outside and inside members of the Industrial Workers of the World and it's Incarcerated Workers Organizing Committee. For a new pamphlet on the subject as we draw nearer the 45th anniversary of the September 9th Attica Prison uprising, which is the date of a nationwide prison strike callout, check out the new pamphlet at unityandstruggle.org entitled Incarcerated Workers Take the Lead: Prison Struggles in the United States 2008-2016
. … . ..
Oso Blanco
From http://freeosoblanco.blogspot.com/
Big News! How You can Help get Oso Blanco FREE!!!

Thanks to fundraising efforts and donations from people like you, Oso Blanco was able to receive a partial assessment from a law firm. Through this, and help from an awesome volunteer, we were able to figure out that Oso Blanco must file his appeal by June 25, 2016! As you may have heard, the "residual clause" of the armed career criminal act (ACCA) was declared "unconstitutionally vague" by the u.s. supreme court in Johnson v. u.s. Just last month, in April 2016, this ruling was declared "retroactive", meaning that in can apply to old cases like that of Oso Blanco. However the deadline for appeals based on the Johnson decision is approaching.

What this means for Oso Blanco and his outside family and community is that he has a chance to reduce his sentence and he has just under two months to do it. Meanwhile, he has very limited funds and USP Hazelton is basically holding him incognito pending transfer, with few letters getting in or out, despite all of our emailing in protest.

To find details about his current legal and funding needs, check out his support site. This last minute push to get his legal ducks in a row could help get this brother out of a medically dangerous situation, meaning his incarceration as he ages and is regularly denied correct medical treatment.
. … . ..
More Political Prisoner Updates
Here are a couple of legal updates from ItsGoingDown.org's regular feature called The Bloc Party :
Joseph Buddenberg
Joseph Buddenberg was sentenced to 2 years for conspiring to free mink from their cages. Joseph was charged along with his co-defendant Nicole Kissane, under the Animal Enterprise Terrorism Act. Nicole will be sentenced in June. As we posted last week, he already has an address you can write to. Please let him know you support him, and his fight for the wild:
Joseph Buddenberg #12746-111
MCC San Diego
808 Union Street
San Diego, CA 92101
Josh Williams
Ferguson rebel Josh Williams is in need of support while doing his 8 year sentence. For info on how to write to Josh and everyone serving time for being involved in the uprising, check out antistatestl.noblogs.org and at Sac Prisoner Support
. … . ..
Janye Waller
In more sad news, Oakland rebel Janye was sentenced to two years for his crime of being a black revolutionary involved in the uprising in the wake of the Ferguson verdict in the bay area. As of this date, Janye has received the longest sentence of anyone involved in the revolt. Please support Janye here and stay up with how to write him on his support page.
. … . ..
Casey Brezik
Casey Brezik is an incarcerated anarchist in Missouri and is currently raising funds for college courses on the inside. In the interest of his supporters getting to know him a bit better, he also wrote this pretty amazing proposal titled Anarchists in Space. While IGD certainly has some misgivings about the potential for this to actually happen, they fucking love that Casey takes the time and thought to write shit like this. Anarchists have always been a little unrealistic anyway, yeah?