Former Political Prisoners Panel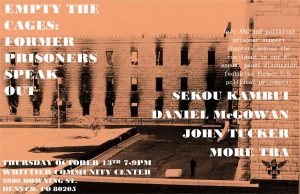 Here we present the first half of the Former Prisoner Panel of the 2016 North American Anarchist Black Cross Conference. During the hour, you'll hear words from Sekou Kombui, Daniel McGowan, John Tucker, Kazi Toure. These speeches will be prefaced by some brief introductions, the texts of which can be found below.
This audio will air soon as a radio episode.
For more info on political prisoners in the U.S., check out http://denverabc.wordpress.com or http://nycabc.wordpress.com
Sekuo Kombui
Sekou is a former political prisoner who survived 47 years of incarceration. Throughout the 1960's, Sekou participated in the Civil Rights movement, organizing youth for participating in demonstrations and marches across Alabama, and providing security for meetings of the Southern Christian Leadership Council (SCLC), Congress of Racial Equality (CORE), and the Student Non-Violent Coordinating Committee (SNCC). Sekou became affiliated with the Black Panther Party in 1967 in Chicago and New York. While in Detroit, he became a member of the Republic of New Afrika, before returning to Birmingham. Back in Alabama, Sekou coordinated community organization activity with the Alabama Black Liberation Front, the Inmates for Action (IFA) Defense Committee and the Afro-American People's Party in the mid 1970's. Sekou was also a soldier in the Black Liberation Army (BLA) during these years before his capture.
In 1975, Sekou was falsely arrested and charged with the murder of two white men: a KKK official from Tuscaloosa and a multimillionaire oil man from Birmingham. There was absolutely no evidence against him, only coerced testimony from individuals who subsequently recanted their statements. The judge refused to allow the recanted statements to be stricken from Sekou's record. Sekou continued the fight throughout his time in Prison. On June 30th, 2014, Sekou was released on parole.
Daniel McGowan
Daniel is an environmental and social justice activist from New York City. He was charged in Federal court on counts of arson, property destruction and conspiracy, all relating to two actions in Oregon in 2001, claimed by the Earth Liberation Front (ELF). McGowan was facing a minimum of life in prison if convicted when he accepted a non-cooperation plea agreement. His arrest is part of what the US government dubbed Operation Backfire; a coordinated, multi-state sweep of over 15 activists by the federal government who have charged the individuals with practically every earth and animal liberation action in the Pacific Northwest left unsolved. Many have considered this round up indicative of the government's 'Green Scare' focus which has activists being arrested and threatened with life in prison. Many of the charges, including Daniel's, were for crimes whose statute of limitations were about to expire. Daniel was released from prison on December 11, 2012.
John Tucker
John was one of five anti-fascists arrested in May 2012, after an altercation between white supremacists and antifascists in the Chicago suburb of Tinley Park that left ten injured fascists, three of which needed hospitalization. The case of the Tinley Park 5 received an overwhelming amount of public support. Despite the fact that the meeting was organized by violent white supremacist organizations including the National Socialist Movement, Council of Conservative Citizens, and Ku Klux Klan, the state showed their cozy relationship with white supremacy by refusing the accused antifascist activist bail or a plea deal comparable to any other criminal defendant in Cook County. In January 2013 the Tinley Park Five accepted a non-cooperating plea deal. John Tucker was released in February 2014. As of September 2014, all of the TP5 are released.This audio will air soon as a radio episode.
Kazi Toure
As a member of the United Freedom Front (UFF), Kazi was imprisoned for his role in 20 bombings combating Apartheid in South Africa and United States Imperialism in Central America. The UFF has been called "undoubtedly the most successful of the leftist [guerrilla groups] of the 1970s and '80s" and struck powerful blows to South African Airways, Mobil, IBM, Union Carbide, & various courthouses and US Military targets. Toure was convicted on federal charges of possession of firearms, and Seditious Conspiracy—conspiring to overthrow, put down, destroy by force and violence the US government. He is one of few, if any, New Afrikans to be charged of this act.