"Interpreting Realities: Aligning Fragments Within the Prisoners Resistance Movement"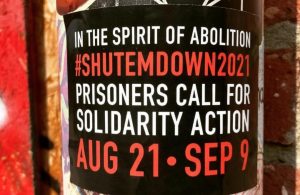 This is the second segment of a series of political discussions focused on building support for Jalihouse Lawyers Speak 2021 National call to action #ShutEmDown2021 along with support for the 2022 National Prisoner' Strike & Boycott.
In this segment "Interpreting Realities: Aligning Fragments Within the Prison Resistance Movement" moderated by Brooke Terpstra  – a longtime resident of Oakland and co-founding member of Oakland Abolition and Solidarity, which has been active since 2016 in the abolition and prisoner solidarity movements–we are joined by two panelists located within the belly of the beast– a conscious New Afrikan Komrade, located within kalifornia koncentration kamps, who is serving a longer than life sentence due to prosecutorial abuse of power, along with Komrade Underground–3rd world rebel, urban guerrilla, student of dragon philosophy and member of JLS–to discuss myths and misconceptions of the us prison structure and how these misconceptions create fragmented understandings about the prison-carceral state and forms of abolition. We also hear how the ongoing COVID-19 pandemic has further isolated prisoners from the outside world.
More about JLS at http://www.iamweubuntu.com/ or by finding their accounts on Twitter (@JailLawSpeak) & Instagram (@jailhouse_lawyers_speak). You can find all three panels at https://shutemdownsolidarity.wordpress.com/
You can find a transcript of this interview in the near future at TFSR.WTF/Zines, and you can support our transcription costs at TFSR.WTF/Support
** This episode, including Sean Swain's segment on the 50th anniversary of the Attica Prison Uprising and the massacre that follows, detail abuse and brutality against people in prisons, including of a sexualized nature, so listener discretion I advised **
. … . …
Featured track:
Somethin' That Means Somethin' (instrumental) by J Dilla
. … . ..
Transcription
Host – Brooke Terpstra: Let's just put it up front that disagreement is okay. Oftentimes in panels and conversations and interviews, it's always said to be a conversation but that normally disagree… and people got disagreements. So let's just say like "it's all okay. We agree on the main thing. We're all comrades, but disagreement is okay and conversation is okay." Actually, that's the goal! The discussion, the response, the back and forth. All that's fair game. We'll just put that up front. I'm ready for that. I'm looking for that. So, we had a couple questions to kick this off with those folks.
Number one is a big question, so I think I'm going to cut it in two. The prison, an explanation of it, the term, the idea, the concept, is heavily propagandized in our society. Heavily mythologized as laws, as well as prisoners, as crime, as "innocence", "guilt". They all come really heavy with baggage, with imposed meaning, ideology. So heavily mythologized its kind of submerged into being common sense. Common sense until they force you to basically confront the realities or or maybe you inherited a position in society or certain experience that has basically clued you into the reality. And one thing that definitely forces an individual's unlearn and all that come to terms with the realities of prison, the prison system… the reasons that it exists.. is getting locked up.
During that time, face to face with the beast. When you go in… the stated of reasons for the system: "rehabilitation. safety, innocence and guilt, your worth as a person, etc…" All that makes no sense. Well, inside people come to different understandings of the structure and the basis of the prison. They go through certain phases perhaps. Some people think is just a broken system where the process is broken and needs to be fixed. Or that it's just a big scam to make money, a low level scam to rip people off. Or maybe it's rampaging, even just rogue institutions run amok. Some say it's just another area for racist brutality. There are ones who stick to a strict understanding of slavery, just about forced labor, and think that it's all around forced labor. [We] don't think the opposite. It's basically… it's not about forcing labor, but about forced idleness and basically warehousing surplus labor. and that It's good for the outside as well. So as far as the understanding the prison system, there are these different models and analysis of the prison system or being locked up.
Could you speak on your own coming to consciousness around this? Maybe the phases and analysis and understand that you went through? And where you are today? And perhaps which of these kind of points of view, do you think are myths and misconceptions beyond just maybe being partial, or maybe being a little bit left a little right, complimentary to your own position, but which ones are basically dangerous and are a problem?
New Afrikan Komrade: I started in the system kind of early. I went to a couple of boys' Camps twice. I was going to the California Youth Authority, which was basically a prison for youth. It was a complete failure. The way the system was set up, it was brutal, barbaric. You know, the things that I witnessed in there, they stay with me to this day. But that's where I really got introduced into what I would like to say, my revolutionary state of mind. So by the time I was some years old I had been a witness to about 50 different riots, race riots.
So just seeing that as a youth, I understood that they will setting me up for failure in the future. And I remember the first time that I was at Juvenile Hall, I cried like a girl when they closed the door, right? By the time I came to Juvenile Hall, and I seen all my partners there, in the field, having their popcorn night, soda night. There was no form of rehabilitation to try fix the situation, or why we're in here…. I've always played with guns. I've been playing with guns since I was a young dude, you know? As I got out, it was just repetition, it was just the constant thing.
It was a constant thing, with a constant theme. Being incarcerated at such a young age. It left me lightweight & emotionally underdeveloped. Because everything about it was aggressive. I was aggressive in everything that I did. I did not respond to anything but with aggressiveness. Even in my relationships, now even with my wife and kids there is always aggressive manner in how I approach things. And I really believe that that's part of the failure of the system. And it just goes back to my understanding, definitely the greatest misconceptions about Prison, is that they're institutions of rehabilitation. And this is no doubt a social myth.
But when I left the pen[itentiary], it was just California Department of Corrections (CDC). By the time I came back it was CDRC. They put the R in there for rehabilitation. And I believe that's was for the federal funds. That's got to get the federal funding and get these programs. So, it's my opinion that most of the individuals truly want to make drastic changes in their lives. You know, they don't come from institutional programs, they come from within yourself. What these programs are designed for is prisoner behavior control. Everyone on parole is based on participation in these programs. So in essence, no one's going to these program to be rehabilitated. They go to these programs in controlled circumstances of release.
A lot of these dudes that I know, they have gotten all of these certificates that they have to offer and these cats are still the worst of the worst. To be fair there are some vocational trades that can be useful to someone who is really dedicated to have a productive life in society. I mean, it's only right that a man should have some type of skill, you know, to play this deal. But again, as I said before, these programs are in place to receive some type of federal funding and prisoner behavior control. The reason I say that is often when we're in classes, maybe every 90 days or so they always come in and let you know "look man we are having some visitors, we're having people, they're building these computers or whatever, some machinery… we need you guys to be on your best behavior." So they come through, and they look at us like lab rats, or whatever it may be. "Be on your best behavior!"
I believe it was Angela Davis that talked about is dynamic in her book "They Come For Us In The Morning." She touched on the fact that comrade George [Jackson], in that particular formation was resistant to these type of programs that was being provided. And it always makes me touch back into that Willie Lynch factor. It was a brother that used to run the Nation of Islam classes in one of these penitentiary classes I was in, and the first thing that he did was he brings up the Willie Lynch. And he said "what I want you to do every day, I want you to identify a dynamic of the Willie Lynch process. Because they are around you every day." So what I see is the part where Willie Lynch says "at the end, make them believe in us and only us." So you trying to fix yourself, that doesn't work, because that's not profitable for them. You know what I'm saying?
I believe it was Malcom [X] that calls the penitentiary "the hidden university". Right? But the rehabilitation that we do for ourselves has no financial gain to be recorded or cashed in on. So when W.L. Nolan and George [Jackson] began to emphasize the importance of organizing, shit hit the fan. What the brothers was doing was really to set the stage and establishing and securing prisoners rights that had been set in place in 1942 by the Most Honorable Elijah Muhammad, the leader of the Nation of Islam. They at that time… they constituted the largest number of Black conscientious objectors to World War II. It was there that they met abolitionists who was associated with the Quakers. Revolutionary shout-out to Brother John Brown.
So a lot of people don't know that the prison abolition movement and its relationships to the carceral state was born out of this dynamic. And this is important that we talk about how misconceptions created stagnate understandings about the prison carceral states in the forms of Abolition. We are talking about predictive policing. So here's where we step in the dialectic of discipline, strategy. And this is where we begin to see the dynamic of state repression and Mulsim resistance, where we actually organizes resistance that the Nation [of Islam] exercised, the State will always put in place, on top of rules to squash and counteract that resistance. Of course, Brothers will always come up with some new form of organizing in response which in fact was political in nature, because it will add to the overall fragmentation of various forms of abolition, and not only expansion of the tactics applied, but to the overall strategy.
You know, it just puts me in a place when I first seen that movie 300 when it came out and they only show one front of resistance that was being fought against the Persian oppressors, but at the same time there was another battle going on at sea. So, when the brother spoke earlier about his viewpoints that may be violent, violence is necessary. It has to be a necessary tool, but it has to be done autonomously. It can be done as a whole or a mass, but I don't think we're equipped, or that the people are passionate enough to carry out the attack that's necessary. You know, so primarily most formations, again today, they are aiming to reform what currently exists. They want to change the frame, but the picture remains the same. They want to put a band-aid on it. When it's clear the situation requires a more extreme approach and that's the abolishment of these existing slave camp. They are a direct reflection of the blueprint of American capitalism.
Even saying the abolishment of slave camp, I would have to state and leave room for a gray area of contradiction saying that… Being in here, man, some of these dudes… they belong in jail. Some dudes belong in jail and that's a dialectical approach of understanding… That two things can be true at the same time. To me that's one of the misperceptions about prison is the rehabilitation team. It doesn't exist. If you don't have the ability to fix yourself then nothing else is going to work.
Host: Exactly. Man and this process started really young for you, like it has a lot of people. Like it has for my family, like the people I know. A couple things you said there… I'm glad you identify the guided tours. We got certain facilities, and the certain facilities are maintained, that are near major media markets where there are a lot of nonprofits, where there's a lot of little programs, where they trot people through, they prop people up for newsletters and pictures, for defending, for their the grants. And also CDCR uses them as a boutique in a facility. It's a showpiece, while meanwhile 50 miles up the yard it's a completely different situation, some level one prisoner out there organic gardening, getting to pet dogs is basically the cover photo. While on the inside pages there's the reality is that everybody else doesn't get that. You basically identified the line of reform. There's a major distinction between, like these different perspectives in the prison. It frustrates me when people identify the prison resistance struggle as a matter of criminal justice reform… It's like "nah… nahh.."
New Afrikan Comrade: I don't believe… well as a revolutionaries, we don't believe in the word reform. Right? We make we make drastic changes. Like I said man, just coming through the system I had never been given the tools that I didn't give myself to fix me. Right? Having been to California Youth Authority. I went in there and I got seven years for my crime. So when I went to the Board, because in the California Youth Authority, you have to go to the Board to go home. There's no automatic dates, ya dig?
So, we have counseling sessions, the counselors will be just the regular police that worked in there. These dudes didn't have credentials. Or they wasn't qualified to counsel me or give me the necessary mental help that I need. I can't even recall even seeing a psychiatrist during those times. They had dudes in there with 10, 11, 12 years of age, right? It was worse than penitentiary. I've been about 9-10 different penitentiaries. I've never experienced anything like i experienced in the California Youth Authority. They were criminalizing us and we didn't understand it at the time. Cuz there was two things that was gonna happen and they were either going to make you or break you. Right? They will make you a better criminal or they were going to break you down and makes you a worse type of man. Right? I had a little cousin that went in when he was 12 and he stayed in there till he was 25. And it was not good.
So when I get here, in these times, I do see a difference or change in the type of individuals that's coming through the system, because back then we were a little bit more conscious too in the 80's… you got to take that into consideration. My mother was a [Black] Panther. Coming up we were really Black conscious in the town, you know what I'm saying? So, we just automatic in the California Youth Authority, you had the Crips versus the Bloods. You had the Northern Mexicans versus the Southern Mexicans. It was just automatic that in the Bay Area, it was Black versus the whites, who claimed White Pride. It was no question, we didn't have to claim that. It was just on.
I was just telling someone the other day I'll say man, "I've never been anywhere that's so segregated like the penitentiary or jail." They keep you in this old frame of mind that they say it doesn't exist anymore, but it exists behind these walls. So the only way to rehabilitate you from that is to separate you. "Y'all take this part of the day and you take this part of the day, and ya'll take that this part of the day." That's not rehabilitating you, that's just flame and fire. You know what I mean? Like I said, once again, the penitentiary is just warehousing bodies. This is all about capitalism and getting money. I don't see anything that's productive here. It is just warehousing bodies. This is all about capitalism and getting money. I don't see anything that's productive here.
Host: Yeah. So I mean, on that note… It was interesting to hear that you came from people that were Panthers, that you got that head start. You had generations before you that had a certain level of consciousness. But on that note, I want to talk to Komrade Underground, where he came from and if you could speak on the different understandings for the structure base of prison. And speaking more specifically too. There is the one big myth like rehabilitation? That's the first one to discard. And that's a problem. That ideologically imposed nonsense.
Komrade Underground: One thing… I really want to appreciate everything that comrade was saying, because there's so many similarities, however, because I'm on the total other side of the world, it seems like there's so many differences between these two different Department of Corrections, however, it's still just stuck in constant repression, constant repression. You know, California, actually it seems to me so much in front of every other state in the United States. As far as when it comes to how picky they are, and and how they hide these fucking forms of "reform" and just building this deep return and deeper ideas of repression.
However, let me start with a little bit about myself. You know, I also started when I was [redacted]teen years old. I came to detention center, and I didn't stop. I didn't stop. I went to programs, went to different levels, went to little juvenile prisons. Then at the age of [redacted]teen, I got a direct filed as an adult, and ended up getting two life sentences. And they threw me right in the Big House. We had a little dorm for people that was under 21. But it was getting it.
There's also such a big gang culture down here where I'm at. So that's what it was. They throw us together, everyone up under 21. And we are clashing and we clashing and every chance. But there was also at such a young age, that sense of rebellion for the pigs. Every time the pigs will come out and fuck with a during count. We all launching and batteries and pieces of soap at them and everything, just getting them up out of there. Because no matter what, for some reason, when I was young, no matter if we were bumping that day, we were going through it that day, when pigs came around we will stick together. And that changed a lot through the years. I think it had a lot to do with that so many of us had life sentences at 16, 17, 18 years old, and nothing matters at that time. We just wanted to just lash out, just go. And we didn't really understand what was going on or didn't understand our [prison] sentences. But we still had that hope, you know?
But it made no sense. Right? So coming through, I would say a big thing that radicalized me that brought me to a revolutionary consciousness would have to be the involvement of the gang culture down here. Back then, it's very different now, but back then it was like… you have folks that would take you up under their wings and give you the correct books in the correct nourishment. And it's not happening too much anymore. But back then I was given Che Guevara, I was given George Jackson. These two comrades that had been in my life for the last 20 years. More than most folks that I known on the streets. Man. Che Guevara and George and Jonathan. Man… they've been in my life. So I was able to go through those things.
But also, there is such this level of repression here where I'm at, because there's no such thing as parole over here. So they don't have to give us programs to help us get the fuck out of here. They don't have to give us programs to help push us up out of here. Right? So what they do they actually stamp us with these STG (Security Threat Group) files to keep us out of these programs to keep us away from that. Because they know there's no reason to give us programs. We're all just in the belly here, and we're all just going to be clashing here. And there's no huge penitentiaries over here.
They've actually created all these micro-institutions, because they know exactly these… I call them social experiments. They know exactly how many Bloods, Crips, Kings and Vice Lords to keep on these compounds, to keep us at each other, to keep us clashing with each other. They know how many whites and Blacks and Hispanics to keep us at, because there's really not too many white supremacists down here. I mean, excuse me, there's not too many white supremacist gangs down here. All the white boys down here are mostly white supremacist unless they were born in the Black and brown hoods, and are part of the Black and brown formations. But for the most part, there's no solid white supremacist gang where I'm at. They don't really get no breathing room. Even the pigs are mostly Black and brown where I'm at. So it creates this whole different idea, this whole different structure of repression that we're dealing with down here. Because there's no parole, there's no ideas of reform. And because there's no ideas of reform, there's only here and now.
So what they're doing, as we speak, creating these two different types of prisons. You either have these honor prisons where people can do a lot of time, but have maybe video games or tablets or whatever, or they're creating these highly surveilled, hyper fascist prisons, that when you go back through the history of different places like California, different places like New York that had all these revolutionaries from the 70's and 80s… Because the state is starting to feel that pressure, they're starting to grasp onto those old ideas of repression, and finding ways to keep us locked down. Finding ways to create different types of camps and institutions to keep us locked down, right? So you have SHU programs, you've got administrative programs, you got all these different prisons that are popping up. And then they only battle with the idea of these "honor programs", these "honor prisons". So there's this huge separation now, there's a huge separation on different camps. And there's nothing to look forward to. There's nothing looked forward to over here.
So what when we start talking about myths and misconceptions, from state to state they vary, right? There is no reform. That idea is just to perpetuate these money grabs for the State, these money grabs for the places. These honor institutions are not honor institutions, they are ways to formulate more money for the carceral state. When we even talk about what prison is and what the carceral state is… What are these things that so many of us, or so many "radicals" want to want to push out? The idea of prison is just the beginning of the carceral state. This is ground zero. This is where the battle starts day in and day out.
But there is also… Academia which is such an extension of the carceral state because it's taken our ideas and making them less dangerous. It's taking these revolutionary ideas and making them less dangerous because when they push that out there now it's been said through the Ivory Tower. But then we also have places that have forgotten, like these mental institutions. These "mental institutions" are just ways to get people to trial. They are ways to get people to trial to send them into prisons. There's no help in these mental institutions. It's pump them with Thorazine and put them on stand.
So when we talk about these different extensions of the Carceral State, we have to remember that this is part of the fight too. We have to battle this shit, man… We have to battle all of that, man. And then like we said, when we talking about fighting, we were talking about physically. I'm talking about that type of solidarity. I'm not talking about the nonprofit industrial complex that's going to fund the prison industrial slave complex that's going to go back and fund the fucking military industrial complex. So it's like all these different things that get so convoluted in this talk of abolition, but what is abolition? What are these conceptions and misconceptions and myths about abolition?
I think one of them is the prisoner. This prisoner rebels that everyone wants to romanticize or fetishize. Most folks in here, man, they just want to go home. They want to do their little time and get out, right? The revolutionaries, yeah, we're in here. We in here and we're doing it. We're the ones that are on these calls. We're the ones that are trying to build together. And then once they get a little whiff of that… all of us are getting separated, threw in the SHU and suffering from extreme repression. So there's these formations. Now, I don't even want to call them formations, there's these people claim that formations out there that are just grabbing onto any prisoner, any prisoner that wants to say something, and wants to push that idea and push that as a point that now abolition is become fetishized. That this prisoners has become romanticized. This prisoner's not a comrade. This prisoner is not a comrade, this is just some dude that is probably backed by a bunch of reformists, that probably wants to get parole that has no idea on the struggle, or the movements that are trying to be formed.
You know, we had this idea of these movements, and people want to attach that word movement to all of their formations. But we are reaching to create a movement right now. Because there's so few of us on the inside and outside that have that truth, that have what I call "George and Jonathan consciousness". That George Jackson and Jonathan consciousness was actually a true form of solidarity, man. That's why George called Jonathan his alter ego. And that's what it needs to be. These formations need to be alter egos of each other. We have to be y'all and y'all have to be us. But at the same time, we need to have a better understanding and be more specific on who we let into our circles, and who we let build with us and create this formations. When it comes to the inside and the outside. The outside needs to not just fucking grab any prisoner, and we need to be more security conscious, and not just grab any fucking person out that has a fantasy that abolitionist so and so. Because most of them just want to exploit us. Most of them just want to add us to a name on some fucking thing that they're writing, or something that they're pushing through this Ivory Tower to make us less dangerous. I just think that there's this level of discipline, and there's this level of security, and there's this level of anger and rage that we need to get back to. We need to fucking get back to that rage, man. We need to get back to those places where shit matters, man. Where it wasn't just about putting prisoner-so-and-so's stamp on stuff. So I think a lot of these myths and misconceptions form around what is important these days. We're not going to pretend like us living better in here is not important. But you have a lot of people that's focused on that.
So, the abolitionists need to focus on these direct attacks on the State. These direct attacks – and when I say direct attacks, I mean focused violence. Because there is this idea of fear that is not instilled in these pigs. They're not scared to come to work. They're not scared to come and repress us on the inside. Because once they're in here, they got these shotguns, and they got these AR-15's. And they know that we don't. But when they start letting loose on us, we can't do anything. So how do we combat that? In here we only have so much urban guerrilla warfare we can use. But out there, that solidarity that we're looking for, this direct military action that people don't want to talk about anymore, these underground movements that people don't want to fucking be part of anymore… I mean, those are the things we need to start talking about. And those are the things we need to start building on.
Host: You just you just drew some lines there, Komrade. And I appreciate that. And I got a couple of different questions. I'm trying to decide which way to go. But I want to ask you both… I think I might get in some trouble here because in light of what you said. There are these abolitionists right now… They call themselves abolitionists, and maybe even like everyone on this call even isn't the same kind of abolitionist. It's just that there is multiple abolitionisms. There are folks out there that are organizing for the right to vote, or better Jailhouse Lawyering around conditions. Let's focus on the voting. Do you consider, either of you, that could be a priority? or to be important? I know it's actually a point within the JLS demands. I mean, I definitely got my point of view, but I want to hear what you guys have to say about it. And like practically, if it makes sense, not just out of pure principle.
New Afrikan Comrade: From my experience… You know, I believe everything starts with the court system, that's where all the shit starts, right? Like, in my case now, you know, I was on the run for about [redacted] years. So when I finally got caught and got arrested, I filed a motion to dismiss based on violation to my due process rights. So what they had to do was they had to justify why the police didn't look for me within [redacted] years. So I knew they did not do no investigation. Because I asked if they went to my mom's house and they never went to my grandmother's house. The house that I was at, that they kicked the door in one time and never came back. And at that time, I don't know if you familiar with the [redacted]… So you know the whole little situation that went down there, you know with the dude. I actually was doing body guard work for [redacted] during that time. So I know he wasn't looking for me. You know what I mean? It was the hottest spot in the town.
So when I finally get to the hearing, they come up all these documents that have been anti-dated, things scratched off, and they used the documents to force me to trial. Because if had they not shown the justification it was an automatic dismissal. So they used these documents, these false documents and testimony to force me to trial or whatnot. So I go to trial. I mean, it was 3-4 month trial, and had a deliberation for 11 days. There was one lone hold out juror. They removed him, put a white lady back on the on the jury, and within five hours I was convicted. You get what I'm saying? Within five hours I was convicted.
So now that I'm in here… I'm like "Okay, now I know these documents and know they aren't real." So I file a Freedom of Information Act and whatnot. So I started getting all these letters from these different law enforcement departments, FBI, and the Department of Justice. And everybody's saying that these documents doesn't exist. So I had a homeboy up here. He showed me how to file a lawsuit. He said "Look bro this is how we file a lawsuit. This is how we are gonna get your shit back into the courts." Right? So I filed a lawsuit and they hit me with this shit called an "Anti-SLAPP Motion" [SLAPP = strategic lawsuits against public participation]. What an anti-SLAPP motion is it usually means it's a corporate law. And what they said was under the first amendment, they have the right to use any tactic they wanted to, to prove their case.
When I showed him, he said "Man they admitted to that shit?" "Yeah, they admitted to that shit." "Yeah, we lie, we did that. But there's nothing you can do about it." So going through that type of shit and seeing the system or being a victim of that. In my perception things have to start in the court room. And that's not to say that all the other things that you spoke on… I think everything has to be hit on every point. Wherever it may be with the prison system, the abolitionists, the court, law enforcement, wherever it may be, we got to hit them from every angle. We have to be a full on assault and like the brothers said at some point something has to get dangerous for them to really, really get the grasp of what's going on around here and to say that we're serious.
But in the same token, like the brother said, again, people aren't what they were back in the 60's and 70's. This is a totally different environment with totally different people. Even in the penitentiary its [different] now. Dudes are not willing to go to the hole no more. We got TV's in our rooms. We got phones in our rooms. You know what I'm saying? We got all these amenities that make you lazy and you don't want to lose these things. This is what they do. So when you're talking about even if I right now, today, if something went on in here…. I'm getting a prime example. They had a pig in here that was harassing the inmates. So the same dude that showed me how to do the lawsuits. He filed the paperwork and said he was sexually harassing the inmates and had everybody sign it, it got him removed, and I mean, removed from the penitentiary period.
When they called the dudes in that had signed the document, everybody recanted their stories and they ended up bringing him back. And he came back doing the same shit that he was doing before he left. So, it's hard for even dudes that are serious about pushing any type of revolution to do something, because at the end of the day you will be the only one doing it. And you'll be the only one paying the consequences. And it's really not going to have any effect. Because it's required that the masses get involved for it to have any real effect. People are lacking that passion, that commitment, that dedication to the struggle and to the cause. And like the brother was saying for us coming through the system as young as we was, we got that early. That was embedded in us. So it's just a part of who we are now. I don't know how to be anything other than what I am. It just is what it is. It's all I talk about. You can talk religion and revolution and that's it. That's it, nothing else.
Host: So it's the same question to Komrade. You said about priorities and making choices. You have got to hit them everywhere all the time. Personally I think we got some choices to make. You both basically did something really important right now. You basically, you shared an assessment of inside situation. An assessment of numbers and of force. And even like movement health. If we're calling it a movement. I even loathe to to call it that. We got like pieces of it. We got like a baby movement thats trying to get on its feet, but it's not getting there. We got some choices to make. What choices do you think we should be making?
Komrade Underground: Well, okay, so I think that's important. I also want to go back to the original question, and also talk about what the brother was talking about when it comes to law and the courtroom, because I have a very different stance, and maybe it's because I don't see a lot of anything coming out of the courtroom. Is it necessary? Yes, it's necessary. It is necessary for folks in here to fight their case. It is necessary for people in here to utilize every tool that we have right now. Right? However, me personally, I'm over that shit. I'm over getting denied from the courts. I'm over getting fucking denied these grievances. I don't do grievances unless they're mass grievances, like the brother said. And then a lot of times, that's what happens, man, people recant when they start losing items. So I'm over that shit, man. I'm over going to the court system. And I'm over fighting with only pen and paper. And there are people that still do it. And I commend them and I thank them. But when it comes to me: it's direct action. It's direct action that gets it done, man.
So when we talk about prioritizing, and we talked about choices… first and foremost it's going to come down to you. It's going to come down to what you're ready for and what you're ready to lose. Because in here you have to be ready to lose everything. Everything. When it comes to voting. Is voting important? Fuck no! I would love for everyone to just not vote one year and then see what happens. Let's see what happens when we when we take that mass approach and not vote. But then at the same time, we can't live in these fantasies that this is going to happen. I think it is time to start making choices and start prioritizing what's important. And I think trying to get people out of prison by every single means necessary is important.
But when we talk about getting dangerous, and we talk about attacking things like the courthouses. Or when we talk about attacking things. Like you'll see headquarters and stuff. These are things that are different from doing them in the 70's. You have to look at what has changed. What has changed is that everything has become digitized. So back then when the George Jackson Brigade would bomb an institution or would bomb a headquarters, they weren't just bombing this institution, they were also burning the files. They were getting rid of everything that was held in that headquarters. However now, it's just going to be property damage. Because everything is digitized and saved in clouds. So we have to figure out ways and make choices on how we attack those systems.
How do we attack the legal system now? How do we attack these voting systems? How do we attack the Department of Corrections when everything is digitized? So there's things that need to be prioritized on how and the things that we are learning. The things that we are sacrificing. The things that we're getting into. It's this hack culture. Penetration testing is going to be so important. It's going to be so important because these are ways that we can attack the Empire. These are ways that we are going to have to attack the Empire. So when we think about these things, we can't think on huge mass scales, because a lot of times the masses are not ready.
So who are we talking to? We're talking to the comrades. We're not talking to the masses yet. Right now, man, the masses they just want to chill. They just want to chill because the fire hasn't hit their cribs yet. The fire hasn't hit their prison yet. But we need to have these conversations. We need to make it a priority to have these conversations with comrades. We need make it priority to take these actions with the comrades. I'm not saying to not support people that are fighting their cases, because that's important, too. However, there's a lot of people that want to do that. So let them do that. Let those abolitionists do that.
When it comes to JLS and some of the initiatives that JLS is getting involved with. Are they important? I think they're important to make noise. I think they're important because this is what the masses wants to see. But the masses are not the ones that are going to be taking up arms immediately. The masses are not going to be the ones that are going to be attacking the carceral state by whatever means necessary. That's going to happen later. That's going to happen later because there's no neutral side on a moving train. Once this train gets to moving people going to have to pick sides. However, right now where we're at, that stage where we're at… It's like not even important to talk about that. So I think people should want to involve their-self as much as possible. But I think also, we need to be serious about who we are having these conversations with. We need to be we need to not have these conversations with people that are not ready to take it there. And that's on the inside and outside.
Host: Did you want to have something you wanted to add?
New Afrikan Comrade: So, when we are talking about movement, and I believe it was what brother H Rap Brown that said "the movement is only a phase of the struggle". So the movements have the ability to change phases as it progresses. And that's what we're experiencing now. You know, back in the 60's the movement was the alpha movement. So there was a little bit more of that guerrilla warfare aspect to the movement. Now it is a little bit more feminized. Not to say in a bad way, because it seemed like the sisters have a little bit more ties with the people than these brothers had.
We have to take what we can get at the time that we're getting it. I agree with the brother, but when I was talking about the court system, per se, they have to have people start bombarding these court rooms. When I went to trial, I was in there by myself. They were doing what the hell they wanted to do. You get what I'm saying? But if we start having these mass court watches, where we just start having people come together and start going to these court rooms, and putting these public defenders, and these DA's and these judges on blast. It may have just a little bit different effect. But you know…. Hey thats was the police, my bad. My door was wide open. [laughter]
Komrade Underground: [laughing together] They gonna do an extraction tonight, for real.
New Afrikan Comrade: We just have to set up some different rules, and everything has to be hit at a different time, everything has its place and time. I believe it was Fred Hampton. They asked Fred about the Minutemen and the Weathermen, and what was their relationship with the Panthers. Fred was like "Nah, we stand far our back from them. They're chauvinistic and individualistic." When he said that. It was like the time when the NFAC [National Fuck Around Crew] was doing their thing out here. You remember that, right? So, at the same time that was happening, that was a different dynamic. Everybody had seen that as part of the movement, but it was something separate from the movement. That had nothing to do with the movement. It was a racial shit. So we have to be careful when we pledge our allegiance. Like the brother said "we have to talk to the comrades, man we can't be talking to these outside characters, because they are on something totally different."
Komrade Underground: I really like what you talked about, about movements changing. Because like you said, I don't even know if we can call this a movement right now. And if it is, it's a few of us. But it's a struggle. It's a struggle and that's part of a movement, right. And there's this idea of the 60's and 70's, this revolutionary optimism, where everyone really felt that the revolution was here. The revolution was now. And the pigs also felt it. And that's a necessary fear that I'm talking about. They created whole systems and broke their own laws and created stuff to stop this movement. So now, because they did that, and they killed off all the leaders of these movements. Killed off all these gang leaders too. I'm going to call them mass political movements back then because that's what they were moving towards. Organizations or street organizations were moving towards these more politicized ideas, coming out with manifestos, and coming out with things that were in-line, because they were getting politicized by the same leaders. By the Young Lords, by the Black Panthers, by the Black Liberation Army. These folks were either coming from these movements or moving towards these movements. We could talk about Jeff Fort, and how he was helping Gaddafi fund his revolution from Chicago. Back then these these ideas were important. And then what happened? That fear led these pigs to cause a huge wave of oppression and they started assassinating. Then they started breaking us. Man they started breaking us. Man let's be real. They broke us. They broke us to pieces. They fragmented us. They took us, infiltrated us. And now they not only created a fragmented movement, they created a movement that hates each other.
We can't even fucking think about battling the right-wing or battling these fucking pigs and battling this stuff, when we can't even talk to each other. We're so worried about ideas that this praxis is getting lost. There is no praxis right now because we're still trying to figure out how to talk to each other. So that revolutionary optimism went to a broken revolution. And where are we taking up the scraps now? How are we picking up the scraps now? Some of us are so fucked up from the losses that happened back then. Some of these street organizations and individuals that lost family, that lost friends, that lost comrades, that lost the ideas, that lost these movements. So where are we now?
Everyone's running on Twitter to have these conversations and really just looking for friends and people to argue with. It's broken the revolutionary spirit and we're fighting. We're fighting from the SHU. We're fighting from lonely places in the free world. Because that's one thing I have seen. The comrades that a solid 10 toes down that I know what my comrades… man, I feel like sometimes it's just as lonely as me right here in the SHU [Secure Housing Unit]. It's a scary dynamic to think about it, that we're still in fear from shit that happened back in the 70's. And we're in so much fear that we don't know how to bring it to these pigs.
New Afrikan Comrade: I agree.
Host: That brings us right to question two, man. We're talking about the present phase, the present conditions. I mean, the last year during COVID-19… speaking for the outside this whole pandemic has basically revealed a lot of what we thought was there, it basically pulled a lot of blinders away. This last year and a half has been a year of unprecedented rebellion, escape, and strikes on the inside. From the folks in charge of stuff, it's been a huge spike. As for the the activity? It's been up and down on the outside. Let's talk about the reality of how prison conditions during the ongoing pandemic have further isolated prisoners from the outside world. And how this has enhanced or detracted from the resistance movement. Even though we saw this last year, it has only increased activity. Speaking for myself on the outside, I'm just going to put it in there. It basically… we have run into a bunch of limits. The escalation of activity and like the heightening of crisis… We went straight into serious limits. If there's a word for the outside it's going to be limits. A lot of us aren't being honest about these limits that we've run into. I can get into that more but I want to hear about like your guys's perception and reality on the inside right now.
New Afrikan Comrade: As far as the COVID situation? hah… March 15 – they put us on lockdown, maybe on the 14th that's when everything on the nationwide lockdown. On April 11 it's been about 30 police up in here. They pull about 20 of us out our room (I was included in that 20) for about 15 of us… now this before they will send all the guidelines. 10 people per group and they just put into place the masking implications on the police. So they come up with the rules, snatch us up, dress us out. They come up in the room, three or four deep in the room, no mask on, no nothing. So we complain like "Hey, man, you're not supposed to be up in here like this!" They ignored us. The captains, and lieutenants… they don't have on masks. Nobody has on masks! So, automatically, I'm pushing paperwork. I'll write their ass up. You up in my room, threatening my life, putting my life in jeopardy.
Like the brother said, I don't file 602's… that shit is really a waste of time. And they always ride with the pigs. You almost never win that shit. But I did it anyway. That was a year ago. I'm just now, maybe last week, getting the finishing copy of that 602 back… and they denied me from Sacramento. From the head place. So where I'm at, it wasn't really that bad like it was in Quentin. I'm like an introvert anyway, so I don't fuck with people anyway. If they not on my level, I really stay in my room and I do my own thing. So it wasn't really that bad up here, per se. I just know like other penitentiaries like San Quentin which is really horrible up there. I have a little cousin who was up there and he caught that shit. My mom was just telling me yesterday that her cousin has a dude who is out there in New Orleans they had caught COVID. My guess is when you catch this shit, they supposed to give you liquids. And they were feeding that man solid foods and they damn near killed me.
So a lot of the protocols that they're doing up here is just to show face. It's just to show that we're doing something. Just like the past two weeks, we had two police in here that was sent home with the COVID, with the new strain. They sent him and her home. We came back, she just got dirty again, they just sent her home again. But not one time have they came here to tested any inmates to see if we're sick. So in my mind, I'm always thinking that their trying to create a dynamic of sickness to keep what they call "hazardous pay." I don't really think they're taking it serious. When they get sick they locked us down. As opposed to clearing out one of these buildings. When these police, they come in here to stay for seven days. Let them go home and the next police that come in, they come here quarantine for seven days before they start their weekly shift. If you're not making those type of adjustments… in everything that their adjusting is always us, locking us down. You know what I'm saying? Even though we are having visiting again, I don't allow my family come up here. Straight up, I'm cool. I don't need no visits. Don't come up here. I don't allow them to come up here. It's not really bad up here.
I really don't have too much to say on that. I stay away because I don't believe all the COVID shit. I think it's over sensationalized. I think it's just a lot of propaganda. And I think it's a way to violate people's constitutional rights. They're finding a way to change and shift society. They found a way to segregate people… to say how many people can be.. I mean was already doing that shit. Only five people could be in a certain group. But now even more so they're breaking down how many people can come into the restaurant and things of such nature. In a minute, they will be using COVID to be able to change and redirect the Constitution. Like George says "anytime you overcome one form of oppression, they'll find another way to oppress you." And that's what they're doing. They find a different way to oppress us because they see the old ways is not working anymore. That people are getting tired of the old ways. So what do we do? "Okay, this is what we do. We will give them a pandemic, lock everybody down, readjust the way of living. readjust their way of thinking and then we will go back to business as usual." Yeah.
Host: Here in California, at least, we've had sickness go through facilities. And in a way COVID has been a little departure. There's a response is always just to lock people down and they'll let you ride it out. Take an ibuprofen. You just sweat it out. You cry it out. You shit it out of yourself.
New Afrikan Comrade: [laughing] It's funny you say that right? About a week ago, man… my body had locked up. Have you ever had a Charlie Horse? Now I get Charlie Horses all through my body. My back, my stomach, my legs, my ankles, my feet. I never felt no shit like this. Have you ever see the movies where the muck tries to come out your body? You get what I'm saying?
Host: Medical is gonna be no use, you just ride it out, man.
New Afrikan Comrade: I go man down. When I'm in there they were seeing my whole body, watching my body just move, my muscles just locking up. So they don't give me shit. So the lady she calls the doctor and the doctor is on the phone. So the doctor says give him Aspirin. So she hands me Aspirin and I say "I don't want that shit! Give me muscle relaxers, give me something to stop these muscles from locking up." So she said "give him a COVID test." Everything's COVID. And that's the new thing. Everything's COVID now. You go in with a broken leg, they say "It's COVID". So they give me a rapid COVID test and I come back negative. They still put me on quarantine.
Komrade Underground: I think this is important for me to talk about too because I had a very different experience from from the fuckin 'Rona. I didn't get it. I haven't experienced it. But I think the main reason is because they also came in my cell late night. They came 10 deep straight to me and threw me right to the SHU. I got, in the beginning of COVID, I got thrown right on the slab. And it was because of the approach I was taking to this virus. I didn't know what it was, but I knew it was killing motherfuckers. And I knew that these pigs were going to bring it in. I knew I couldn't make it. I didn't have no lab to make it in. I knew I couldn't get it from the outside world. So I started trying to organize.
I started trying to organize and tell these pigs and create a space not to let these pigs in unless they masked up, unless they've got body suits on, and only one pigs allowed to come in here. And you already know man, I started having these conversations and started bringing it to the people and trying to create it. If it wasn't going to be the whole compound, it was going to be my motherfucking dorm. And then we're going to see what's gonna happen. You already know, man, they came masked up with a different type of mask, the black masks, right? And they came in 10 deep and took me straight to the SHU. No reports, no shots, no nothing. Just went straight to the SHU. And I've been there ever since. And they've kept me here ever since.
So there has been this direct violence. This direct silencing violence that some people have experienced and I just happened to be one of them. But I'm not the only one, after I got locked up… two more of my comrades got locked up. I don't know what they did when they heard I got snatched up for it, but I know that was on the same shit that I was on and was 10 toes down, ready to ride. So I just see that in certain places, and this was a super repressive institution I was at at that time. They came and snatched me off the mat and disappeared me. So because I've been in the SHU, I haven't really experienced a lot of actual people getting COVID. But I've experienced these social experiments that they've been using to keep us separated.
So to to add and implement more rules, to implement more reasons to lock down, to implement more reason to keep us from our family, to implement more reasons to stop visitations, and to control. In War for the Cities by Yaki Sayles there's a part of it in the meditations on the Wretched of the Earth, it talks about how these hoods are being experimented on from the experiments that happened to us in prison. So they have these social experiments that are taken out on us on the inside, because they know all of us getting out or going to go to the same hoods. So when we see the same things happening to our neighborhoods, we are already assimilated, we are used to lock downs. We used to be locked up and we are used to being separated. That's where they gonna start these things. They will start these things in these Black and brown poor neighborhoods, and expand them from there. They're going to keep us in these bubbles, they're going to keep us in these small places, just like in prison. So and then their going to be snatching people off the streets. They're going to be snatching people off the streets, like they snatch us out in here. So there's just so many different levels of these social experiments that are happening. But then how much is that affecting this already fragmented movement?
Okay, so this shows us that the monetary system and capitalism and all that shit is bullshit, right? It showed us that everybody in the whole fucking United States didn't have to fucking work unless you were poor, Black or brown, and working class that became, what'd they call that shit? "Essential workers." So now, when you're essential, you are now essential, not to the movement, you are essential to keeping production going. It's not the money people need because the government's printing this shit out left and right. The government's fucking tricking everyone. So it's just these ideas of "You are essential" instead of saying that "you are expendable." You are expendable workers now, because we need to keep the beast moving, we need to keep the machine moving. There's just so many different levels that the Empire has used to attack us on the inside and outside because this is where the movements going to come from. This is where the people are coming from. This is where these protests came from. This is where the mass looting came from. It came from the hood where these folks are having to work now. It came from the idea that the prisoners that are being locked the fuck down.
So now our communication even to spread this fucking word on what's going out, of what's getting out of the prison is so difficult right now. Luckily the pigs are corrupt. Luckily, so we can get phones and shit in here. But besides that, that's still a very small amounts of us. And then within the amount of people that are getting phones, how many people are actually putting in at work? An even smaller amount. So, if they can figure out how to control us? So they're finding out how to motherfucking break us, man, they're finding out ways to fragment us even more. So there's been such where there was already a separation of solidarity. There was already a separation between us and the free world comrades, now it's becoming even more. And COVID is showing that it's just ways to oppress us. Right? It's just ways to keep us oppressed. It's just ways to keep us locked down in the free world and over here.
Host: Yeah. Okay, both you brought it up. Essentially, like a lot of people on the outside that aren't acquainted with being incarcerated, or the prison system, they don't realize that people inside, the lockdown of COVID-19 is nothing new. You already got 99 problems. COVID is just another one. If it's not one thing, it's another. It's a new level of asymmetrical warfare being waged against you, COVID-19 is just another chapter of the same book. Out here it's like some big dramatic thing. But mostly just more continuation of the same, even though it killed 240 people in California [prisons], like how many people does the prison system kill on a daily basis no matter what?
Komrade Underground: Yeah, for real.
New Afrikan Cromade: Right. Those aren't astronomical numbers as far as I'm concerned. I need it to be more for me to be a believer. That's me, personally. I'm not taking those shots. I'm not getting no vaccines, none of that shit. I'll take my chances.
Komrade Underground: I'm in the same vein. Literally. The same vein. I'm not taking that shit, man. I'm not taking nothing.
Host: It's one of the few choices that you are allowed. Something you could actually choose on the inside.
Komrade Underground: For right now…
Host: To get a vaccine or not? What you get with an eating each day? You aren't choosing that. Turning a doorknob? You don't get to turn a doorknob. Well, the vaccine is a few things you have to get to decide on.
New Afrikan Comrade: I think they weaponize the food. Weaponize the milk. I don't eat this shit. I don't drink their water. Everything I do I buy off canteen. So I'm one of those type of dudes. I just don't fuck with the pigs at all.
Komrade Underground: Salute, man, salute!
I just wanted to get into what he was talking about. About them weaponizing the food, because that's true. It is this idea that whether it's on a conscious level that is happening on the compound or something bigger, it's this food and it's a formal production. It's the little things that keep us oppressed in here, like you were saying. COVID is just one of the things that's killing us, right now. But we have lived in the proximity of death every fucking day we've been inside. Death is so close to every single prisoner, that COVID is like "okay, it's just another thing killing us." "So and so got COVID? He gonna make it through. He just got stabbed two weeks ago. I know he can make it through COVID." So there's this level of death that looms over all of us, that we have to fight.
Not a lot of people know this story, and I'm gonna bring it up. But when I was young, in one of the juvenile dorms I was in, they snatched us all up and what they would do is they would bring stuff to us so we can all get in fights and then because they might have a big bus or a big load of more juveniles coming so they would clear out rooms to make room for these new ones. Send us to the confinement for 60 days and either put us with the adults or just slowly integrate us back in. But this time we went ham, and I went ham on the pigs, and I spit in their face. I'm going through it with them. They were slamming me on my shit and everything's going down, but I was going hard that day. I don't know why it was just one of those days that I know this is part of the process: them handcuffing us and beating us up. I just didn't feel like wearing it man, I didn't feel like wearing it. I started going ham, spitting on them, they put a mask on me. They were just going ham.
So, when they put us in the showers I was going in on these pigs. I'm talking about "I'm not cuffing up again. I'm not going to my room!" Going ham. This pig got really tired of me, he got really tired of me spitting on him and he finally got the cuffs on me and told me to step to the back of the place. I'm young, I'm like 18 then, and when I stepped to the back of the shower, he walks in the shower and pulls a fucking knife on me. A real, steel street knife on me and tell me how he's going to cut my nuts off and stab me and kill me. And when I seen that. I seen in his eyes like, "Yo, this pig really wants to kill me, yo. This pig really wants to kill me and he can do it right here! And from that day forward, I knew that every day in here, it's not only a struggle to survive, but it's a struggle to not die. So COVID is just another fucking pig without no fucking mask that I gotta fucking deal with.
Host: You said something right there. And you said a lot right there, let's be honest. But proximity to death, and what it imparts and what it teaches you. A personal story. I mean, I haven't been locked up, so I can't relate in that way. I can't say "I know." I'm not a brother in that sense. But I just lost my father, like recently, like last week. And on his death bed I asked him "so are you scared?" And he said, "No, not since Vietnam." He was in Vietnam when he was like, 21 years old. He said "I could have died any day. So I'm not scared. I'm not scared of anything." It was close to proximity to death, on that basis, and throughout his life, that basically worked in a certain perspective. And a certain strength, and a certain knowledge of self. I know none of you signed up for it, you were placed in this system. And that proximity to death is imposed on you. But there's something there about the proximity to death that sets your priorities, that sets this passion. And I see it concretizes, it makes solid who you are and what you got to live for. You know how you want to live and you know, how you want to die.
Komrade Underground: I think George said it best, He said "I don't care about living a long life. I care about living a well and fulfilled life." And that's been my mantra every morning that I wake up. I don't give a fuck about living long. I just want to live fulfilled, yo.
Host: Amen
New Afrikan Comrade: You can't you can't let death be the main ingredient in how you live your life. We are all born to die, like brothers say. We are born to die. So if it's you're time to go, there's nothing you can do about it… it's your time to go. So I'm not going to be doing no extra shit, jumping through hoops, taking vaccines and all this shit because I'm scared to die. I'm already half-assed dead anyway, living this motherfucker. Sleeping in this coffin. You know, I sat in here one day and watched the whole room just close in on me. It was just me and the bed and the wall. We can't let death be the issue on how we live our lives in here. Whether it's COVID, whether it's these pigs, whether it's these inmates. If it's gonna happen, it's gonna happen. You got to live the best life you can.
Komrade Underground: I was gonna say, I think that's important, though, too, because I don't want to make it seem like every choice that I make is because of death. Because it's not. When I say I want to live fulfilled, it's to know that we are very close to death but still living strategically. right? I think that's important and I appreciate you for bringing that up. Because those that live with death wishes, they're not going to get a lot done. We're going to put out half assed work, and we're going to put out stuff that's not important. So we shouldn't lead with death, you are right comrade, But I really, I really think that just knowing that it's there. At times, it makes us more frantic, right? It makes us want to push out more stuff. So we have to slow down a little bit, we have to not let that lead us. And just remember that it's there.
Remember that when it's time, let's just go out hard. But when it's not, let's still be strategic in every move. Let's still move with the idea of creating, because none of us are going to be around when this shit sets off. Right now none of us are going to be around when the actual movement or when we come to whatever anyone wants to believe is going to be communist fucking…. not utopia, but just a new world. A new Earth. We're not going to be around for that. But we still have to prepare and plan and structure our movements to where it matters. Because if we just do shit half-cocked and half-assed, then anything we're doing is just going to be a detriment to the struggle.
Host: Well, and I think that's an excellent place to leave it man. You guys both just wrapped it up. And I want to thank both of you for your time and your generosity and the risk you're taking – you're calling from your cells right now. So, thank you. And thanks to Shut 'Em Down media group for making this possible. The first of many conversations hopefully. We need more of this.
Komrade Underground: Hey man I appreciate being here and being allowed, and for this platform. That's all that we can do is just have some more of these conversations. So I think I'm just gonna leave you with the words of Jonathan Jackson. "All power to the people that don't fear freedom."