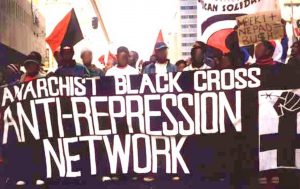 Anti-Repression Panel from Denver
This week we are featuring a recording from an Anti-Repression panel that took place in Denver in October of this year. The sound quality is affected by a fan system that the venue had running, but the words are well worth hearing.
For the hour, we'll hear words from a few perspectives of resistance in the U.S. currently. First, we hear from Danica from occupied territory of Portland about work around anti-colonial antifa resistance and self-defense in the North West. Next up, Firehawk talks about work in un-ceded Pueblo, Colorado, about working with femme, queer & trans prison rebels, Unstoppable zine and The Fire Inside project. Montana talks about autonomous relief work in Houston after Hurricane Harvey and the slow-disaster that is white supremacist capitalism in Texas. We hear from Jude talking about the J20 conspiracy cases coming out of the Inauguration, the court case moving forward and up til a few weeks ago. Finally, we hear from Jess who has been working with Water Protectors doing legal collective work up in so-called North Dakota mostly around #StandingRock with a very in-dept report-back on wider repression and specific case details.
A few updates are worth mentioning in the J20 case since Jude spoke on this panel: the first defendant convicted, Dane Powell, has been released and there is a linked support site for his post-release; two of the riot charges have been dropped down from Felony to Misdemeanor; & the first court dates have been moved forward to November 15th and info about how to help with court support can be found at Its Going Down.
As stated above, 2 of the initial 8 felony charges ('engaging in riot' and 'conspiracy to riot') have been dropped to misdemeanors, thus shaving decades from the potential sentences of the defendants. We here at The Final Straw suggest that Judge Leibovitz use a secure tor browser and visit https://dropj20.org to learn more about ending this expensive, insulting and dangerous act of political persecution that is the J20 case.
– — – —
Show playlist here.