Keep Calm and Get Prepared: A Look Into Month 3 and Beyond of the Portland Uprising with the Portland GDC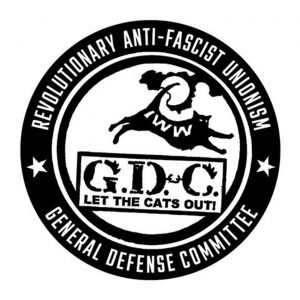 This week we got to sit down with two members of the Portland General Defense Committee, AC (they them) and Raoul (they he), about the ongoing Uprising in Portland OR in the months since the murder of George Floyd. We get to touch on a lot of topics in this interview; the neo-liberal whitewashing of the image of the city of Portland which masks a lot of ultra racist and colonial tendencies, personal timelines of engagement in the Uprising, and a lot of tips and tricks for newer and older anarchists and radicals for dealing with and anticipating state repression and violence.
Here are some notes and links to the topics that our guests spoke on:
-One note on the group Riot Ribs that AC mentions, I think that the group has disbanded for now but have seemingly regrouped as Revolution Ribs, you can find them @RevRibs on Twitter and their Cashapp is $RevolutionRibs. This group does not have a verified Instagram presence as far as I know.
–Walidah Imarisha on Oregon's racist, anti-Black history:
Walidah Imarisha – Why Aren't There More Black People in Oregon? (YouTube link) approx 1.5 hours long
-You can learn more about the Portland General Defense Committee and donate to their efforts at https://pdxgdc.com/
-Rosehip Medics in Portland : All Fundraising Platforms (rosehipmedics.org)
-Indigenous Mutual Aid is a platform that started up at the start of pandemic and has a very thorough list of Indigenous led and centered projects in their directory (indigenousmutualaid.org)
-Portland Freedom Fund which is a general fund that bails out BIPOC (portlandfreedomfund.org)
–Twitter folks to follow for otg news on the PDX Uprising:
–Anti-Repression Resources:
National Lawyers Guild on Insta
Civil Liberties Defense Center also in Insta
-And finally, there are too many autonomous local bail funds around the country to all name here, but if you do a search for "mutual aid bail fund in [name of town/city]" then that should give you a pretty solid clue about how to support places that haven't made it into the news as much. You can also do searches for Black Mamas Bail Out in your area to help fund efforts to bail out Black mothers and caregivers.
. … . ..
Music for this episode:
Run DMC – Peter Piper (instrumental)