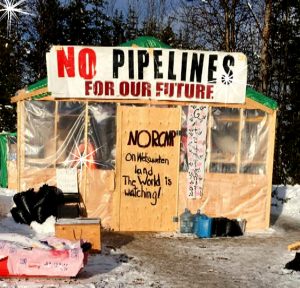 This week we had the opportunity to connect with Delee Nikal, who is a Wet'su'weten community member, about updates from the Gidimt'en Camp that was created to block the TransCanada Coastal GasLink pipeline (or CGL) that Canada is trying to push through their un-ceded territory. In this interview Bursts and Delee speak about ways folks can get involved, both in so called BC and elsewhere, how the covid pandemic is affecting their work, and many other topics.
The Struggle for Likhtsamisyu Liberation Continues, Updates from Delee Nikal
Click here to hear a past interview with Delee!
Follow @gidimten_checkpoint on Instagram and Gidimt'en Yintah Access on the internet for further ways to send solidarity, including a fundraising and wishlist link.
Links and projects mentioned by our guest:
BIPOC Liberation Collective
Defenders Against the Wall
Help Get a New Lawyer for Sean Swain!
Before the segment from Sean Swain, we would like to draw attention to a fundraiser in order to get Sean proper legal representation. As we all may know by now, there is nothing restorative about the prison system, its only reason for being is punitive and capitalist. Sean Swain has been in prison for the past 25 years, for a so called "crime" of self defense and radicalized to being an anarchist behind bars. He has been targeted by numerous prison officials for his political beliefs, so much so that years were added to his sentence. If you would like to support this fundraiser, you can either visit our show notes or go to gofundme.com and search Restorative Justice for Sean Swain.
– — – – – — – – – — – – – — – —
You can write to Sean Swain at his latest address:
Sean Swain #2015638
Buckingham Correctional
PO Box 430
Dillwyn, VA 23936
You can find his writings, past recordings of his audio segments, and updates on his case at seanswain.org, and follow him on Twitter @swainrocks.
– — – – – — – – – — – – – — – —
In Solidarity with Italian Anarchists Facing Repression 



We send you our solidarity call with anarchist in Italy and some introductory words, asking you to spread it in the way you prefer. Thanks!



"

From 2019 to today the Italian State has carried out many repressive operations and inflicted a series of restrictive measures on anarchist comrades, limiting their freedom of movement and forcing them to remain within the limits of their city or to move away from the city or region where they reside.





As recipients of these kind of minor measures, together we want to relaunch our solidarity with the more than 200 comrades involved in the various trials in Italy that are starting this September and that shall continue throughout the autumn.




In particular, the appeal trial of the Scripta Manent Operation will resume at the beginning of September: this trial involves 5 comrades who have been in prison for 4 years (two of them for 8 years) and which has resulted in 20+ years of sentence in the first grade.




During this trial the prosecutor Sparagna gibbered of an "acceptable" anarchism and of a "criminal" one, statements that contain the punitive strategy that the State wants to carry out, based on dividing the "good" from the "bad" within the anarchist movement and the ruling of exemplary sentences."





---------





WHO ASPIRES TO FREEDOM CANNOT BE "MEASURED"





We are anarchists subject to restrictive measures following a series of investigations that have crossed the Italian peninsula in the last year and a half.





They would like to isolate us, but they cannot. They would like to prevent us from supporting our comrades in prison, but their repression can only strengthen our solidarity.




With these various investigations, measures and prison detentions they want to wear us out and divide us, but we remain firm in our ideas and our relations, also thanks to the strong and sincere solidarity that has never failed us and that is increasingly under attack in the courtrooms.





They want to divide us between "good" and "bad", between an anarchism they call "acceptable" and one they call "criminal". We are aware that it is our ideas that have been put on the stand in the latest inquiries, all the more so when these ideas find the way of being translated into action, because as we've always believed, thought and action find their meaning only when tied together. And it's not surprising that a hierarchical system of power such as the State is trying to knock out its enemies by playing dirty and reviewing history, precisely when social anger is growing everywhere.





We don't intend to bow down to their repressive strategies and we reaffirm our full solidarity and complicity with all the anarchists who will be on trial from September: we stand side by side with the comrades under investigation for the Scripta Manent, Panico, Prometeo, Bialystok and Lince Operations, with the anarchist comrades Juan and Davide and with those who will be tried for the Brennero demonstration; we assert our solidarity with Carla, an anarchist comrade arrested in August after living more than a year as a fugitive, following the Scintilla Operation.





We know very well who are the enemies that imprison our comrades and against whom we are fighting and every anarchist knows in his/her heart how and where to act to demonstrate what solidarity is.




Even if not all of us can be present in the courtrooms alongside our comrades on trial or where solidarity will be manifested, we want to express all our affinity, our love and our anger to them and to all anarchists in prison.





Let's continue to attack this world of cages. Solidarity is a weapon, and an opportunity.





-Anarchists "with measures", exiled and confined
– — – – – — – – – — – – – — – —
Public Domain music for this episode:


Hustler – Retro Beatz  

(loop by William)


BOSS – Hip Hop Rap Instrumental 2016  (loop by William)