Certain Days: Freedom For Political Prisoners Calendar 2021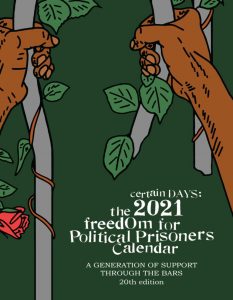 For the release of the 2021 Certain Days: Freedom For Political Prisoners Calendars we caught up with Josh, Sara and Daniel, three outside collective members. There's no point in me explaining about the project when they do such a good job in the next 40 minutes! Calendars are now available via BurningBooks.com in the so-called US, LeftWingBooks.Net in so-called Canada, and via Active Distribution (soon?) in Europe. Check out an interview we mention with Xanachtli and David Gilbert on Treyf Podcast.
We also talk about Jalil Muntaqim's release from prison after almost 50 years. Well, he's been re-arrested by a politically motivated warrant from Monroe County DA Sandra Doorley's office for allegedly attempting to register to vote and is being accused of voter fraud! There is an article and a petition and more information available on the SFBayView National Black Newspaper's website.
More information on the case and support for Eric King can be found at SupportEricKing.Org. To hear our chat with Eric from last year, take a listen to this interview. Also, the recent interview by the Solecast of Robcat of Fire Ant Journal (to which Eric contributes) was quite lovely.
We'll close out now with a track entitled "Back To You" and performed by The Hills The Rivers. You can find it and more on the album Burning Down: The Songs of Anarchist Prisoner Sean Swain.