Hasan on Free Ohio Movement + Istanbul ABC on Osman Evcan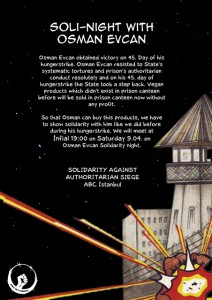 This week Bursts spoke with Imam Siddique Abdullah Hasan, one of five defendants in the Lucasville Uprising case from 1993 facing the death penalty known collectively as the Lucasville 5. Hasan, calling from Ohio State Prison supermax in Youngstown, Ohio, took the time to talk about the newly formed Free Ohio Movement, a prison organizing movement based on the Free Alabama Movement which centers on the claim that prisons in the U.S. are the current site of a continuation of slavery supposedly abolished but really upheld by the 13th Amendment to the U.S. Constitution. Hasan talks about prisoner labor & recidivism, claims of rehabilitation by the state and the organizing towards the September 9th nationwide prisoner strike on the 45th anniversary of the Attica Prison Uprising of 1971. More on Hasan's case can be found at http://lucasvilleamnesty.org and you can hear our previous interviews with Hasan here.
After that you'll hear a conversation with a member of Istanbul Anarchist Black Cross, in Turkey, that Bursts conducted. The conversation talks about the political prisoner situation in Turkey, the work of IABC, and the case of vegan anarchist prisoner Osman Evcan, who
recently succeeded to win rights from the state after a 45 day hunger strike. More on IABC, in Turkish, at http://abcistanbul.blogspot.fr/
Announcements
Stanley Corbett at Alexander CI, NC
At the request of prison organizers in North Carolina, we'd like to share the following information:
Politically active prisoner Stanley Corbett (0716025) has been repeatedly harassed by COs at Alexander CI, in Taylorsville, NC, and is being denied full food portions. Upon Corbett complaining, one CO said, "Y'all n-words always complaining about something." Then later, after filing a grievance, a different CO yelled, "Suck my (BLEEP) n-word, write that up!" Please call in to the prison at (828) 632-1331 and request the administration to feed Corbett and stop this harassment.
Again, that number is 828 632 1331 and Stanley Corbett's number is 0716025, held at Alexander CI in Taylorsville, NC.
Save Our Roots
Here is a brief announcement from Save Our Roots: An Indigenous People's Campaign to Protect the Sacred Biodiversity of our Natural Forests:
"[Genetically Engineered] trees pose a very real and significant threat to our natural forests and all Life on … Earth. It violates Indigenous peoples' fundamental rights to live in harmony with nature and to practice our cultural and spiritual beliefs … The propagation and use of GE trees as a natural resource and commodity for increased pulp and energy production will compromise and destroy the delicate regenerative biodiversity and life-cycles of [the] Earth . The growing of GE trees is a risk towards: the Rights of the Earth; land tenure and subsistence rights of Indigenous Peoples; depletion of precious ground water reserves; increases the use of deadly herbicides and pesticides; continues the release of greenhouse gas emissions and microscopic pollutants; and are a false solution towards mitigating climate change."
To learn much more about this topic, for updates on current situations and campaigns, and for interview opportunities for your media project, you can visit http://saveourroots.org/
Koko Lepo Solidarity Tour
On Thursday, May 26, 7-9pm Firestorm Books & Coffee (610 Haywood Road) will host the Anarchy & Anti-Fascism in the Balkans: Koko Lepo Solidarity Tour!
Suggested Donation (no one turned away) to help presenter with travel costs. During this time, a member of Koko Lepo autonomous youth solidarity program in Belgrade, Serbia, attendees can hear from a Koko Lepo member who is visiting the U.S. on a tour to spread awareness of autonomous, anarchist and anti-fascist/anti-racist projects and organizing going on in Belgrade and beyond!
The presenter will narrate the evolution of Koko Lepo from a free kindergarten in the defunct InexFilm squat to a broader youth program. The discussion will focus on issues of anti-ziganism (a term for prejudice against Roma/gypsies), autonomous solidarity efforts in Belgrade, the difference between charity and mutual aid, and the struggle against hierarchy; the presenter welcomes challenges and suggestions for continued solidarity and new connections.​
Koko Lepo youth solidarity collective is a mutual aid program working with the residents of "the Dump", a 'favela-type slum' in Belgrade inhabited by people usually referred to as "Roma" or "Gypsies". The collective is founded on the principles of equality and mutual aid. It is closely tied to the anarchist and antifascist scene in the Balkans and beyond.
Koko Lepo began in 2013 as a free kindergarten program in the InexFilm squat in the Karaburma neighborhood of Belgrade. Its students were picked up three to five days a week from their homes in the settlement and walked to the kindergarten where we had a three to four hour program with them before walking them back home. The program was focused on autonomy, respect for others, and making a safe space for the young children to explore their identities. We placed a strong emphasis on undermining 'traditional' gender dynamics and breaking down other divisions in the settlement. Over time, we developed very strong ties with our families in the settlement which allowed us to start a broader program for older children. This was called Školica and began as a weekend study program. This quickly expanded however and started to host film nights, excursions, and other activities.
When the squat was taken from us in October last year, we lost our ability to do the kindergarten so we redoubled our efforts with Školica. Now Koko Lepo occurs at least once a week all over the city with either our younger group (aged 7-10) or our older group (11-14) totaling around 50 kids (the kindergarten had another 20 or so). All of our funding comes from anarchist and antifascist groups in Europe as well as some odd individual donations here and there.
Check it out
Wild Roots Feral Futures
From http://feralfutures.wordpress.com:
We are very happy to announce that, for the 8th year running, the Wild Roots Feral Futures (WRFF) eco-defense, direct action, and rewilding encampment will take place in the forests of Southwest Colorado this coming June 18-26, 2016 (exact location to be announced). WRFF is an informal, completely free and non-commercial, and loosely organized camp-out operating on (less than a) shoe-string budget, formed entirely off of donated, scavenged, or liberated supplies and sustained through 100% volunteer effort. Though we foster a collective communality and pool resources, we also encourage general self-sufficiency, which lightens the burden on communal supplies, and which we find to be the very source and foundation of true mutual sharing and abundance.

We would like to begin by acknowledging that Wild Roots Feral Futures takes place on occupied/stolen indigenous territory, primarily of the Nuutsiu (occasionally spelled Nuciu or Nuchu, aka "Ute") people, as well as Diné ["Navajo"], Apache, and others. In recognition of this reality and as a first step in confronting it, we seek to establish proactive working relationships with those whose stolen land we gather upon, and open the space we temporarily gather in to the centering and amplification of indigenous voices and struggles. Our understanding is that any community of resistance that doesn't center the voices of indigenous people and put their leadership in the forefront is a movement that is part of the problem. [Read more here…]

We would like to invite groups and individuals engaged in struggles against the destruction of the Earth (and indeed all interconnected forms of oppression) to join us and share your stories, lessons, skills, and whatever else you may have to offer. In this spirit we would like to reach out to frontline community members, local environmental groups, coalitions, and alliances everywhere, as well as more readily recognizable groups like Earth First!, Rising Tide North America, and others to come collaborate on the future of radical environmentalism and eco-defense in our bio-regions and beyond.

We would also like to reach out to groups like EF!, RTNA, and the Ruckus Society (as well as other groups and individuals) in search of trainers and workshop facilitators who are willing to dedicate themselves to attending Wild Roots Feral Futures and sharing their skills and knowledge (in a setting that lacks the financial infrastructure to compensate them as they may have come to expect from other, more well-funded groups and events). We are specifically seeking direct action, blockade, tri-pod, and tree climbing/sitting trainers (as well as gear/supplies).

Regarding the rewilding and ancestral earth skills component of WRFF, we would like to extend a similar invitation to folks with skills, knowledge, talent, or specialization in these areas to join us in the facilitation of workshops and skill shares such as fire making, shelter building, edible and medicinal plants, stalking awareness, tool & implement making, etc. We are also seeking folks with less "ancestral" outdoor survival skills such as orienteering and navigation, etc.

Daily camp life, along with workshops, skill shares, great food, friends, and music, will also include the volunteer labor necessary to camp maintenance. Please come prepared to pitch in and contribute to the workload, according to your abilities. We encourage folks who would like to plug in further to show up a few days before the official start of the event to begin set-up and stay a few days after the official end to help clean up.

Site scouting will continue until early June, at which point scouts and other organizers will rendezvous, report-back their scouting recon, and come to a consensus regarding a site location. We are also planning on choosing a secondary, back-up site location as a contingency plan for various potential scenarios. Email us for more info on getting involved with scouting and site selection processes.

WRFF is timed to take place before the Earth First! Round River Rendezvous, allowing eco-defenders to travel from one to the other. Thus we encourage the formation of a caravan from WRFF to the EF! RRR (caravans and ride shares can be coordinated through our message board at feralfutures.proboards.com.

We are currently accepting donations in the form of supplies and/or monetary contributions. Please email us for details.

Please forward this call widely, spread the word, and stay tuned for more updates!

For The Wild,

~The Wild Roots Feral Futures organizers' collective
June 11th Day of Solidarity
And now the call-out for this year's June 11th: International Day of Solidarity with Marius Mason and All Long-Term Anarchist Prisoners
The podcast version of this episode includes a reading of the June 11th Statement for 2016, a rather lengthy one at about 20 minutes, prior to us playing the interview with Hasan. The text from that announcement can be found here.
For a zine version, check out this link.