Walidah Imarisha on Angels With Dirty Faces (rebroadcast)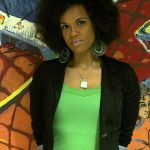 This week we are rebroadcasting an interview that William and Disembodied Voice conducted with Walidah Imarisha, who is an Oregon based writer, educator, public scholar and spoken word artist about her book Angels With Dirty Faces: Three Stories of Crime, Prison, and Redemption, her 2016 book out from AK Press and IAS, which highlights three distinct experiences that are all in different degrees tangential to the realities inherent to the prison industrial complex. This book won the Creative Non-Fiction Award in the state of Oregon earlier on in 2017.
In this interview we got to touch on a wide array of topics, mostly centered on Angels With Dirty Faces but also on accountability processes and what might have to change in order for them to feel more effective, her relationship to anarchism, and some upcoming projects and appearances.
We also get to touch on the book Octavia's Brood, a compilation of speculative fiction that Imarisha co-edited with Adrienne Maree Brown, who also wrote the book Emergent Strategy.
More about Imarisha, her work, and upcoming events can be found at http://www.walidah.com/
New York Anarchist Mental Health Conference 2019
First tho, for all of you who enjoyed our interview with Mango and Marin about anarchist approaches to psychiatry and mental health, there is going to be an Anarchist Mental Health Conference in New York City on Saturday February 23rd 2019 at Judson Memorial Church at 55 Washington Square South, New York NY 10012
The call for proposals reads as follows:
"1. Are you an anarchist (or other leftist anti-capitalist anti-authoritarian)?
2. Are you a mental health provider (psychotherapist, counselor, peer specialist, or psychopharm prescriber)?
3. Do you have something to share with anarchist mental health workers? (a critique of the field, a skill you have, or a resource we need to know about)?
If the answer to these questions is yes, please email an accessible language abstract of 100 or so words to nycamhc@protonmail.com describing what you want to share, why it's important, and what conference participants will take away from the presentation. Separate from the abstract, please also specify how much time you need (45 minutes max) and what format you'll be using (lecture, workshop, roundtable, longtable, etc)
Please submit proposals to nycamhc@protonmail.com by December 31st 2018."
Thanks to everyone who reached out to us about the interview about anarchist mental health, your comments and feedback were truly wonderful to hear! Keep an eye out for further interviews with Mango and Marin, on this and other anarchist and anti authoritarian media platforms.
Support the Vaughn Prisoners!
We also would like to report on a very concerning and terrible event which took place recently. For the second time this month, someone connected with the James T. Vaughn prison uprising trials has died.
For a bit of context, from a support flyer at It's Going Down, "On February 1st, 2017, inmates at the Vaughn Correctional Center in Delaware took control of their unit and held staff hostage in an uprising that lasted 18 hours. They called the media, released a list of demands, and explained their actions as motivated by their conditions of confinement as well as the election of Donald Trump as President. One prison guard, Steven Floyd, was killed by inmates during the uprising."
The remaining prisoners are still facing charges associated with the riot.
Kelly Gibbs, the man who passed, was not a defendant in the first trial, but his name was mentioned during that time in connection with the uprising. The implications of these two deaths are all too apparent; prison workers and wardens often take matters into their own hands in retaliation for acts of prison rebellion. Now it's important to support the Vaughn uprising! We will link to an updated flyer that includes all the names and addresses of the remaining people, as well as to articles for further reading.
From the Philly ABC, calling for court support of the Vaughn 17 back in October:
In many ways the demands of the Vaughn 17 anticipated the 2018 National Prison Strike, calling for increased wages for their mandatory labor, and the introduction of rehabilitation and education programs. These comrades positioned their struggle inside against the threat posed by Trump's election, which has now been realized in the increasing detention of immigrants and the rise of fascism on the outside. Since the occupation's end, they have been subjected to extreme repression and violence, including beatings and the denial of basic necessities, including having their water shut off. Yet in the face of these hardships and the betrayal, 17 of the defendants are standing together, unwavering in their solidarity.
Here is an updated resource on the Vaughn prisoners and how to support.
Here is an article on the recent passing of Kelly Gibbs.
. … . ..
Playlist here.