Queer Activist Perspectives from Southern Appalachia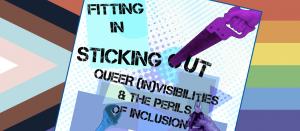 This week on the show, we bring you the audio of an activist panel from the recent Queer Conference held online by University of North Carolina, Asheville, in March of 2021.
The conference was titled Fitting In and Sticking Out – Queer [In]Visibilities and the Perils of Inclusion. From the panel's description for the conference:
This panel brings together 4 local (Asheville, NC) and regional groups working at different intersections of queer community support. We will learn about the work these groups do, the particular issues that affect southern queers, the changes in visibility and inclusion for queer community, and the building of larger coalitions of liberation. Representatives from four organizations will be part of the panel:
Announcements:
Phone Zap for Florida Prisoners in Mandatory Toxic Evacuation Site
From Florida Prisoner Solidarity on Twitter and Instagram:
Over 2,000 prisoners in Florida are trapped inside an evacuation zone less than a mile from a retention pond that is in imminent danger of failing, sending 800 million gallons of acidic radioactive waste water flooding over the local area. According to Deputies, the local jail has no plans or intentions to evacuate prisoners.

Please CALL AND SHARE NOW demanding the safe evacuation of all prisoners at the Manatee County Jail.

Sheriff Rick Wells
941-747-3011 ext. 2222
rick.wells@manateesheriff.com
Twitter- @ManateeSheriff

Central jail information
941-723-3011 Ext. 2915

County Commission
941-745-3700
EMAIL FOR ENTIRE COMMISSION: tinyurl.com/EmailAllCommissioners

Emergency Management
941-749-3500
emergency.management@mymanatee.org
Twitter- @MCGPublicSafety
. … . ..
Featured tracks:
. … . ..
Transcription
Scott: Okay, so welcome everyone. This is our the final event of the first day of the 2021 Queer Studies conference. So happy to see you all here, we made it through the day. This is a really special panel because we've invited representatives of local organizations and groups that do work in the community in the region to help queer community – and we'll hear more about the work that they do specifically – but this is in the spirit of the conference, which is going back to its founding, conceived as a way of like having academics and organizers and activists meet to talk about queer issues. So this is special to highlight the work that queer folks are doing on the ground. So I'm gonna be moderating, my name is Scott. And I'm going to now turn it over to each of our panelists to introduce themselves, the group that they represent, and give a brief overview of the work that the group does in the community and beyond, and then we'll get into more involved discussion from there. I can name y'all, or if someone just wants to go, go ahead. If the spirit is calling you…
Leroy: Alright, I will jump in here so that then I can sit back and listen to all the rest of you. Hello, I'm glad y'all are all here. My name is Leroy Kite, I use they/them pronouns. I'm here with Tranzmission Prison Project, we are a queer and trans powered abolitionist books -to-prisoners group that serves the entire country…with a few exceptions of states that have banned us. And we are a sister organization, a sibling organization with Asheville Prison Books, which just serves general population prisoners in North Carolina and South Carolina. For those of you that are Asheville specific, we are located out of the back of Downtown Books and News, you can drop by and see us.
And, yeah, we've been around for like a little over 20 years somehow? So a very long time. It's kind of a mystery to me, how that has really sustained this long. I've been involved for about seven years, and there is some historical memory losses, there's just been a lot of turnover over those two decades. Basically, we are still in the process of reconnecting with the origins of how this group began and trying to call up those long lost elders of this project so that we can kind of seam some of the pieces together of what has changed from then and now.
But that pretty much gets up to date. The arc of our work is we receive requests from prisoners around the country, across the LGBTQIA and two spirit spectrum, and mail them back books that they are asking for whether that is romance, thriller, sci-fi, erotica. You know, we try to highlight getting people materials that a lot of other organizations are either unwilling or under-equipped to send to those populations, particularly when it comes to things that regard people's sexual and gender autonomy. That's a area that it can be very, very hard to find free resources from organizations that are willing to send that to people. So that's kind of one gap that we see ourselves filling that's kind of unique. And with that, I'll pass it off to whoever wants it. Thanks.
Adrian: I can pop in. So my name is Adrian, I use they/she and he pronouns. I'm the executive director of Youth OUTright WNC. We are a support and advocacy organization for LGBTQIA young folks between the ages of 11 and 20, which kind of led up to 24 during COVID. Thanks for dropping our link, Shawn. So our programs focus in on racial justice, gender justice, and sex and relationship education. So right now we're running programs Tuesday through Thursday, we have chat rooms on Tuesday and Thursdays that are held on Discord. And we have a video call on Wednesdays that run 6 to 8pm. And that's those programs are run by Brian Thompson, our youth programs manager, and they've been doing a great job there.
We also do some work supporting the GSA clubs across the state of North Carolina. If you're not familiar with GSA's, those are "Gender and Sexuality Alliances", formerly known as "Gay Straight Alliances", and those clubs really vary between social support and activist groups. But we support them wherever they're at and with whatever they have self determined to be their goals, right? So if they're focused on building community with each other, that's awesome, we'll talk to them about that if they're looking at changing policy at their school, also awesome. And we'll talk about that we try to meet them with wherever they're at and with what their goals are.
Self determination is really important to our work. Over the past few years, we've been really incorporating youth leadership, all the way up through the board level. And so that's been really important to us as we progress. We like to create professional opportunities for young people as well. We had some part time staff positions last year as educators and facilitators, there'll be more opportunities for that later this year. And we've provided stipends for peer education around sex ed, or mental health, different things like that. In 2019, we held a GSA summit, we hope to do that again. We were a little shaken by the by the pandemic, as most folks were, so we've had to postpone that but we're looking at a virtual version soon. Keep an eye out for that.
And beyond the direct Youth Services, the GSA work, we also do advocacy around policy. So we've been working with Campaign for Southern Equality around the Department of Public Instruction's name policy within the virtual learning system. We were seeing last year that a lot of trans young people were being outed just by the virtual learning system, and so we now do have a preferred name field that will be integrated into Buncombe County and implementation is happening now.
We work with Equality North Carolina on things like non-discrimination ordinances here in Asheville and surrounding counties. And we're also working right now to put together a storytelling campaign around the anti-trans sports bill that just hit earlier this week. So we're working with some trans athletes at a couple different high schools to uplift their stories, and really raise awareness to that.
One last little plug I'll make is for our racial justice and gender justice panels, which happened once a month on our Instagram Live, and that Space A Digital Place to Talk About Race, and TYME (Trans Youth Movement and Education). Those panels are led by young college and high school trans folks digging in deeper to racial and gender justice. And I'll stop taking up space.
Monse: I'm happy to go next. Hi, everyone, my name is Monse, I use they or she pronouns, and I'm here at repping SONG, or Southerners On New Ground. We are a 28 year old LGBTQ base-building membership organization. We are definitely unapologetically abolitionists, Black and Brown, and all things queer and magic. So we have chapters all across the Southeast. We have chapters in Georgia, Alabama, South Carolina, North Carolina, Tennessee, in Louisiana. We currently don't have an Asheville chapter but we have lots of Asheville members who, in the past couple of years, have been engaged in our bailout action that we have done for Mother's Day where we have raised money to pay the bails of Black mothers and caregivers who are in jail due to bail. And this was definitely to bring awareness to the issue of money bail used as a racist, classist practice in not only Buncombe County, but all across the south, where folks are held pretrial. So before their conviction, and if they don't have the money to pay to get out, they have to stay in jail and await their court date when people who do have access to wealth or money can wait for their court date from the comfort of their own home. So further criminalizing folks who are already targets of the state.
So SONG was founded in 1993 by three Black lesbians and three white lesbians, and was definitely founded as a way to kind of infiltrate into the queer and gay movement in the moment, and really saying that money bail, that criminalization, that all these things are people facing oppression, like, is the gay issue. So we definitely wanted to make space for folks who are Black and Brown, who are facing oppression and criminalization every day, to be able to be in these spaces and organize and bring their full selves and not having to be closeted.
So SONG is an LGBTQ feminist organization, with core Black leadership. And we believe that until all of us are free, none of us are free. So that's why we're really wanting to move this work. Currently, we have campaigns to end money bail, so really connecting to our direct action to bail Black mamas and caregivers out of jail, and bring more awareness to the issue to end money bail and pretrial detention.
We also have been doing research around campaigns to end the collaboration with local law enforcement and ICE – so Immigration and Customs Enforcement – because we know that police and ICE are the same beast under the prison industrial complex. But we do a lot of training, a lot of just skilling-up and building community across the South because we know that the South is where all the shit goes down, and where all our people are. Where we have roots, where we have community, and we want to be able to grow and build and organize in the South. So that's a little bit about SONG. And hopefully, you'll get to hear more about the work that we do. But thank you all so much for having us.
Beck: Thanks Monse. I'm Beck, I used they/them pronouns and I'm here as the representative of Pansy Collective. And so Pansy Collective is a DIY decentralized queer LGBTQIA arts and music collective. Our biggest thing that we do is Pansy Fest, and it kind of started out as like, a queer visibility type of thing. Like the punk scene in the South and in neighboring regions around Asheville has been pretty bro heavy, pretty homophobic, racist, and we're trying to make space that was an anti-racist, anti-homophobic space in the punk community. And then from that, it kind of started to build into more like Southern and rural coalition building and then specifically around moving from like, visibility to BIPOC reparations. So the first fest we actually worked with SONG's Black Mama Bailout, and that was like the first beneficiary we had, and TPP was another one! But it's like, it's so cool that we're all here right now.
But yeah, it was kind of a way to engage like queer folks into to put a public space that wasn't some liberal kind of, I don't know, upitty Asheville…you know? [laughs] People who are living here, you know. But yeah, so it was it was cool to like, create a space where we felt okay around each other, where we can have hard conversations. And also like, where we could bring some of the anarchist principles and things like that, in kind of a more tangible way into the punk scene. It's like, "Okay, we've got all these lyrics that are like, 'fuck this, like, hate cops'", follow that. But also, do you know about prison books? Do you want to sign up? You know about Black Mama Bailout? So you know, having people tabeling there at all of our shows and events was really big. Making sure we have Narcan, you know, bringing in harm reduction into the scene…just kind of trying to, like, the spaces that we have idealistically in our head as like "a queer scene", just trying to make it happen to the best of our ability.
And so we've been around since 2016? 2017! And it was such a bummer last year: we were like getting ready for a really cool event with HOT BITS. It was going to be like a really cool coalition building, with sex workers rights, and having a really cool, I don't know, sex positive space, which was like something new for Pansy. And it kind of went all down because of COVID, of course. But we're still meeting together! We're still organizing, we, you know, try to coalition build where we can. It's not looking like events around music and art right now. It's more like, "Okay, let's do a noise demo at the jail with Charlotte Uprising." How can we be outside and distance and really do the work that we believe in, which is like mutual aid, it's love, it's like anti-prison, you know, it's not queer assimilationist, right? So it hasn't been so much "festy", like punk stuff going on, but we're still here doing it. And yeah, super stoked to be here. Thanks for having us.
Scott: Thanks, everyone, for introducing yourselves and the groups and giving an overview. It's really interesting too, to see where these local regional groups have intersected and work together. My first question beyond the introduction is specifically linking to Asheville, Western North Carolina, a larger region, the South, what do you think Southern queers need? And how does your work try to meet those needs? And you can, you know, get as specific to our town as you want, or think more regionally.
Beck: I'll go ahead. I think one of the things pre-pandemic, when events were happening, was just having a queer focused event that you didn't have to pay for. That it was like, sliding scale and all of the money, it wasn't, you know, going to this model of building up, it was just going to go into the hands of folks who need it. The fact that you didn't have to show up and pay. I feel like everything else in this area in those spaces, too, it's like "pay to play" situation. And it's not really inviting, you know, from a class perspective, but also just like…those spaces aren't necessarily where, like, I want to be anyways, right? Like I want to be in a space where it doesn't matter how I'm dressed, how I look, if I can afford it. So just creating those spaces, I think.
And something that I just think of, like, resources and education and coalition building is something…there's like, there's a lot going on in the South, trying to make it happen, but it's much more of an uphill battle, I think, compared to West Coast, East Coast, right? And so, you know, tabling events and stuff like that, but also like teachings, where we learn how to do jail support, or, you know, like fun stuff too! Like, do you wanna learn how to screenprint? Just having this open space, you don't have to pay to get in. And you don't have to know everybody, you can just come in, and people are gonna be like, "Hey, what's up? Welcome to the teach-in." And you're like, already welcome at the door. And a place where people can share ideas, and it's not coming from this hierarchical like, "I'm going to educate everybody in this space." It's "everybody has something they can bring to it." So I think that's one part that Pansy Collective comes from, for sure.
Scott: Adrian, that made me think, like, what Beck was saying about kind of the educational aspect and like, maybe that fits in the mission of Youth OUTright, connecting to young people?
Adrian: Yeah, a couple of things were coming up for me when Beck was sharing. The first thing that came up for me around education and teach-ins's is: I feel like young people really need us adults to step up and educate ourselves. Frankly. You know, I think that our young people are often in the position either at school or with their families, where they have to educate adults around them about sex and gender, or racial justice, or any number of social movements that are happening in our intersectional community, right? And so something that breaks my heart, but also makes me really proud is watching these young people really articulately say what they need to say, to these adults, right? It's impressive, it's great. And also, come on adults, what are we doing? And so you know, where that brings in Youth OUTright is we're in the process of developing relationships with Buncombe County schools to provide training to all of their counselors and social workers, right? From the adults, providing them training about how to support young people, and we may compensate young people to record their experiences or, you know, provide some amount of input in there. But we don't want them to have to expend that emotional labor and potentially re-traumatize themselves in entering a space where they have to teach their teacher, right?
And so I think that there's a big need for adult allies to step up into this place of peer educator for, you know, the people in their community and having these conversations. Of the folks who do want to engage in those conversations, we're hosting every third Monday, a space called Continuum, which is an intergenerational conversation for supporting specifically gender and sexual minority young people. And so that's a space where people can engage in conversation with the community there. But you know, we obviously have a little bit more of a focus on young people, right?
So part of our work last summer, we did a direct action training at Carrier Park. And so we brought together a small cohort of young people. And we were socially distanced and talked about what power mapping looks like, talked about some of the changes they want to see in the community, and they identified the Trans Panic Defense, right? They said "the Trans Panic Defense is something that we think is abhorrent and needs to go away". And that's super valid. They also picked a hard one. But you know, I think that having spaces like that, centering the young people's vision, is really what they're asking for. And again, I'll go back to self determination, right? And I think that when we allow young people to set the waypoint, we realize that a lot more as possible, right? As adults, I think we get a little bit salty, we get a little bit jaded and cynical, "we'll never get there", right? So I think young people need us to tap into that imagination, and tap into that vision and support that, right? As well as stepping up to educate ourselves and understand that like, I'm still learning new pronouns, y'all! Like I'm still…there's a lot going on, and culture is always changing. So I think they need humility from us, right? They need us to recognize that, to disrupt that adultism in ourselves, right? There's always this dominant cultural belief that adults know what's best for young people. They might know what's best for us! Let's look at our planet and what the young environmental activists are saying, right? There's so many ways to look at this and where young people really have the answers. So I think we need to take a seat and listen, and then start making some moves from there.
Scott: Thinking of like, you know, identify problems that they want to attack made me think also about the kind of particular terrain that we have in the South. Given the kind of like, Republican legislative power and the way that they can kind of steamroll anti-trans, anti-gay policies, and I don't know if maybe that's something that Monse, you could talk about, in terms of the work that SONG is doing? Because it's like SONG is as a Southern thing and there's like, simultaneously kind of invisiblization of queerness in the South, but also this huge social war being waged by the state against queer people in the South. So yeah, that was a way to start to throw it to you. If you have some ideas.
Monse: For sure, I can definitely speak on that a little bit. Yeah, and I would say, like, the South is a region of both great despair and historical trauma, but also great organized resistance and resilience and magic. Like, we really organized in this region because we want to build up. And because we are a part of a long legacy of organizers and cultural workers, freedom fighters who have been committed to the South, and this is a place where folks live, where folks build their lives, where they love, where they organize, and continue to build their families, regardless of all the things and history that has. And I really would want to highlight that resistance piece, because there has been so much resistance that has happened in the South. And I think that's the beauty of it. I think that folks, we're naming, like, we organize in the South, and we have that kind of like a southern hospitality where we can find our people, where we can create the potlucks and invite folks in and like, making sure that our neighbors have what they need, that our community is good. And we are doing mutual aid, and we are doing those things. And there's also like all those things against us, too.
But I think that organizing in the South, to me, is about kind of like that resilience that you're like, "I'm not leaving this place, because this is where my legacy is, my history is." And a lot of the times that negative and racist rhetoric is highlighted in the South, but I think, like, right alongside with it is where we grow, like where we are making everything out of nothing. And we are doing that pushback, and we are seeing some wins. And I think we have been able to see some wins, like even specifically throughout this year. Like folks organizing and doing the uprisings. Like we saw so many wins from that, like, where folks, like we are literally, everyone was talking about "what does it mean to defund the police? Like, what does it mean to believe in a world where we don't have policing, where we don't have jails and prisons?" And I think that that is because of years and years worth of organizing. It didn't happen just out of nothing, and like folks rioted and stood up for what they believed in, just like, overnight. I think it has been years of oppression and resilience that ignited folks to continue that conversation. I think that the work is not by any means done yet. But definitely we're making, we're seeing the fruits of those commitments and those sacrifices happen. I think it's up to us here in the South to continue to say like, "Fuck that" – [smiles] I'm gunna cuss on here – but like, "Fuck that, like, we're gonna keep fighting and we're gonna keep doing what our ancestors wanted us to do and what rightfully we have to do".
So yeah, and I think in Asheville there are so many nonprofits, and like so many folks already organizing, and there is a great need for folks to organize. And we definitely saw that even locally in Asheville, when, like, we need to hold local and county government accountable. Like we saw that in the summer, we saw demands of Black and Brown organizers being ignored. We saw that there is a big need, like, we can't, in Asheville at least, we can't hide behind liberal organizing and expect things to to move. I think that we have to continue to push and continue to make space for Black and Brown organizers and for demands to to move, so that we can organize and build the world we want to live in, even here, on a local level. And I think that what SONG has to offer, at least here in Asheville, is like training, skill-up opportunities. Like, this 28 year old legacy of folks who have been fighting and organizing in the South because the South is their home, and definitely connection to those folks all across the south, and years of like trans and queer abolitionist organizing. So that's what I have to say,
Scott: Thanks. And then, you know, building on that idea of like, how the queer communities in the South can get invisiblized in the racist and bigoted ideas of the South, I was gonna use that to sort of transition to the work that you're doing Leroy with Tranzmission Prison Project, because also a community that gets invisiblized, is the people who are incarcerated, and specifically people like trans and queer people who are incarcerated. And I don't know if you have something to say about that in terms of like, the way that you're working with them to get their voices out or get their needs met. Because that's also a site of like, tremendous resistance, building off what Monse was saying.
Leroy: Yeah, I think that there's both so much potential here, and in full transparency, so much room for TPP to continue growing in ways that move beyond where the reality of, you know, most of our work to date has, even as an abolitionist group, typically shown up as service provision. Where we're not as involved on the policy end of things, or able to keep up with all of the specifics of what is happening in this state in the South that specifically targeting these queer and trans prisoners. We, you know, have occasionally popped in to, like, offer a statement here or there about things that have happened on the federal level. Like in 2018 there was this change to the Transgender Offender Manual from the Bureau of Prisons, that really fucked over, altered, the safety of trans folks in prison across the country.
But as far as specific to the South, I personally don't feel like I am informed enough to be able to say where, you know, we have as a project not yet had the capacity to orient towards how can we show up more and do more coalition building and outreach beyond our little silo of what this project has been maintaining over the years. But I think that that's the real growth edge for us right now. And where the conversation has really been building over the last several years as we've gone from, basically like myself, and like one other person, when I first joined this organization, we sort of went through a period of so much burnout, and turnover seven years ago that the last seven years have been really just building back up our own base and trying to just keep up with the mail. We have, like, 100 to 150 pieces of mail on average that we get a month.
And so we've sort of been stretching to make space to have conversations within our group that are more than just "how do we sustain our own morale in this work?" And how do we actually network with some of these bigger, juicy or more challenging questions of "what does it mean to be abolitionists doing books to prisoners work", and I think that networking with other folks in the south like SONG, like Pansy Collective, like Youth OUTright, is really where the work is headed for us. So that we can kind of use the best of what everyone else is already tapped into, on sometimes more of the policy end of things, sometimes more the grassroots end of things, but just where people have their ear to the ground in places that we don't always.
I will say, as I kind of alluded to, I think in my first answer – and maybe this is foreshadowing for like another question that I don't know, it still coming up – about like challenges of working in the South. But I think that the irony is that for longer than I have been involved with this project, North Carolina specifically has been one of the states that has banned us, Tranzmission Prison Project specifically, from sending mail in. And we have – for the cop who may be sitting in this room right now, this is the time where I'm gonna say "Fuck you, and you can leave this call" – but, you know, we we have done what we've needed to do to get folks books that they've requested. Like, we still get requests all the time from prisoners in North Carolina, and we've basically just found some ways to fly a little lower on the radar when mailing those books back to people. But things like we can't use our letterhead, we don't use our mailing address when we return those. And so there's room for us to potentially challenge that.
I mean, in the last seven years, again, as a group we have not had the capacity to necessarily even investigate, like, is this really still a thing? Like, could we run a campaign to get this overturned? And so that's where having a real upsurge of interest in prison abolition in the last year has been starting to put some more wheels under what feels possible for us, in terms of maybe doing some bigger work, then has really just been on the table for us. Just trying to like keep up with the need that has been there, you know, not not to fall into like, capitalist supply demand lingo, but I mean the reality is like, the prison system is a part of capitalism and we are often in our own constraints that are placed upon us by it by the nature of the prison industrial complex.
So there's this real tension between like, "how do we ensure that our baseline commitment to just getting people the books that they are asking for is being met", while also being like "is that in and of itself, abolitionist". We really situate what we're doing as centering people's humanity, and really just restoring that sense of dignity and autonomy to people, that having information is something that we believe everyone should have. Having access to pleasure is something that everyone should have a way to expand their own minds beyond, you know, what's often a cell smaller than a lot of people's bathrooms. How do we, again, just connect the dots of the bigger constellation of "how do we keep these prisons from becoming kinder and friendlier to trans people" – whether that's in the South or around the whole rest of the country – towards "how do we really shrink the system into nonexistence"?
Scott: Yeah, so jumping off of the obstacle point, that was a question that I had prepared. And I'm thinking also of just specifying a little bit because it's come up – and this is the place we're in, like, you know, post or not post pandemic, but in the middle of the pandemic – the pandemic hit, right, and like changed the terrain for organizing for everyone. So that, obviously, is an obstacle. I'd be interested to hear how a little more about how have you dealt with that. And also, potentially, on the plus side, the way the uprisings, rebellions last year affected the kind of energy and work that you're doing, because that's also something you've all been mentioning, in terms of the hearing more about abolition. So obstacles and but also like the recent sort of things that have occurred that have changed the nature of organizing.
Monse: I'm happy to kick it off. I think that yeah, definitely, what has been shared is definitely what we've been experiencing too, within SONG. I think even the election was a huge obstacle. I think that that brought up so, so many conversations, but also like, we were able to run a Free the Vote program within SONG in particular parts of the South, where we were doing voter registration and in the jails, for folks who are incarcerated, trying to get absentee ballots. And then we also face that same like, trying to mail stuff in trying to get to talk to people, it was those same things. So I definitely resonate with that, like trying to navigate and even just reach our people who are inside, making sure that they know that we're out here and just trying to communicate with them has been a barrier put up by the state. And I think it's very intentional, you know, they don't want us to talk to them, they don't want them to talk to us. So I would say I definitely resonated with that.
And I think even, yeah COVID in itself changed so many of the conditions which our folks were living in, and organizing in too. And we as SONG were definitely trying to figure out like, "is this the moment like to free them all? Like, are we trying to push for that, like, get everyone out of jail?" Like, of course they're not following the CDC guidelines. Of course, they don't care about the people who are in there. And really trying to see like, what ways that we could turn up on the state, and also keep our people safe from from COVID. We definitely started to do car caravan actions, like honk-ins at the jails all across the South, making sure like, hey, like we haven't forgotten about y'all out here. And trying to do that. Folks in Atlanta and the Atlanta chapter were definitely turning up and putting pressure so folks could be released. Like, if they didn't have to be there – of course, nobody has to be there – but like, if they were their pretrial, that they should be free.
So definitely trying to push on the campaign's that we were already moving, in relationships to like, we need everyone out of that jail because it's just COVID in there. So yeah, I think that even our tactics of organizing changed so much, and finding our people, and being able to do direct actions…we were thinking, a lot of like, "what does it mean to continue to turn up on the state and keep our people safe from getting sick?" Because we know that historically, our people don't have access to health care, like our people don't trust the health care systems, at all, and in fact, have been victims of violence by the healthcare system. So all the things, all the things. And I think, even just locally, some obstacles that have been coming up is also the fast-paced gentrification here in Asheville. Black and Brown folks, especially queer trans folks, are being pushed out of Asheville, so, so quickly, so so rapidly. And I think that that's also something that my brain goes to is like, how are we like turning up against all these developers who are trying to take our towns, trying to take our people's homes? And how are we creating space for folks to continue to live here, and work here and organize here in Asheville? It's something that I would love to get into with any of y'all. But yeah, some of the obstacles.
Adrian: Thanks for sharing all of that Monse, a lot of that really resonates. And I think that, you know, with what's coming up for me and the young folks that I work with, is I think that we've really shifted into more of a survival mode, right? You know, sex ed, and sexual violence prevention work was really integral to our programs before the pandemic, like every single meeting we'd talk about consent. Once we hit quarantine the kids were like, "We just need to hang out with each other, like, we need a little bit less educational stuff." And we stepped back a little bit because they didn't have the capacity to keep learning and keep learning. And they were also doing virtual school, right? I think the capacity for everybody, not just young people, just really got lowered.
And, you know, I have been fielding a lot more crisis calls over the past year. We have young people who are stuck at home in transphobic families, right, abusive families. And so, you know, we move from potentially thinking about targeting a trans inclusive policy at school to, oh, I might get kicked out of my home, right? And so I think that's one of the challenges for us, is that while we try to build power within the youth community, so many of our young folks are just dealing with a different level of marginalization, by the pandemic, right?
One thing I'd point to is our GSA clubs, right? Like we before the pandemic, there were upwards of 35 clubs across North Carolina. Now we're under 25. And a lot of those 25 are folks who have registered, but like, their club isn't really meeting right now, or maybe they don't have the tools to meet digitally, or, you know, they're running their meeting but they're only getting 5 of the 20 and 30 people that used to be coming to their meeting, right? So there's this really big challenge in reconnecting with all of our young folks that have been a part of this network, and making sure they're alright.
We launched a mutual aid fund over the past year, to support young folks 24 and under who were economically impacted by the pandemic, and we've distributed about $14,000 now, mostly to young folks who are housing insecure, and a good number of them are already homeless. And so, you know, in my conversations with the McKinney Vento liaisons who work within the Buncombe County school district and support the homeless youth there, they told me that they expected to see the homeless youth population balloon, maybe even double, over the course of the pandemic due to just the economic impacts, right. And the family impacts again, putting, you know, trans people back at home in spaces that aren't safe for them.
So, all of those things are hard, but I do want to add a silver lining that has come out of some of these pivots. You know, we moved to digital programming pretty much within a week, right? It was pretty quick. But what was really awesome about it was a lot of our young people took a lot of initiative, right? They're like, "Oh, discord, yeah, I can make a server, I can make you a robot. I can make you all these things." And It was incredible and inspiring to see these young people step up to the plate…wow, a sports metaphor, how butch? Okay, that was weird. That doesn't happen a lot. So, you know, these young people really stepped up to support each other and advocate for themselves, right? That's been really incredible. And the other thing that comes from that, in the beginning of the pandemic our groups were smaller, but they were rural people, they were POC folks, and so we were actually getting to these young people who really need our services a little bit more. Not to say that young folks don't need our services – we're here for them as well – but there tend to be more GSAs within Buncombe County, there tend to be more supportive adults within Buncombe County. And so to see young people from Candler, Lake Lure, Cherokee, these other places, checking into our call, that's a huge impact for me and for I think the folks in the community.
I think that moving out of the pandemic, as we slowly start to, we're going to be keeping a lot of these digital organizing strategies that we've developed, and need to find this balance between, "okay, we've created access to our world programs, and there's this thing that's lacking from our in person programs that we need to bring back". But I tell you, I'm not going to remove all the digital programs, because I'm like having those rural kids around.
Leroy: I can jump back in. Yeah, I'm really feeling the themes of COVID challenges plus, like weird COVID boons that no one necessarily saw coming. Yeah, at the very start of the pandemic, we definitely went into rapid response mode in a way that like, isn't very typical for us. And again, wasn't necessarily sustainable for us, but I think, as Monse already touched on – everyone's familiar with this, I think, on the global level, but for those of us, especially with our finger on the pulse of what life inside of prisons is like, it was just like watching the storm rolling in times 1000 – it was just like the contagion of this is going to kill so many people so rapidly. And there was also this potential, like no one had really ever seen before, for these mass releases.
And so again, even though that's not something that we, as a group, necessarily had a lot of power to help push for – I mean, I think individuals within our group are kind of like tapped into other campaigns outside of the work of TPP – but what we did do was reformatted a pamphlet that was a collaboration between Blue Ridge Anarchist Black Cross and Asheville Prison Books, which was basically just an informational two to four pager about what is COVID, and how can you keep yourself safe? And obviously, there were ways we were like "We don't know if people are going to be able to apply this." I mean, obviously, there's no PPE, there certainly was no PPE inside of prisons at the beginning of the pandemic, we were worried if people were even going to have soap. Hand sanitizer was like, not allowed for a lot of folks because of alcohol. But we were like, "We don't even know what people are being told at this point, so it seems like the least we could do to just share what we were hearing, as we were hearing it on the outside, with those that we love on the inside," to just say like, "this is what we know so far about this virus. And this is what we are hearing about what you can do to keep yourself safe as much as possible. And we realized that a lot of this may not be possible for y'all."
The flip side of what those pamphlets offered was a sliver of hope, for those that were able to receive them, about some of what was happening in terms of folks being released in the South, actually, as well as around the country. And while that did not happen, I think as much as a lot of us in the abolition movement hoped that it could have gone further, there were also some prison breaks. And they were also just stories of people freeing themselves from the cages that they were in. And so there were some little blurbs about that. We also had some of those pamphlets bounce back, and we assumed that that was for that reason. There was like one or two that came back to us that something on the return to sender said something along the lines of like "this is a threat to our security and that's why this wasn't let in." And so you know, it's not really surprising because we know that knowledge is a threat and prisons don't want prisoners to even think about the fact that they might one day have the power to liberate themselves, let alone be granted clemency. So, you know, the vast majority of them we think reached the folks that we intended them to get.
But we also weren't sure for a while when we were going to have access to our office because as the original shutdowns were going on – like I said, we're out of the back of Downtown Books and News – we lost access to our space for the first like, three, four months that things were going on. So part of those pamphlets, too, was this very kind of frightening disclosure that we were like, "Hey, we don't know when we are going to be able to send you books, because there's just a freeze on our ability to maintain this right now, but we want you to know that you are in our hearts and we are thinking of you." And even just being able to send that little bit of personal love to folks, that in and of itself, I think, was where we were able to put our hearts forward at the start of this pandemic and let people know, like Monse, you were saying, again, like, "you are not forgotten even in this, and we'll be back with you as soon as we can be". And so yeah, it took some time for everybody to kind of get their feet back under them again, but by the summer last year we were starting to socially distance gather ourselves in the park to just like, reorganize our core group.
And then as we started to launch our packaging parties back up, which is how we kind of make room for more community engagement than just our regular core folks who come and pick out the books – in the pre-pandemic times used to do this out of Firestorm Books and Coffee, where we would take the books that were ready to be wrapped up and we would just do like a big almost holiday style wrapping where we just brown paper bag everything and address stuff and tape it up, and then it's ready to go to the post office – we started to do that outside, also in Carrier Park, so that we could continue to do the work. And really, I think this is where this work gets really intersectional. I think that with everything that happened, with the uprisings of the summer and abolition starting to be talked about more and more, we started to see more people show up at those outdoor packaging parties than we had ever seen before. And we have been continuing to get new interests through our Instagram, through our email inbox. And yeah, I think that that's where the last year has presented some really unusual, but exciting opportunities for where we're now positioned, just with more folks plugging in all the time than we previously had. So that's the upside of things. Beck, you want to get in on this?
Beck: Sure. Yeah, I mean, it's pretty quick and easy. COVID really threw a wrench in like everything we do. [starts laughing] We created physical spaces for queer community to come together and learn in sheer joy and you know, art, music. So, yeah, we really were at a loss for how to adapt, and none of us were in a place where we were like, willing to switch to digital. So we're like, "Okay, what can we do right now", we had applied for a mini grant from the Trans Justice Project. And we got it! And we're like," oh, dope, but there's not a fest going on. So what are we going to do?" And so we decided to do a kind of like reparations drive project, community reach, outreach type thing, where we used all those funds from that grant, to BIPOC artists who are now like, without work. So focusing on Black and Indigenous queer and trans artists, and making sure they're getting their needs, uplifting the work that they're doing, you know, from a distance, and also just like, literally just fundraising for them and having our own reparations pool every month. So that kind of shifted that way.
I think a lot of it though, like Pansy Collective as individuals, was just like showing up in the summer, showing up in the street, showing up for aftercare type stuff, showing up where we could, as individuals, for our friends in our community. And so yeah, I think, you know, as things start kind of shifting and maybe outdoor meetups and stuff is possible, it'll kind of start to go back to what Pansy is used to doing. But really, it's just been, I mean, as a collective, just kind of being there for each other, and for the folks in town, showing up just as people has been the work, just giving love in a really isolated time.
Scott: Thanks everyone for going into that. I want to ask maybe a final question that would have two parts and then leave room for anyone here who wants to directly ask you individually or collectively questions, but so I'm going to put a couple of things together and hopefully this will work. So on the one hand we see queerness kind of getting more visibility and inclusion and representation, and I'm wondering – because all the work that y'all are doing is still on the terrain that is disruptive for, you know, systems of power, state control – so I'm sort of just interested in what you think queerness still holds that's disruptive or liberatory, and then kind of putting that into like, what sort of coalitional projects you envision your groups doing in the future?
Adrian: Right now the one sentence that's coming to my head is like "pink capitalism sucks" right? And I don't have a whole lot more beyond that right now, in this moment. No, I think that, you know, the sort of acceptability politics that's happening in like the big LGB sometimes T circles is rather sex negative. So I think there's growth we could do there together in coalition building. You know, I think that this is probably because of the particular lens that I approach this work, but I see a lot of ageism and adultism generationally, right? I see a lot of skepticism from my elders on the vision that my young folks have, and sometimes I look to my elders to say, like, "Look, I don't quite see how all the dots connect, but can you help me connect the dots for these young people?" And I need that support from our trancestors. And so I think that's part of the coalition building that can happen. You know, I think that also we see a lot of white LGBTQ representation, right? So I think there's a lot of work that we can do around, you know, centering BIPOC experience and what they need, right? So I would really love to see more inter-generational coalition's between the different LGBT and racial justice serving organizations, I think that could be really, really fruitful. And I'm just kind of curious what other folks are thinking to?
Monse: Yeah, I think you hit it spot on for me Adrian. And yeah, I think that there are a lot of visible spaces and like, spaces made for queer and trans folks here in Asheville at least, but they're mostly white spaces. And I think that just making spaces for Black and Brown folks to lead the work, for Black and Brown folks to just even come together and organize is necessary. And I would love to collaborate with folks, and just like creating those spaces, like finding the folks that are looking for the spaces and being able to support and find joy to bring our beautiful queer selves and organize together. So I think that that's where we have a lot of room to grow, where I could see SONG collaborating with folks.
And I think even just like, also language, I'm very passionate about language justice, and that we need to be organizing not only in English because queer and trans folks aren't only white, don't only speak English. And I think that these identities can be very intersectional and like, folks are trying to do all the things. And yeah, so I think creating more spaces that are language accessible, that are culturally accessible, and that folks want to come to, because I think that there are so many white, queer, trans spaces in Asheville that a lot of times my folks don't want to be in, that I don't want to be in. And I think that there's a lot of room to grow and a lot of space for collaboration, where we can make these spaces together.
Beck: I'll go ahead. Yeah, thank you Monse, Adrian. I think all of y'alls responses…what I'm thinking of, how Asheville in particular, and a lot of liberal Southern cities, loves to show it's pride in like, "we just hired a lesbian cop! Look at this girl boss who just joined the local government!". When we look at our roots, when we look at queer oppression as a timeline, we have all of the same evils, all of the same oppressive entities are still the same, and no matter how pink or queer, whatever we make them appear, they're still creating the same evils and the same oppressions.
There was a TikTok of a local lesbian police officer that got really big, and I was just like, "I know her. I've seen you arrest some queer folks before. And your TikTok famous, cute." So yeah, just when we really look at all of these intersections, we can't be pro gay cops, while gay cops are arresting Black queer people, Brown queer people, are incarcerating and deporting Brown queer people, Black people, Indigenous queer people, all of these evils are still there. If we put queer in front of it, it does not change that. And that's the same for pink capitalism, like you talked about Adrian. Like, sure, I can go to Target in July and expect to find some rainbow t-shirts, right? But they're still made in fucking sweatshops. Just because we put a coat of pink on it doesn't change the system of oppression and the same status quo that we're really trying to fight against.
And when we think of like, STAR, Street Transvestite Action Revolution, and like that awesome organizing that was happening, it was focusing on people who were incarcerated, was focusing on trans Black and Brown people, it was led by trans Black and Brown people, like that is what, to me, that is where revolution is heading and has always been from. It's not going to be from the lesbian white cop on TikTok who Asheville loves and had a meet and greet with a rainbow flag behind her, you know? Like, no, that's not going to be it.
And thinking of, yeah, like Monse, you talked about earlier, there's a gentrification that's rapidly pushing Black and Brown folks out of Asheville. Like, that's another thread that I don't see a lot of queer organizing, like, really looking at, is that class piece, that racism and class piece, right? Yeah, like there's a Save Charlotte Street going on in town – which is like important, right? This is a whole community – but it's white folks that are affluent. And there's a lot of build up and organizing around that, and like, what about all the Brown folks that were pushed out? What about all the Black folks that were pushed out during the 90's?
So starting to bring all of that in together and look at that same root that is there, instead of just trying to, like, paint it pink and call it cute. Yeah, that's the direction I would love for us to be heading in.
Leroy: [sighs exasperatedly] Yeah, "paint it pink and call it cute", there is slogan to be dissected. Yeah, I feel like that was kind of where my brain was going as far as "where's the liberatory potential of queerness still?" Is that actually still a thing, or is social capital and social hierarchy kind of just subverting this work into something really superficial? And where I see popularity as the potential thing that's like drawing people into this, and social cred, more than what this work is actually about? I think that's something that has been a really disturbing trend to try and assess.
Where it's like, we have a very trendy logo, some might say, that was designed for us in the last few years, and to see our social media suddenly popping off has been really exciting. And it's like, at the same time that we want people to come towards us and enter into this work, in the time that I have been involved with TPP, this has been primarily white led organization, and it has primarily been white folks involved. We have not had a lot of people of color come to us and say that they want to be involved in our work. And that isn't to say, none, but I think that there are uncomfortable questions that I'm okay with being uncomfortable about that, for me, when I think about these things, I'm like, I just continue to sit with more questions than I have answers for. What does it mean for us to just continue to listen to other folks in the community, to continue to show up for other POC and Black led organizations in Asheville, so that we're not just perpetuating part of the problem?
I've sat with this question of "if at some point this work needed to completely dissolve in order for something new to take form that was not the folks who have been leading this project for the time that I've been here to occur"…I think that's part of what change is. It's like death and rebirth and not being so attached to what we have carved out, what we have created, that we can't still be humble and know that we, again, don't have all the answers. So I'm excited for where we continue to get to connect, as you know, these four groups that are in this panel.
I'll say as far as networking goes, TPP actually just got an email from Georgia chapter of SONG like last night about them wanting to start some books to prisoners work for LGBTQ folks in Georgia. And so we basically just send them like everything that we know about how to do this work, cause that was what they were asking us. And we are really like, "Yes, please. There need to be more groups that are specifically serving LGBTQIA folks that are incarcerated". Because, again, whether it's in the South or anywhere in the country that remains one of the most marginalized groups in prison, and we know that so many of those folks are Black and Brown and Indigenous.
And yeah, I think that more and more youth are starting to come to us. We have our first ever high school intern right now and she's getting ready to plug us to the Racial Justice Coalition at her high school. So I feel like a lot of what's being names as far as intersectionality in this conversation is really like coming to the surface. And it's an exciting time for, you know what's possible right now.
But there is a lot of cooptation at the same time. And so yeah, I really hesitate to say with great confidence like…yeah, there is some, I don't know…the language might have to change. And I think that that's actually the place where I want to insert this quote that I pulled from – for the old heads who still know who Critical Resistance is – this anthology Abolition Now from 2008, which at the time was the 10 year anniversary of Critical Resistance, a national abolitionist organizing group. I mean, at this point, it's been more than 10 years since this book came out, but this is a quote from Alexander Lee, the founder and director of the Transgender, Gender Variant and Intersex Justice Project, or TGI Justice Project, of California. Alexander Lee says:
"As we go forward, we should expect to be forced to discard language that limits this movements to prison and the prison industrial complex, in favor of descriptors that foster prickly coalitions with others who don't see themselves as anti-prison, but who do believe in the sacred nature of human dignity, however imperfectly expressed in practice. The prison abolition movement must expand its arms to envelop the same people who fight for housing but demonized prisoners, who protest war but love to watch CSI, people who marched for civil rights but yell trans slur at trans women, and queers who demand the death penalty when yet another one of us is murdered. We should move into these other sectors and act as the lodestar, pulling everyone towards the ultimate goal of building a world where liberation is the status quo. When we achieve these goals, the abolition of prisons will just be the icing on the cake."
Scott: Thanks for sharing that. Powerful words. And yeah, I guess maybe if we can just transition. I mean, I'm really grateful for all of you kind of speaking out of your experience and knowledge of doing this movement work. That's so important. All right well thank you everyone.