Turkish Anarchists of DAF, pt 1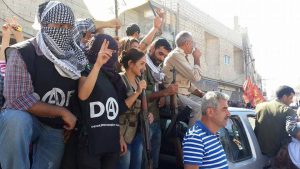 Here, we present both parts one and two of an interview with Merve Arkun, Hüseyin & Özgür, members of Devrimci Anarşist Faaliyet, or DAF. DAF translates to Revolutionist Anarchist Action and is a network of overlapping collectives in Turkey. They are based out of Istanbul and run an office and two cafe's, both called 26A, which is a meeting space and employer for collective members. This conversation was conducted on March 19, 2016, a few short hours after a DAESH (ISIS) bombing occurred in the Beyoğlu neighborhood of Istanbul, on the touristy street called İstiklal Avenue, just a few blocks from one of the collective's cafe's and their newspaper office.
The bomb killed 5 people (4 tourists plus the bomber), and injured some 36 more. The tension in the city in the days before the bombing was palpable as trucks of riot police roved around the neighborhood, and embassies and foreign schools closed for security reasons. The approaching Newroz celebrations, or Kurdish New Years, were slated to take place a mere 2 days after this attack in the contentious Taksim Gezi Park so recently after the resumption of military and legal hostilities between Kurdish groups and aligned leftists and the Turkish government headed by the AK Party of President Recep Tayyip Erdoğan. This decision most certainly would promise demonstrations and conflict
between security forces and civil society around the right to the contentious park, and against the war on the Kurds both in Syria and Turkey by Erdoğan's government.
Besides the 26A cafes, DAF includes an Anarchist Women's collective, a publishing project in the form of the Meydan Gazette (published monthly in paper form), and a youth collective, the Lycee (or High School) Anarchist Federation called LAF. In addition it organizes arts events and projects, and participates in labor organizing and solidarity with Kurdish resistance and the Rojava Revolution. DAF also organizes in tandem though autonomously with anti-militarist and anti-conscription activists in Turkey.
Merve is an active member of the Meydan Gazette publishing crew, the Anarchist Women's collective and also in a seperate but related anti-militarist group. Hüseyin is a main editor of the Meydan Gazette and involved in the 26A cafes. Özgür is involved in Meydan & the self-defense program and the PATIKA ecological collective.
Throughout this first hour: Merve, Hüseyin & Özgür talk about the collectivized economic and living structures of DAF and how that pans out to support collective members and build collectivized models for survival within and against capitalism.
In the second podcast episode, the interviewees discuss: PATIKA Ecological Collective and their publication, organizing with communities in the Black Sea region against a hydro-electric dam, and more; Merve's work with the Conscientious Objector Association against militarism and conscription; Meydan Gazette and their other publication projects; the modern anarchist movement in Turkey since 1989; solidarity with Kurdish populations in Turkey; organizing material support for the Rojava Revolution and aiding in helping anarchists join the struggle there; and more. Download Pt 2
To see an article (in Turkish) about Esra Ankan, you can visit the Meydan Gazette's article here:
http://meydangazetesi.org/gundem/2016/02/trans-tutsak-esrayla-dayanismaya/
. … . ..
Announcements
Vigil for The Pulse Shooting
******A quick announcement: There will be a vigil tonight at 9pm at Firestorm Books and Coffee at 601 Haywood Rd in West Asheville for the victims and community affected by the shooting that occurred last night in Orlando, Florida. The shooting occurred at the Gay dance club called The Pulse and media outlets are announcing that there were 50 people killed in what appears to have been a targeted attack by someone from outside of the area wielding an assault rifle and a handgun. The hostage situation that developed was ended by a SWAT invasion at 5AM this morning (6-12-1016). Come out tonight and support this community.******
Notes From Sean's Segment
Sean Swain speaks about a comrade of his in his facility, a trans woman who was put away for defending herself against an assaulter. Her government name is Adam Bockerstette, and while she can receive mail
under her chosen name (which is Kara), we were unsure about how to spell that. So if you do choose to write to her, your letters can be addressed to Kara Bockerstette, but note that your envelopes should be addressed to:
Adam Bockerstette
#606000
PO Box 120
Lebanon, OH 45036
Also keep an eye peeled at http://seanswain.org/ for more updates about Kara and her situation.
. … . ..
Oso Blanco
Good news for our comrade on the inside, Oso Blanco, who was sentenced to 80 years in maximum security prison for a series of bank robberies and a firearms violation. Oso Blanco is someone of Cherokee descent, and has been politicized during his time in prison and before. Recently there has been a massive fundraising effort on the part of his support team to get him transferred out of his former facility, and for legal fees to get his sentenced reduced. Both of these efforts have been
successful!
Thanks to fundraising efforts and donations, they have reached their fundraising goal at this time. Of course, money will always be needed until Oso Blanco is completely free – donations are always welcome. The support in donations and spreading the word was fast and amazing! Oso Blanco has been assigned a lawyer who he feels comfortable with and he is moving quickly to make sure the motion is filed by June 25th, 2016. Communication with Oso Blanco has been iffy at best. Please write him to
show support. If you donated, write and let him know as it will help immensely to raise his spirits. If you would like to donate further, and for guidelines on what mail will and won't get into his facility, you can visit his support website at: http://freeosoblanco.blogspot.com/
To write Oso Blanco at his new location, you can address letters to:
Byron Chubbuck
#07909051
USP Lewisburg
PO BOX 1000
Lewisburg, PA 17837