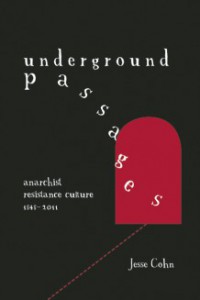 This week, we speak with Jesse Cohn, author of the recent book, Underground Passages: Anarchist Resistance Culture 1848-2011, published by AK Press. In the book, Jesse explores trajectories in literature, cartoons, comics, music, poetry, drama produced at times by and or for or just conspicuously consumed by anarchists in europe, north and south america and asia during that time period. We talk about what Mr Cohn sees us as seeking to communicate, how we do that, and who we're speaking to and how those questions change over time. More info on the book can be found at akpress.org
Jesse also puts out an invitation to listeners to share their stories of growing up in an anarchist household (what some might term "Black Diaper Babies") or as the child of anarchists. The hope is to create a work that'd speak about what multi-generationality looks like or could look like. You can reach him at jcohn(aaat)pnc(d0t)edu with questions or stories.
As a quick update to last week's episode about the hunger strike at OSP Youngstown by 6 prisoners: Hasan announced on April 15th, 2015 that he and 4 other prisoners stopped their hunger strike. Sedrick Tucker was continuing his hunger strike as of Friday, April 17th, 2015 due to private medical malpractice issues which he did not feel were being addressed by the demands that were met by the prison administrators. The support website, lucasvilleamnesty.org, stated in a recent post that the strike was a mixed victory, with some demands won and others not with the Warden conceding as little as possible. Hasan suggests that concerned people should contact that Ohio Medical Board and ask them to look into Sedrick Tucker's treatment at the hands of Dr. James Kline. Hasan also suggests contacting ODRC Medical Service Administrator and ask to send another doctor to review Mr Tucker's situation. It should be noted that Sean Swain also had issues with Dr. Kline during his last hunger strike.
Have a pencil read to write this down if you want to contact ODRC's Medical Admin.
Stuart Hudson
Medical Service Administrator
770 W Broad St
Columbus OH 43222
To reach out to Sedrick Tucker, here's an address:
Sedrick Tucker #117-137
OSP
878 Coitsville Hubbard Rd
Youngstown, OH 44505
Writing to Sedrick or in concern for him has real effects in how the guards and doctors will treat him.