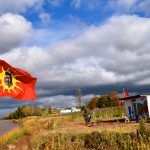 The Final Straw is excited to share with our listeners an episode of the podcast, Shades of Green, which describes itself as "a podcast exploring environmental justice from unceded Mi'kmaq territory."
(correction to our intro, we say "liquified natural gas", when in fact the facility would just store "natural gas."  Apologies for the confusion.)
This episode features voices of the Mi'kmaq resistance to the building of a natural gas storage facility by Alton Gas in salt caverns under and around the Sipekne'katik River in so-called Nova Scotia, potentially resulting in salt pollution and likely seepage of the gas into the river.
The episode, a cleverly produced montage, features indigenous words about their lifeways, relationship to settlers, settler society and government and what it means to live in treaty with another community and the earth. Much of the conversation sits around the Truckhouse and Treaty Camp along the banks of the Sipekne'katik River, which provides shelter, a space for organizing.
You are prompted multiple times, dear listener, to reflect on whose land you are on and what your relationship is with them. What is decolonization and what does living in treaty with the land and your neighbors mean? Thanks to the friend in Nova Scotia for passing this our way, thanks to Sadie Beaton for permission to air and to those voices we hear on the recording. We hope you enjoy.
More information on the struggle can be found at Stop Alton Gas