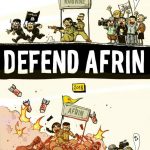 This week, Bursts spoke with Şoreş Ronahi of the Youth Movement of Rojava (Yekîtiya Ciwanên Rojava), an autonomous movement within Tev-Dem, the movement for Democratic Confederalism in Rojava (located within Northern Syria).    Mr Ronahi speaks about the Turkish assaults, aided by ISIS/DAESH forces now flying the so-called Free Syrian Army flag, to attack defense forces and civilians in the Efrînê Canton (also spelled Afrin or Efrin elsewhere).  We talk about the political stance of the Turkish government as relates to Kurdish people within and without the borders of Turkey, with the Social Revolution in Rojava, the shifting U.S. relationship to the YPG & YPJ militias under the control of the PYD administration in Rojava, the Revolution's approaches to engaging and fighting patriarchy and ethnic hatred in Syria and the region and more.
As a side note, although Rojava is not an explicitly anarchist project, it is an anti-nationalist, anti-state movement that holds as its pillars ecology, anti-capitalism & feminism and is in part inspired by American former Anarchist turned Communalist, Murray Bookchin. Beyond Bookchin's impact, Bursts personally feels that Rojava adds an IRL experiment in combat and revolutionary organizing that many anarchists have engaged in in the form of the International Revolutionary People's Guerrilla Forces, The Queer Insurrection and Liberation Army, within other elements of the International Freedom Batallions as well as in the PYD administered YPG & YPJ militias on the front lines fighting DAESH.
The fallen YPJ soldier that Şoreş mentions at the end of the interview is Avesta Xabûr.
For past episodes on #Rojava on this show, check out our conversations with Kurdish feminist Dilar Dirik (pt 1 & pt 2), our conversation with American anarchist Guy McGowan Steel Steward fighting with the YPG (pt 1 & pt 2) and our discussions with anarchist and writer, Paul Z. Simons after his study and visit to Rojava (pt 1, pt 2 & pt 3)
The track finish with is Euphonik with the song Y.P.J. from their album, Inconnu Mais Reconnu II.